Roger Goodell and the NFL Have Too Much Control over Fans' Viewing Experience
March 5, 2012

Doug Pensinger/Getty Images
The NFL restricts how you watch football more than any other sport in America, and enough is enough.
See, the NFL on television isn't just big business, it's the biggest business in entertainment today. This past year, the NFL signed $27 billion (yes, that's billion, with a "b") worth in TV deals with FOX, NBC, CBS, ESPN, NFL Network, Westwood One and (of course) DirectTV.
Because so much money is involved—as well as a healthy dose of narcissistic need for absolute power—the NFL controls how, where and (to some extent) why you watch NFL games on television. 
It's time for that to stop.
Let's Get Rid of Blackouts Once and For All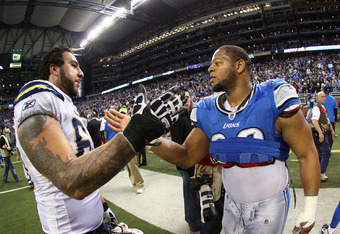 Dave Reginek/Getty Images
The concept of a TV blackout is actually counter-intuitive to the reality of so much money wrapped up into an NFL broadcast, but in a world where the NFL is king, it makes sense.
Once upon a time, all NFL games were blacked out locally. In 1973, the NFL started its current policy, which allows games to be shown locally as long as the contest is sold out 72 hours in advance.
In 1973, that policy made sense. Today, it's one of the most idiotic conventions in sports.
First off, the NFL's business model has fundamentally shifted from a gate-funded league to a TV-funded league. Consider this, even if each NFL team played in front of empty stadiums, they would still have $7 billion annually to divvy up and that isn't even counting endorsement deals and the like.
Who is the NFL trying to kid, anyway? Blackouts have nothing to do with attendance figures because the teams that have blackouts keep having them regardless of any ability to watch live broadcasts of the games. The teams that have been most blacked out in recent memory—Cincinnati, Tampa Bay and San Diego—all have a history of futility working against them.
The NFL, like any business enterprise, works by supply and demand. Trying to artificially create demand never works. If a team stinks, a family simply isn't going to pony up a couple hundred dollars to go see them live.
Even in today's tough economic climate, teams that succeed on the field can sell out simply by improving on the field. Detroit, once stymied by blackouts, sold out every game this year en route to the playoffs.
Blackouts accomplish one thing—apathy.
Let Fans Watch the Game—The Whole Thing!
Since the advent of the digital era, the NFL has done its best to keep up.
NFL fans can watch games on their computers, tablets and mobile devices. Fans can watch commercial-free programming cut down to bite-size nuggets by subscribing to NFL Rewind. Rather than wait for SportsCenter, fans can watch all of the NFL highlights on NFL.com or one of their many video partners (of which Bleacher Report is one).
Still, NFL fans don't see the game of football as it is played.
An NFL broadcast, essentially, isn't a true picture of everything that is important to the actual game of football. Instead, the NFL broadcast panders to the lowest common denominator by trying to convince fans that the ball is the star of the show. 
Because of NFL broadcasts, the average fan never gets to see the complexity of blocking schemes or the fine-tuned routes of the NFL's best wide receivers. Fans guess at who the best defensive backs are by assuming the guys around the ball are doing the most work.
It's hard to argue with success, so it's hard to say the NFL is doing a poor job with their broadcasts, but don't you think they could do more?
Some time ago, the NFL asked fans through a survey site if they would be interested in "all-22" or "coaches" film of games. While the results of the survey weren't published, the reaction from fans and media on social media was clear. Give us the goods!
Whether it would be an option for digital broadcasts or an added expenditure like "NFL Rewind," it's clear the fans are ready for the option of seeing the game as it was meant to be seen.
Let the Fans Choose Which Games They Want to Watch!
NFL broadcast choices are, mostly, a mess.
Yes, those choices are made mostly geographically. The idea, of course, is that each team has a certain area of influence and, quite frankly, that's a load of nonsense.
While it seems logical to think people in New York want to watch the Jets and the Giants, that isn't actually the reality of our society. Because transportation is faster and easier than ever before, fans find themselves across the country (or the globe) with little connection to their hometown teams other than, hopefully, the occasional prime time contest.
Jeff Zelevansky/Getty Images
Consider the state of Florida—three teams with struggling fan bases. Why? Because the state of Florida is inhabited by a whole lot of non-Floridians. Whether it's people who've moved there from New York, Boston or the Midwest, or simply "snowbirds" who travel back and forth to get away from the cold, there's a whole lot of Giants, Jets, Bills and Patriots fans in places where you wouldn't expect.
Don't even start about the games that aren't geographically decided. When the closest team plays in one time slot, often the other time slot is a crapshoot. Networks decide (based on the NFL's schedule) who the most popular team is. So, fans that really want to watch their team are treated to the umpteenth contest between two teams on the eastern seaboard.
Frankly, the NFL has enough problems figuring out which games to feature on primetime, why dabble with the other games as well?
The answer, of course, is the insane amount of money that DirectTV pays for sole rights to "NFL Sunday Ticket."
However, couldn't the NFL make just as much money by keeping "Sunday Ticket" as a product, but still allowing cable providers to provide out-of-market NFL games as Pay Per View. Critics would claim that would devalue "Sunday Ticket" and cause DirectTV's payments to drop, but would it?
The NFL is at near-monopoly status, they can ask whatever they want for almost whatever they want.
Plenty of people who don't want to shell out a couple hundred bucks for DirectTV would pay $5.99/week (or more) to watch their favorite team.
The NFL has reached incredible amounts of both leverage and power. It's time to start using that leveraging against network partners to get the almighty dollar without leaving fans out in the cold.
Michael Schottey is an NFL Associate Editor for Bleacher Report and an award-winning member of the Pro Football Writers of America. He has professionally covered both the Minnesota Vikings and the Detroit Lions, as well as NFL events like the scouting combine and the Senior Bowl. Follow him on Twitter.