Detroit Lions Mock Draft: Vote on Who the Lions Should Select
March 5, 2012

Kevin C. Cox/Getty Images
This interactive article requires the readers to pick the best draft choice for the Detroit Lions' first-round selection. Detroit currently has the 23rd overall pick in this year's NFL draft.
There is always the possibility that the Lions trade up or down, but there has been little buzz either way. 
Please review the players detailed below, vote in the poll and provide your reasoning in the comments section. If you feel a different candidate is likely, use the comments section as a write-in vote.
Each week, there will be an article outlining the possible selections for the following round with a wrap-up article just before the draft. 
Mike Adams, Offensive Tackle, Ohio State: 6'7" 323 lbs
Jeff Backus will likely be back on a cheap, short-term deal, but the Lions need to address the future protection of Matthew Stafford. Adams is a behemoth who needs to get stronger and answer questions about his work ethic.
The Lions didn't flinch when they drafted Nick Fairley last year. If Adams responds well, he could anchor the line as Backus has for the last decade. 
Janoris Jenkins, Cornerback, North Alabama: 5'10" 190 lbs
As stated above, Detroit hasn't shied away from a player because he has baggage. However, they haven't gone so far as to select players with off-field issues.
Jenkins has top-10 talent, yet was dismissed from Urban Meyer's Florida program. That's a difficult feat to accomplish.
Detroit has been working on bringing starting cornerback Eric Wright back, which would make Jenkins less appealing. 
Courtney Upshaw, Linebacker, Alabama: 6'2" 273 lbs
Upshaw's stock has stumbled slightly after he decided not to run the 40-yard dash. The rest of his workout wasn't impressive either, which raises the likelihood of him being there at No. 23.
Getting too caught up in the numbers is common at this time of year. The tape reveals a player who contributed to the national champions and could play outside linebacker or defensive end.
If the Lions aren't able to re-sign both Stephen Tulloch and Cliff Avril, Upshaw's value to Detroit will take a considerable upshot.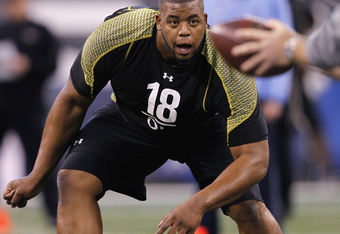 Joe Robbins/Getty Images
Cordy Glenn, Guard, Georgia: 6'5" 345 lbs
Glenn is a humongous, physical presence with the type of arms to keep defensive lineman from getting involved in the play.
Detroit still employs Stephen Peterman at one of the guard positions so they could certainly use an upgrade. Projections of Glenn's destination have varied, but there is a decent possibility of him being available. 
Stephon Gilmore, Cornerback, South Carolina: 6'1" 193 lbs

Gilmore provides better size than Jenkins, and doesn't shy away from contact. He proved to have NFL speed with unofficial 40 times of 4.44 and 4.47.
He was awarded first-team All-SEC honors in each of the past two seasons and has a knack for creating turnovers.
So, what say you, Lions fans?