Fantasy Baseball 2012: Top 30 First Basemen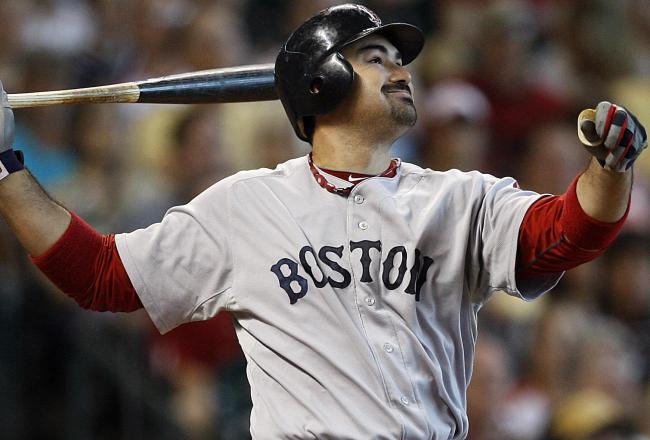 Adrian Gonzalez racked up a career-high 213 hits (and .338 batting average) in his first season with the Red Sox in 2011.
Bob Levey/Getty Images
Let's start with a bang on the opening post: Here are my top 30 first basemen in 5x5 roto leagues (home runs, RBI, runs, batting average, steals) heading into spring training.
Generally speaking, I favor power-average-speed guys over one-dimensional sluggers who rely on their immense but sporadic power to get through a given season. I'm also a sucker for positional versatility, which helps explain why Miguel Cabrera garners a slight edge over the greatest hitter of this century.

1. Miguel Cabrera, Tigers
Skinny: Perhaps the most valuable asset in fantasyland—once his 3B eligibility kicks in around April 10.
2. Albert Pujols, Angels
Skinny: An eminently bankable source for 39 HR, 115 RBI, 108 runs and .300 average. He's the man!
3. Joey Votto, Reds
Skinny: The top-ranked first baseman in NL-only leagues by a mile. Possible No. 1 overall pick, too.
4. Adrian Gonzalez, Red Sox
Skinny: Expect more HR and runs but lesser clout with RBI and average in Gonzo's second Fenway go 'round.
5. Prince Fielder, Tigers
Skinny: Reasonable expectations for Year 1 with Detroit include 34 homers, 100-plus runs and 125 RBI.
6. Mark Teixeira, Yankees
Skinny: The last Tier I bat at this position can be acquired in—gasp!—Round 3 of 12-team leagues.
7. Eric Hosmer, Royals
Skinny: Red-hot September (5 HR/19 RBI/.349 BA/.917 OPS) fuels bold—but not ambitious—ranking.
8. Paul Konerko, White Sox
Skinny: Good things come to those who wait until Round 4 to secure a virtual lock for 30 HR/100 RBI.
9. Carlos Santana, Indians
Skinny: A virtually flawless talent with dual eligibility (C/1B). Plus, he'll never flirt with batting .240 again.
10. Michael Young, Rangers
Skinny: Three-category stud who's declining in power and steals. Best to pair with power-hitting corner infielder.
11. Lance Berkman, Cardinals
Skinny: A solid bet for 27 HR and 90 RBI...but anything else from this 36-year-old slugger is mere guesswork.
12. Michael Morse, Nationals
Skinny: Strong track record with OBP/SLG suggests 30 HR and a .295 average could be Morse's new normal.
13. Michael Cuddyer, Rockies
Skinny: Free-agent migration to Colorado's thin air and comfy Coors Field spur this respectable ranking.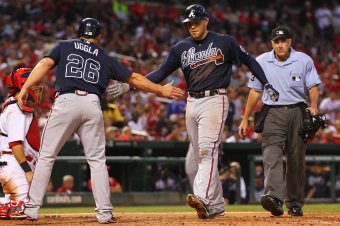 Dilip Vishwanat/Getty Images
14. Freddie Freeman, Braves
Skinny: Bulked up in the offseason. Likely top-12 pick for this position in 2013 and beyond.
15. Carlos Lee, Astros
Skinny: An ideal flier for Round 12...assuming he possesses one more season of 20-HR/90-RBI viability.
16. Mark Reynolds, Orioles
Skinny: A sneaky-good pick for power-starved owners in Round 13. He feasted on BA/OBP in early rounds.
17. Mike Napoli, Rangers
Skinny: I'll be the first to apologize to Napoli supporters if he's a dynamo in 2012. I'm just not feeling it.
18. Adam Lind, Blue Jays
Skinny: This could easily be Lind's last campaign as a top-20 write-in. His BA decline is a tad unsettling.
19. Justin Smoak, Mariners
Skinny: A top-15 pick at this position in 2013, making this year's grab at Round 19 that much sweeter.
20. Gaby Sanchez, Marlins
Skinny: Already a bankable source for 19 HR, 82 RBI, 72 runs and .268 BA after just two full seasons.
21. Paul Goldschmidt, Diamondbacks
Skinny: High upside somewhat diluted by a lack of professional hitting experience (fewer than 1,000 ABs).
22. Mark Trumbo, Angels
Skinny: The specter of pedestrian runs and batting average fuel this prove-it-again ranking in the 20s.
23. Carlos Pena, Rays
Skinny: Low ranking for an annual 30-HR threat...until the three-year batting average (.216) comes to light.
24. Ike Davis, Mets
Skinny: The .302 batting average and .925 OPS brought some happiness to an injury-ravaged 2011 season.
25. Chris Davis, Orioles
Skinny: A low-rent source for 20 to 24 homers if he gets enough at-bats. Wave bye-bye to thoughts of .300, though.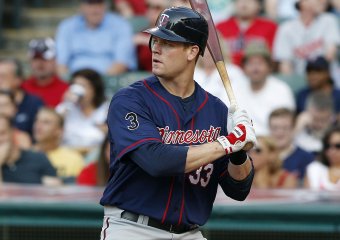 David Maxwell/Getty Images
26. Justin Morneau, Twins
Skinny: An obvious flier pick in the latter rounds. Power numbers of 18 HR and 70 RBI are not out of the question.
27. Lucas Duda, Mets
Skinny: A potential Michael Morse clone, although the 30-HR breakout may be a season or two away.
28. Brandon Belt, Giants
Skinny: There's upside aplenty for this dynamic prospect. Of course, he needs a starting position first.
29. Adam Dunn, White Sox
Skinny: There's no chance of Dunn being historically awful in back-to-back seasons. Right?
30. Ryan Howard, Phillies
Skinny: Yeah, he's still on our fantasy radar, but an Achilles infection isn't helping the recovery one bit.
Jay Clemons can be reached on Twitter, day or night, at @ATL_JayClemons.
This article is
What is the duplicate article?
Why is this article offensive?
Where is this article plagiarized from?
Why is this article poorly edited?