Pittsburgh Steelers Should Not Pursue Plaxico Burress
March 3, 2012

Jeff Zelevansky/Getty Images
It's another year and another rumor that the Pittsburgh Steelers are interested in signing Plaxico Burress.
Last year's interest was real, as Burress visited Steelers' training camp and dined twice with the team before leaving and eventually signing with the New York Jets.
Ben Roethlisberger was open to the idea. Burress was one of his favorite targets early in his career and would have liked to see him back in Pittsburgh
"You can always add a weapon,'' Roethlisberger said (via Pittsburgh Post-Gazette). "If we bring a tall guy in as a veteran guy, he can help the young guys. That's good."
A "tall guy" is something that Roethlisberger has wanted since Burress left Pittsburgh and the Steelers have yet to find that option.
But after being spurned by Burress last season, do the Steelers really have interest again?
According to Jason Cole of Yahoo Sports, sources told him that the Steelers could be interested in Burress this year.
Burress is an intriguing option after posting 45 receptions for 612 yards and eight touchdowns.
The last number is the most interesting as the Steelers lacked scoring production from their receivers  last season, besides Mike Wallace who had eight touchdowns.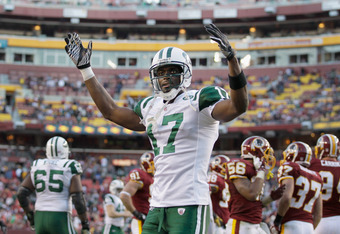 Rob Carr/Getty Images
Burress would provide the Steelers with a big, physical presence at the position, which would blend nicely with their smaller, faster options already in place.
However, Burress would come in as the third or fourth option and he sees better for himself.
In an interview with the Philadelphia radio station 97.5 The Fanatic, Burress said that he wanted to join the Philadelphia Eagles and felt that he could be a dangerous option on the outside for them.
Chances are that the rumors that the Steelers want to sign Burress are coming from his camp to stir up some interest in the free agent receiver.
Pittsburgh already has its own free agent receiver who they would like to bring back, one that fits in as the fourth option in their offense.
Jericho Cotchery was a fine addition for the Steelers' offense last year and saw his role increase as the season progressed. After his exit meeting with the team, Cotchery had indicated that he would like to return to Pittsburgh (via NJ.com)
In exit meetings (with the Steelers), it was pretty much stated that they were very pleased with me, who I was on the field and off the field. I'm everything that they thought I would be, so from their standpoint, they definitely would want me back. And I expressed the same desire, so we'll see what happens.
Cotchery would give the Steelers a physical presence at receiver that they will miss with the release of the team's all-time leading receiver Hines Ward. He can work the middle of the field and be an excellent option on third downs.
Beyond his potential production value, Cotchery is a great locker room presence that the Steelers appreciate.
Burress doesn't quite have that same presence, and with the Steelers recent purge of veteran leadership with the release of Ward, Aaron Smith and James Farrior, a player with the ego of Burress may not be the best for locker room chemistry.
Pittsburgh already has two outstanding young receivers with Wallace and Antonio Brown and they expect big things from Emmanuel Sanders this year. The presence of Burress will not mesh with this talent as he could not be 'the guy.'
It was a nice, though, a year ago, but Burress' potential place in the Steelers lineup is not worth entertaining and do not expect them to flirt with the free agent receiver again this.
Instead, the Steelers should focus on re-signing Cotchery or finding another option in the draft. It would be best for everyone involved.
Follow me on Twitter @ChrisG_FC