LSU Football: 5 Reasons Why Michael Brockers Hurt His Draft Stock This Past Week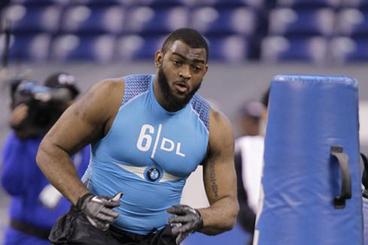 When it comes to the most intriguing players in this year's 2012 NFL draft, LSU defensive tackle Michael Brockers is certainly among the top of that list.
Brockers is a physical specimen, standing at 6'5", 322 pounds and with arm length comparable to Dhalsim back in those early '90s Street Fighter Video Games. He has a tremendous motor out on the football field, which showed at times during LSU's near-perfect 2012 season.
Everyone knew that Brockers' one flaw was his lack of experience, but after this week's annual NFL Combine testing, it became apparent that LSU's dominant defensive tackle has many flaws in his game that we did not know about.
Brockers had an abysmal showing at the combine, failing to post impressive scores in any of his individual workouts.
But will that be enough to land this big-time prospect out of the first round?
Let's break down five reasons why Brockers hurt his draft stock this past week.
Begin Slideshow

»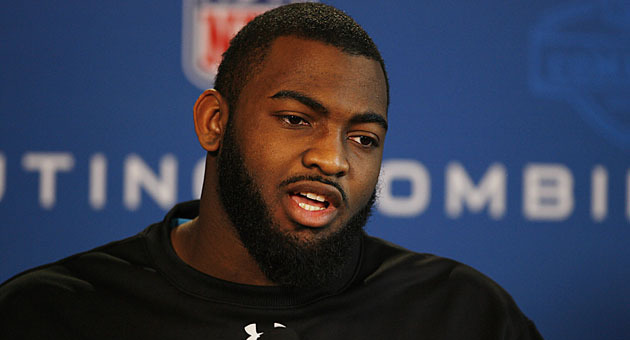 Multiple national NFL-related websites, including NFL.com, reported that Michael Brockers put up 19 reps on the bench press at this past week's NFL combine, which is an extremely low number for someone of Brockers' size and skill set.
However, this week, Brockers agency apparently came out and said that is 100 percent false and that the former LSU defensive tackle did not participate in the bench press portion of the combine testing.
Of course, I sure couldn't put up 19 reps at 225 pounds. Heck, I couldn't even put up one rep at that weight. But to put it into perspective, Omar Boldin, who is a 200-pound cornerback from Arizona State, put up 24 reps on the bench press, which would be five more then Brockers reportedly did.
Whether Brockers did or did not participate in the bench press, this just goes to show how the NFL combine should not be taken so seriously.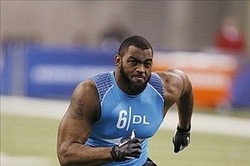 Of course, we can't put a ton of blame on a defensive tackle for being slow in the running portion of the NFL combine. But in Brockers' case, he was slow in every drill he took part in.
Brockers ran a measly 5.36 40-yard dash time, which is almost a full second slower then another defensive tackle, Mississippi State's Fletcher Cox, who ran a 4.79 in the event. To be fair, Cox is a bit
smaller than Brockers, but Florida's Jay Howard, who has nearly the same measurable as Brockers, ran the 40 in a time of 4.82 seconds.
Like I said earlier, this isn't a test that is going to make or break a defensive tackle going in the first or second round, but scouts would like to see defensive tackles be somewhere in the 4.8-5.2 range.
Brockers' 5.36 time was the third worst among the 49 defensive linemen that took part in the drill this past week.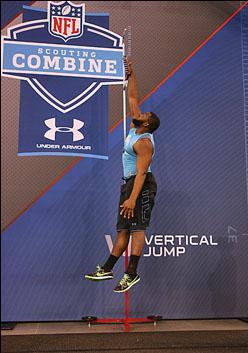 Similar to the 40-yard dash, the vertical jump isn't a test that scouts are really going to heavily evaluate when it comes to defensive tackles. But, it is a plus to have an interior lineman that can jump up and knock balls down at the line of scrimmage or block the opposing quarterback's vision.
Well, from the looks of it, that isn't Michael Brockers' specialty by any means.
Brockers jumped 26.5" in his vertical jump testing, which again, was among the bottom half of players at his respected position.
To put this into perspective, Mike Martin, who is a 306-pound defensive tackle from the University of Michigan, had a vertical jump of 33.5" at the combine, and he was not the top defensive tackle in
that category.
This certainly was not one of Brockers' finest moments this past week.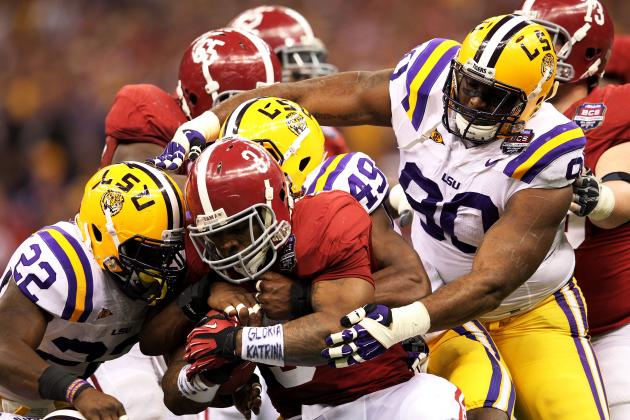 Andy Lyons/Getty Images

Michael Brockers amazed NFL scouts during the measuring process at this past week's NFL Combine. His 35" arms were truly something to drool at for NFL scouts.
But the same can not be said about his weight.
Brockers weighed in at 322 pounds, which is a little big, but not too big for a defensive tackle. The issue is that he played the regular season around 305-310 pounds, which means that he put on near 15 pounds in just a couple months, and his lousy 19 bench press reps proved that the weight wasn't in upper body muscle.
Like I said, 322 pounds is a solid weight for a defensive tackle in the NFL, but scouts and coaches want that weight to be added in muscle, that's for sure.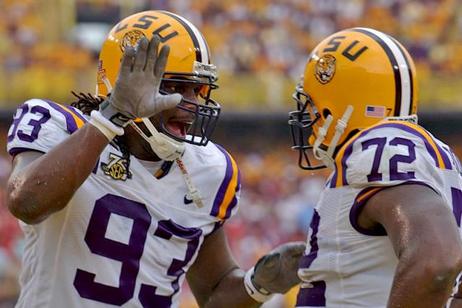 This isn't Michael Brockers' fault by any means, and perhaps this is even stretching things a bit simply because this was known well before his poor performance at this week's NFL Combine.
But if you look back, history shows that LSU defensive linemen who have been taken early on in the first round of the NFL Draft have not exactly panned out as expected.
Both Glenn Dorsey and Tyson Jackson were top-five draft picks over the past decade to the Kansas City Chiefs, and while neither of them have had poor NFL careers up to this point, they certainly haven't played up to the hype they received coming out of college or worthy of a top-five selection.
The same can be said with Marcus Spears, who was a dominant defensive lineman while at LSU, and although he is still playing in the NFL today, that dominance never really transferred over to the NFL game. Hopefully, for his own sake, Brockers does not follow suit when it comes to transitioning to the NFL game.