Vontaze Burfict's Combine: What to Make of the Linebacker's Poor Performance
March 1, 2012

Christian Petersen/Getty Images
Vontaze Burfict was clearly the biggest loser of the 2012 NFL Scouting Combine. 
He came into the ultra-hyped Under Armour Olympics with many red flags (based on his emotional outbreaks) and did absolutely nothing to help his draft stock in Indy. 
In fact, he did everything to severely damage it.
He ran the slowest 40-yard dash of any linebacker at 5.09, finished near the bottom of the pack with a 30-inch vertical leap, had the worst linebacker broad jump, and seemed disinterested at times.
Many people, including B/R's very own Matt Miller, had Burfict as one of the top prospects entering the 2011 college football season. 
Now, a thoroughly disappointing combine performance can be added to a lackluster 2011 season in which he amassed just 40 tackles and five sacks, three of which came in the season opener against UC Davis. 
Once considered a first-round lock with Patrick Willis-type potential, I'd be stunned if a team takes Burfict in Round 1. 
However, I firmly believe Burfict represents fantastic value in the second- to fourth-round range. At 6'1'' and 248 pounds, he's the most punishing physical presence in this year's linebacker class, and when his mind was right, he was astonishingly fast from sideline-to-sideline and in coverage.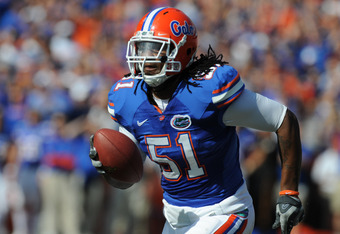 Al Messerschmidt/Getty Images
In 2010, linebacker Brandon Spikes, Florida's emotional leader, timed poorly at the combine and even at his pro day. Weight issues were reported, just like Burfict. 
He fell to the second round and was scooped up by the New England Patriots, who were enamored with his game tape. 
While Spikes didn't come with as many red flags as Burfict, he was benched for a half by then-Florida head coach Urban Meyer after he attempted to gouge the eye of a Georgia player. 
Spikes surprisingly self-imposed his benching to a full game.
He has become a key piece to the defensive rebuilding process in New England and has started 20 games over the last two years. (He served a four-game suspension at the end of 2010 for violating the league's substance abuse policy.)
The best spot for Burfict to land is with a 3-4 team that has a veteran manning the other inside linebacker spot. This kid needs a mentor—a positive influence on his football career that will give him the best chance to grow up as a player. 
If he can mature and stay under control on the field, Burfict can become a solid starter in the NFL. 
I'm simply not ready to give up on him, yet.