NFL Rumors: Steelers' Mass Exodus Continues with Release of Aaron Smith
March 1, 2012

Andy Lyons/Getty Images
A day after cutting 14-year veteran Hines Ward, the Pittsburgh Steelers are releasing defensive end Aaron Smith, according to ESPN.
And that's not all.
James Farrior's agent, Ralph Cindrich, reportedly thinks his client is the next to go.
Cindrich said, via the Pittsburgh Tribune-Review: "It's not a done deal, but the percentages just aren't there. James wants to play and wants to play with the Steelers. The question is, do they have room for him?"
The Steelers, who entered the offseason about $25 million over the salary cap, find themselves in severe cost-cutting mode this offseason. Even with all the room they've cleared so far, they are still in danger of losing No. 1 receiver Mike Wallace.
According to ESPN, the Steelers won't sign the restricted free agent to a long-term deal or franchise him, instead opting to tender him. That means they'll have the option to meet any deal that comes Wallace's way. If they don't meet it, they receive a first-round pick in return.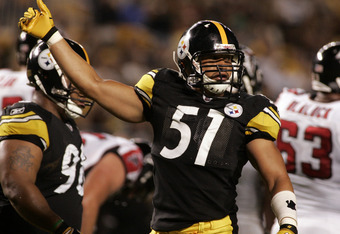 Justin K. Aller/Getty Images
Smith's departure could have been foreseen. After playing in 16 games for eight seasons in a nine-season span, he's played in a combined 15 games the past three seasons. He's also 35 years old.
Cutting Smith will take $2.109 million off the books for 2012.
As for Farrior, he's due to make $2.825 million in the final year of his contract.
The Steelers are holding out hope that they can re-sign Wallace this offseason, and they appear willing to do whatever is necessary.
They have a shot at keeping Wallace, but that depends if teams like the New England Patriots and San Francisco 49ers are willing to give up a first-round pick and sign Wallace to a lucrative deal.
Expect the mass exodus to continue.