2012 NFL Draft: Pegging the Best Player at Every Position, Post-Combine
March 2, 2012

Joe Robbins/Getty Images
With the combine done, we've got an infinitesimal moment of quiet before the big pro days start and we're scrambling to follow who did what, when and to whom on an hourly basis.
We're left with two choices to kill time. First, we can read articles desperately trying to go against the grain by saying that somehow Jeff Fisher not wanting to throw the baby out with the bathwater by jettisoning Sam Bradford means Robert Griffin III isn't any good.
We all kill time in our own way, I guess.
Another option is to take a look at where there might have been some movement at the top of the various position groups post-combine.
I chose the second road, and that has made all the difference.
To go the extra mile, I included what I call "up-and-comers" for all the positions—guys who did well enough in the combine to make a move up the rankings. They aren't top picks, and they may not all go on the first two days.
But they moved the needle, and that's worth noting.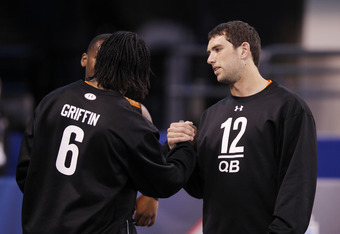 Joe Robbins/Getty Images
Quarterback
Top Dog: Andrew Luck
Up-and-Comer: Robert Griffin III
While Luck didn't throw, he nonetheless had quite the combine. He was overshadowed by our "up-and-comer," but if you set Griffin aside, Luck's drills and 40 were impressive. He certainly did nothing that would cause him to lose the top spot.
I don't expect him to slide at pro day either, but he's going to continue to get pushed by our "up-and-comer," Robert Griffin III.
We all knew RG3 before the combine, and he was already close behind Luck in many ways. The drop-off behind him to the next tier is steep.
That said, even without throwing he blew the doors off everyone in Indianapolis. His drills were outstanding, his handling of the media was superb and by all accounts his work in interviews was very, very good.
He did a fine job with Steve Mariucci at the whiteboard as well. Frankly the guy is just tremendously likable as well.
Nobody comes close to these two, in my mind, and nobody at the combine moved the needle quite like RGIII.
Running Back
Top Dog: Trent Richardson
Up-and-Comer: Lamar Miller
Richardson skipped the drills at the combine due to recent knee surgery, but nothing happened to kick him out of the top spot anyway. He's an elite back and can do it all, something that I'm sure will come through at his pro day.
Lamar Miller stood out from Richardson's shadow the most for me. He started off with the fastest 40 time by a running back and looked very good in the drills as well. Miller showed the ability to change direction well and looked smooth across the board.
The second tier of running backs is pretty clustered together, but Miller stood out to me as someone who could make a move into the first round by April.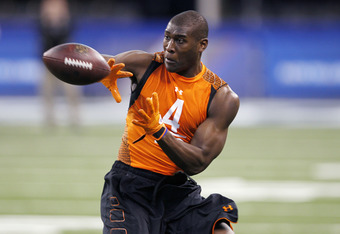 Joe Robbins/Getty Images
Wide Receiver
Top Dog: Justin Blackmon
Up-and-Comer: Stephen Hill
I'm split on what I think of Blackmon's decision not to run the 40 or do the vertical jump, but run in all the other agility drills. On the one hand, he has a lot to lose and little to gain by doing anything prior to his pro day. He's the top wide receiver, and while the gap between him and No. 2 isn't as wide as at running back, it was enough to pass on the drills.
On the other hand, if your hamstring is good enough to run agility drills with no pain, how are you unable to run a 40 or jump a vertical? By doing some but not all drills, Blackmon looks like maybe he was worried about competing. That's a concern.
All that said, he looked good in his drills and has his pro day to "wow" everyone. He stays at the top, but I think people behind him pulled closer.
For an "up-and-comer" I chose Georgia Tech's Stephen Hill. Hill ran a blazing 40 time of 4.36 seconds and certainly caught everyone's eye. He has issues to fix, but overall the potential to be an outstanding receiver is there.
I've seen some mocks and "big board" rankings move him up into the first round, but I'm not quite there. That doesn't mean he didn't jump up some notches on my list—just that there are more questions to ask about him.
I'll definitely be looking his games over again though, and that's what makes him an "up-and-comer."
Tight End
Top Dog: Orson Charles
Up-and-Comer: Ladarius Green

While Charles declined to run the 40 or do any of the agility drills in Indianapolis, he remains in the top spot for now, and just barely, in part because this is a really unimpressive group. His gauntlet was OK, not great, and he definitely looks like a work in progress in blocking.
There are several other tight ends close behind him, but none of them wowed me either.
Someone who made a good impression was Ladarius Green, a small-school prospect who ran a good 40 time and looked great in the gauntlet drill. Green won't go high, but he could be a real value in the middle to late rounds of the draft.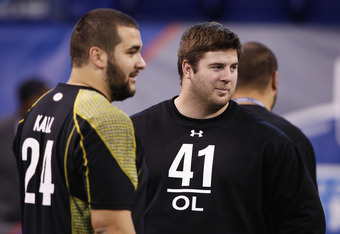 Joe Robbins/Getty Images
Offensive Tackle
Top Dog: Matt Kalil
Up-and-Comer: Mitchell Schwartz
Kalil didn't need to really do much of anything to keep the top left tackle spot under lock and key. He showed up to compete though, and boy did he. A guy who is 6'7" and 300 pounds running a 4.99 40? Who showed strength by lifting 225 pounds 30 times? Who finished on top in the three-cone drill, among the best in the short shuttle and then looked great in all the position drills?
More than a few teams will hope that the franchises in front of them are foolish enough to let him slide. It won't happen, but they can dream.
Mitchell Schwartz didn't have eye-popping combine numbers, but I liked what I saw from him across the board. I felt like his times in the measured drills were solid, and he looked good in various position drills. He needs to get stronger and work on technique, but he could be a good mid-round pick for a team looking to groom a left tackle and at worst move to the right side.
Offensive Guard
Top Dog: David DeCastro
Up-and-Comer: Amini Silatolu
Like Kalil at the tackle spot, DeCastro only enhanced his lock on the top position in the guard class. His position drills were outstanding, and he looked the part the whole time he was on the field. Folks like to say that you can't take a guard high in Round 1, but I wouldn't blame anyone if they took DeCastro early.
Silatolu isn't the biggest or fastest guard, but he did well enough in position drills to move up boards a little. He's a tremendous run-blocker whose biggest issue is technique, which is of course very fixable. Expect to hear more about him as the process goes forward.
Center
Top Dog: Peter Konz
Up-and-Comer: Ben Jones
Konz will probably move to guard, but he can easily remain at center as well. His combine wasn't great—18 reps on the bench is not good, and he was hurt so did nothing else—but he has the tape for scouts to go back to and see just how good he is, reps or not. As is the case with several of these groups, the talent isn't really there to push him anyway.
Jones had a good showing on the bench press, vertical and broad jumps and was just as fast as David DeCastro in the 40. He looked very good in drills, and while he's far from elite, he has incredibly sound fundamentals and is very, very reliable. Teams will definitely be interested in him as the draft draws closer.
Defensive End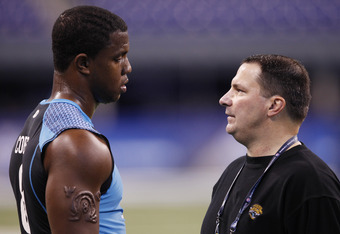 Joe Robbins/Getty Images
Top Dog: Quinton Coples
Up-and-Comer: Vinny Curry
I've heard a few people down on Coples post-combine, which I guess just goes to show you sometimes beauty is in the eye of the beholder. I thought Coples looked good in position drills for the most part, and he put up some good timed numbers as well. He'll continue to build momentum, though whether it's enough to hold off some of the other ends here remains to be seen.
Our "up-and-comer" is Marshall's Vinny Curry. Curry had a solid combine, running a 4.98 in the 40 and jumping 9'2" in the broad and 32 inches in the vertical. He also showed great agility in the three-cone drill and short shuttle, a strength of his game.
He's a bit small to work as a defensive end in a 4-3, but so many teams run a 3-4 that he'll be an attractive option once the top ends are gone.
Defensive Tackle
Top Dog: Michael Brockers
Up-and-Comer: Alameda Ta'amu
Brockers didn't have a great workout—let's face it. I'm not knocking him from the top because pretty much all the top tackles struggled somewhere in their workouts. It's tight at the high end of the class, so Brockers will have to pick it up if he wants to hang up at the top spot.
Alameda Ta'amu is someone I knew a little about before the combine but really started to notice stand out as the week progressed. He doesn't have the ceiling of a lot of the other tackles, but he was quicker than expected for his 348-pound frame and looked good in drills. He's a pretty consistent player who could use a little help in the technique area but could have a long career in the right setting.
Outside Linebacker
Top Dog: Melvin Ingram
Up-and-Comer: Lavonte David
Ingram was a defensive end at South Carolina but really fits as an outside linebacker and had a heck of a combine. He ran a 4.79 in the 40 and looked great all during his workout. He was already around the top of my list and locked himself up there this past week for at least the time being.
David had the seventh-best time among linebackers in the 40-yard dash and had a tremendous vertical leap of 36.5 inches. He also weighed in at 233 pounds, showing off some added bulk that will probably help allay some fears scouts had that he was too small for the position.
Inside Linebacker
Top Dog: Luke Kuechly
Up-and-Comer: Nobody
Kuechly added some weight prior to the combine, but it didn't slow him down as he posted a 4.58 in his 40, which was good for fourth overall among linebackers. He looked very good overall in Indy and in my mind is the flat-out best inside linebacker in the draft.
Aside from Kuechly and Dont'a Hightower, this was not a great couple days for the inside linebackers. Vontaze Burfict slid, and Bobby Wagner, who I really had hopes for, missed the event with pneumonia.
Everyone else looked average at best, so nobody is an "up-and-comer" here.
Joe Robbins/Getty Images
Cornerback
Top Dog: Morris Claiborne
Up-and-Comer: Jamell Fleming

OK, so Morris Claiborne's 40 was unimpressive, but nobody ever was mistaking him for a track star anyway. Everything else he did was gold, so all he did was lock the top spot down even more.
Fleming had an impressive combine and should be moving up teams' draft boards as we speak. He looked very good in drills and showed some good hands as well. He's a bit short at 5'11" but is a tough player, and I think will be a fierce corner at the next level.
Safety
Top Dog: Mark Barron
Up-and-Comer: George Iloka
This isn't a great safety class, and despite a double hernia surgery, nobody was likely to move Barron from the top spot. He's a very talented safety, and assuming he comes back healthy, he's likely the only one to even sniff the first round.
Iloka did well at the combine, posting the fastest time among safeties in the short shuttle (4.03) and acquitting himself well in all the other timing drills. He was a bit slow in the 40, but expect that to improve at Boise State's pro day. He looked good in his positional drills, though one criticism leveled at him (which I agree with) is he looked a bit stiff-hipped.
Overall though, he definitely made a case for himself to be the second-best safety after Barron and potentially have a shot at going in the second round in a weak safety class.