Kansas City Chiefs 2012 Mock Draft: Buying or Selling Matt Miller's Latest Picks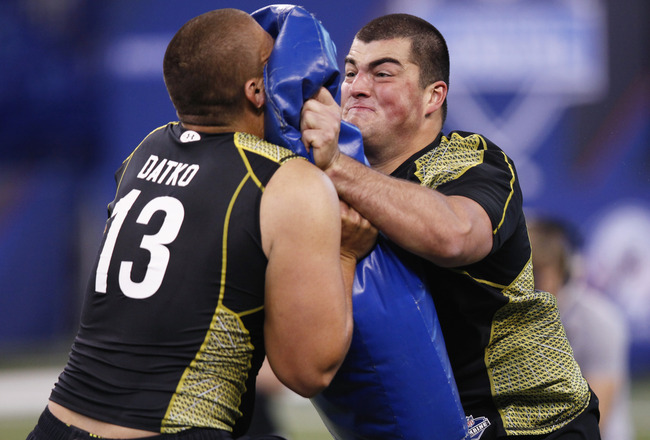 Will David DeCastro (right) be selected by the Kansas City Chiefs?
Joe Robbins/Getty Images
Following the combine, Matt Miller of Bleacher Report released an updated mock draft. Miller carefully evaluated all 32 teams and gave his seven-round prediction.
After seeing Miller's mock draft for Kansas City, it is clear what area he believes the Chiefs must address the most this year's draft.
The Chiefs finishing the 2011 season with a 7-9 record after a humiliating 0-2 start should give people confidence that a strong draft might help complete the team and set them up for a fun ride in 2012. Alongside a strong offseason through free agency, the Chiefs hope to be able to fill some holes and surprise a lot of spectators next season.
In this slideshow, I will go over every Chiefs pick Miller predicted and give you my take on each pick. At the end, I will "buy" or "sell" Miller's picks.
As always, you guys are more than welcome to give your input as well.
Round 1, 11th Pick: David DeCastro, Guard, Stanford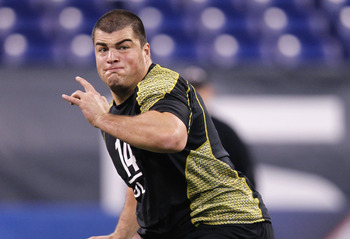 Joe Robbins/Getty Images
Drafting David DeCastro would give Kansas City another Will Shields-like guard. With Jon Asamoah and Ryan Lilja as the current guards for the Chiefs, adding DeCastro will immensely improve the interior offensive line.

No guard is receiving more exposure and recognition than DeCastro this offseason. His quickness off the ball and ability to stay on his feet is one big reason as to why many analysts are projecting him to get selected early in the draft.

For the Chiefs, this is a huge upgrade over what they have currently. But is it worth passing up Riley Reiff?

The Chiefs will be getting back one of the fastest running backs in Jamaal Charles for 2012. Scatbacks, like Charles, love to attack the outside more than the inside. However, even though Reiff spent some time in Iowa playing multiple positions at the line, scouts state that he looks like an athletic left tackle in the pros.

Perhaps taking DeCastro is not that bad and it will be good for the Chiefs. The question is, which guard position will Lilja play and what happens to Asamoah?
Round 2, 44th Pick: Mike Adams, Tackle, Ohio State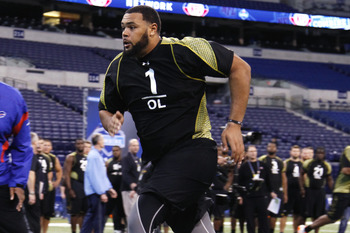 Joe Robbins/Getty Images
Miller suggests that the Chiefs stay at the offensive line in the second round by taking Mike Adams from Ohio State. Is Miller crazy to think that the Chiefs will spent their first two picks on offensive linemen or is he on the right track?

There is nothing wrong with a team wanting to spend multiple draft picks in the same area. Especially for a team like Kansas City that has some woes at the offensive line.

Adams would certainly be an upgrade at right tackle over Barry Richardson, who the Chiefs don't plan on having back for 2012.

After the Chiefs gave up 41 sacks in 2011, Scott Pioli should not hesitate to take a tackle like Adams, who does well in pass protection. A tackle like Adams will also benefit the Chiefs when it comes to rushing the football.

Landing Adams in the second round with the 44th pick would be a huge steal for the Chiefs.
Round 3, 75th Pick: Ronnell Lewis, Outside Linebacker, Oklahoma
Christian Petersen/Getty Images
After spending some resources on the offensive line, it would be a wise move to switch to the other side of the ball and get a defensive player to help the Chiefs.

Adding some depth to the outside linebackers will turn the Chiefs into a scary team on defense.
Tamba Hali has a reliable sidekick in Justin Houston after an impressive rookie season. Hali is no longer the lone pass-rusher on the Chiefs and it looks like Kansas City can continue to build on that.

Ronnell Lewis, who fits the 3-4 defensive scheme, has quick feet and wastes no time getting to the quarterback. Lewis adds quickness and strength to an already-strong outside linebackers corp.

In Houston's second year, he can spend some time being part of a rotation to stay fresh and let another player, like Lewis, help apply pressure.
Round 4, 108th Pick: Alameda Ta'amu, Defensive Tackle, Washington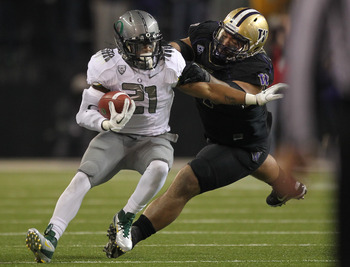 Otto Greule Jr/Getty Images
The Chiefs have some options to explore at defensive tackle.
Kelly Gregg did not have the season some thought he would have. Others found it disappointing when rookie Jerrell Powe was not receiving playing time in the regular season last year. Kansas City is searching for a dominant defensive tackle to anchor the defensive line.
When the fourth round of the NFL Draft comes, teams don't anticipate to find a future Hall of Fame player. They try their best to build depth and hope that someday the player surprises a lot of people.

One positive skill Alameda Ta'amu has is that he is able to make most of his tackles. The Chiefs are not a strong tackling team and missed many tackles in 2011.

As of now, the nose tackle spot for the Chiefs is wide open. It is not for sure that Gregg will return and it is doubtful that the Chiefs will throw in Powe, because he has no experience playing in the regular season.
Round 5, 139th Pick: Dan Herron, Running Back, Ohio State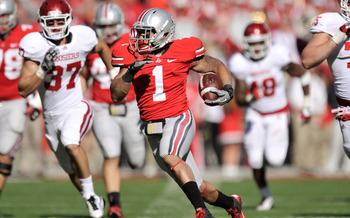 Jamie Sabau/Getty Images
The NFL is a league where offenses employ a two-back system.
While Charles coming back from a torn ACL, no one is expecting Thomas Jones to return to Kansas City next season. Jackie Battle proved to be a one-game wonder with his only 100-yard game coming against the Indianapolis Colts in 2011.

Charles will need someone else to help carry the load. A player with a lot of speed and toughness, like Dan Herron, would be a great fit and an ideal situation for Kansas City's offense in 2012.
Herron can help Charles carry the pigskin. Ultimately, Kansas City's goal is to once again be the top rushing team in the NFL, like they were in 2010. If Herron can surprise a lot of people and get a lot of yards when he is given the ball, he can be considered a steal for a fifth-round pick.
Round 6, 172nd Pick: Asa Jackson, Cornerback, Cal Poly
The Chiefs have been busy this offseason signing cornerbacks Stanford Routt and Jacques Reeves. Adding some depth by drafting Asa Jackson can only create a strong group of defensive backs in 2012.
Jackson succeeded in the Great West conference, but is not an ideal starting cornerback if the injury bug makes its way around Kansas City's cornerbacks.
Realistically, we are not expecting Jackson to compete with Brandon Flowers and Routt for the starting cornerback spot. Jackson will likely receive limited action this year and spend most of his time learning.
Round 7, 203rd Pick: Kevin Koger, Tight End, Michigan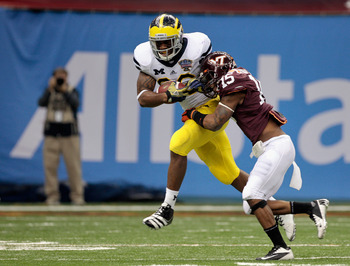 Chris Graythen/Getty Images
Kansas City will continue to look for depth in the really late rounds of the draft. This time, the Chiefs can seek a tight end to help Tony Moeaki, who missed all of the 2011 regular season.
Kevin Koger is a four-year letterman and had success in Michigan. Koger was not a dominant player. However, he saw a lot of time at tight end while playing for Michigan.
Koger's depth might make up for the absence of some tight ends, whose contracts are up with Kansas City.
Like Moeaki, Koger's college career ended with a huge bowl victory. Moeaki and the Hawkeyes won the Orange Bowl, while Koger and the Wolverines won the Sugar Bowl.
7th Round, 223rd Pick (from Patriots): Lance Lewis, Wide Receiver, East Carolina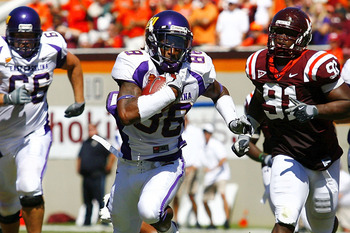 Geoff Burke/Getty Images
In the late rounds of an NFL Draft, teams are better off picking up a wide receiver; teams could use a lot of them these days in a passing league.
If Dwayne Bowe returns to play with Steve Breaston and Jon Baldwin, Kansas City can add some depth by drafting Lance Lewis from East Carolina.
Lewis has been able to grow as a player after transferring from a junior college and is hoping that he can contribute to an NFL team in any shape or form to help them move the ball on offense.
Kansas City's receiving core could use a lot of bodies these days after finishing 25th in the league in passing.
Buy or Sell?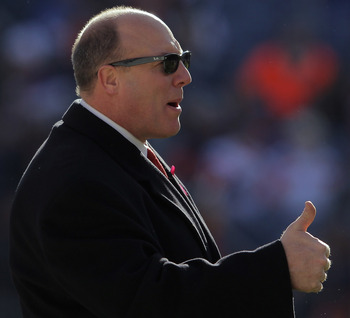 Doug Pensinger/Getty Images
Round 1: OG David DeCastro - BUY: Although I would have gone with an offensive tackle, DeCastro still fills a big need for the Chiefs and he is the best option at guard.
Round 2: OT Mike Adams - SELL: It is a great pick by Miller. However, will Pioli really go for two offensive linemen in back-to-back rounds?
Round 3: OLB Ronnell Lewis - BUY: I was tempted to selling this pick. If Hali can get more help, I am all for getting Lewis to help the Chiefs improve in the pass-rushing department.
Round 4: DT Alameda Ta'amu - SELL: I'm not fully opposed to drafting a nose tackle. It is just that I am not sure what this would do for the Chiefs, unless they sign a defensive tackle and use Ta'amu to build depth.
Round 5: RB Dan Herron - BUY: Herron could be a big steal in the fifth round. If he is on the board, Pioli should get him. Herron has a lot of similarities to Charles and can help build a strong running game.
Round 6: CB Asa Jackson - SELL: Unfortunately, drafting a football player who spent his college career playing at the Great West does not excite anyone.
Round 7: TE Kevin Koger - BUY: With Jake O'Connell, a former seventh-round pick, most likely out, the Chiefs might as well replace him with a seventh-round man to help Moeaki keep him fresh in 2012.
Round 7: WR Lance Lewis - BUY: You can never have enough wide receivers or cornerbacks. Taking a player in that position in the seventh round is not a bad idea. If Lewis is given the chance, he might be able to show us something. If not, no one will lose sleep over a seventh-round selection.
Keep Reading

Kansas City Chiefs: Like this team?