NFL Combine 2012 Results: Overrated Workout Warriors Heading into Pro Days
February 29, 2012

The NFL Scouting Combine is the best opportunity for prospects to catch the eye of NFL decision makers.
It is also a time for a few players to be overrated thanks to gaudy workout numbers. The game of football isn't played in shorts and t-shirts, and it's certainly not played against air.
While the events in Indianapolis are a great indicator of overall athleticism, it is not a great indicator of football skill. We save that for game film.
A few of the top competitors in this year's combine do not warrant the hype they have after this week and will be overrated through to their pro days.
Josh Robinson, CB, UCF
The fastest player at this year's combine doesn't play the game at the level his timed 4.33 speed. The film on Robinson, as NFL Network's Mike Mayock said, didn't show Robinson as that fast of a player.
The UCF corner was also one of the top competitors in the vertical jump and 60-yard shuttle for his position.
Teams would be wise to go back to the tape on him to see what he really brings to the table.
Stephen Hill, WR, Georgia Tech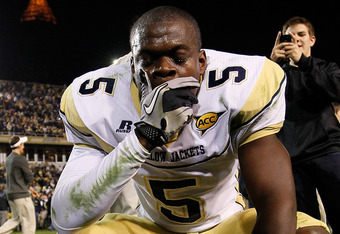 Kevin C. Cox/Getty Images
This is a two-fold situation where Hill will be overrated because of his impressive results and a pair of former first-round picks from his Georgia Tech offense.
Hill isn't nearly of athlete or prospect that former No. 2 overall pick Calvin Johnson was, and isn't on the same level as Demaryius Thomas either. 
The 6'4", 215 pound receiver ran a 4.36 in Indianapolis, but that shouldn't overshadow the fact that he's a completely raw prospect.
Teams will look at him with the hope they can mold him, and he'll be overdrafted because of it.
Zach Brown, LB, UNC
We knew Brown was going to perform well coming in and he did just that. He didn't blow the doors off Lucas Oil Stadium like some expected, but he's still a gifted athlete.
However, that is the problem—he's still a better athlete than a football player.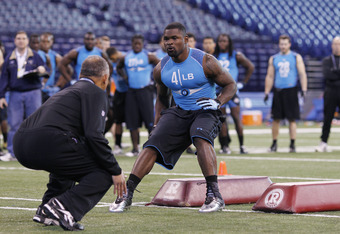 Joe Robbins/Getty Images
Brown's physical gifts will continue to enamor stubborn organization that think they can coach anyone.
Jayron Hosley, CB, Virginia Tech
Coming into the season, Hosley had potential first-round buzz because of his elite ball skills and speed. He backed the speed claim up with times in the 4.4 range and his tape highlights the ball skills.
That said, he's only 5'10", 170 pounds and we've seen cornerbacks from Virginia Tech struggle in the NFL.
Hosley might end up on the fringe of the first round, but his placement will be unwarranted.