MLB Predictions 2012: 10 Rookie of the Year Candidates to Watch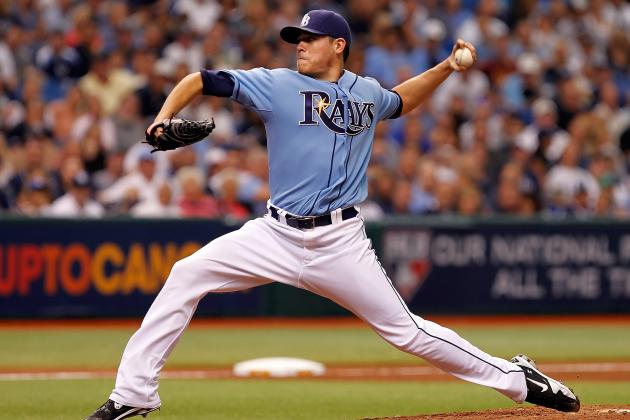 J. Meric/Getty Images

This season, there are plenty of young players coming up to join the major league squad. That leads to an exciting time for us fans, as we get to watch the future of this sport develop right before our eyes.
There are big bats and shutdown pitchers coming up, all of which can help make an impact for a team and propel them to success and the playoffs.
Here are 10 players to keep an eye on this season, as all of them have the potential to break out and become Rookie of the Year.
Begin Slideshow

»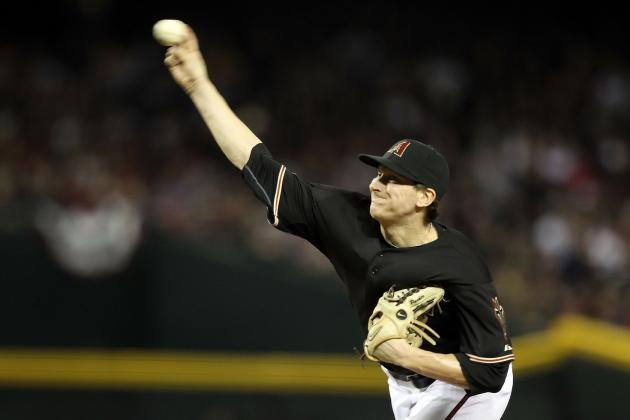 Christian Petersen/Getty Images

Young pitcher Jarrod Parker joined the Oakland Athletics this offseason in the trade that sent Trevor Cahill to the Arizona Diamondbacks.
Parker ranks in at No. 26 on MLB.com's Jonathan Mayo's 2012 Prospect Watch. According to Parker's scouting report, his fastball sits comfortably in the mid-90s range with good sink that can cause many groundouts. He also has a plus slider, an above-average-to-plus curve and a good changeup to round out a solid four-pitch arsenal. Parker has good command of his pitches.
The pressure will be off of Parker as he is set to join the A's at some point this season. Look for him to make a big impact with his potential to lead the rotation in the future.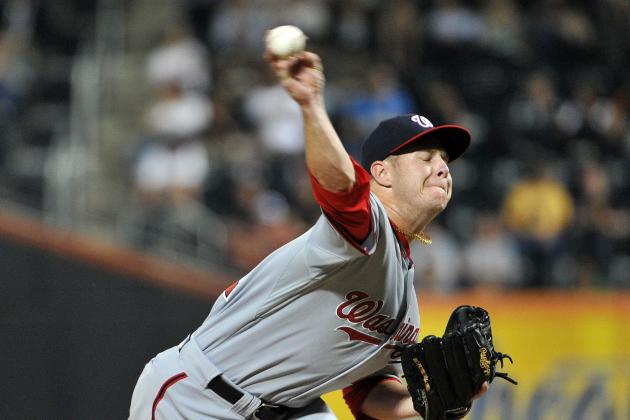 Christopher Pasatieri/Getty Images

Brad Peacock was another prospect the Oakland Athletics picked up this offseason, this time from the Washington Nationals in the Gio Gonzalez trade.
Peacock is ranked No. 75 on Jonathan Mayo's list. He features a plus fastball that can touch the upper-90s, but is best when kept down in the zone. His curve is above-average, and his changeup is slightly behind both his fastball and curveball.
Peacock pitched well in his two starts last season for the Nationals, and will look to continue that trend for the A's this season.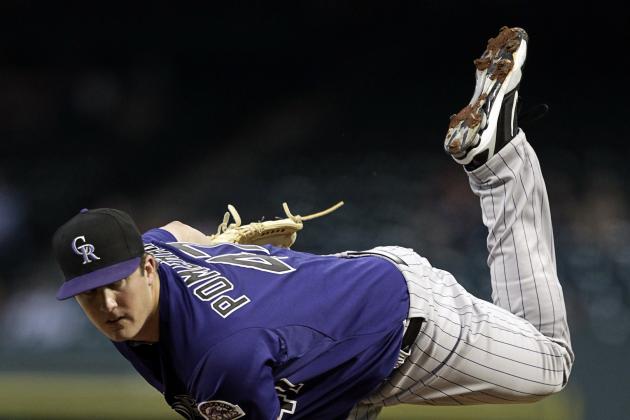 Bob Levey/Getty Images

Drew Pomeranz joined the Colorado Rockies last season as the player to be named later in the Ubaldo Jimenez trade with the Cleveland Indians.
Pomeranz ranks in at No. 24 on Mayo's list. He has plus stuff at his disposal and, when fully healthy, is able to blow his fastball past batters, reaching the mid-90s. His curveball is regarded as his best pitch, and Mayo ranks it as one of the better breaking balls of any prospect. He also has a changeup that he is still improving.
Though Pomeranz needs to cut down on his walks and improve his command, the potential is there for him to be second in the starting rotation, and he is is set to open the season as the Rockies' No. 4 starter.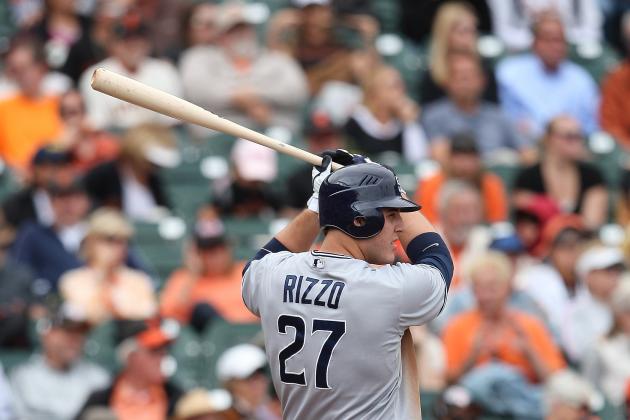 Tony Medina/Getty Images

Now with his third organization, Anthony Rizzo joins the Chicago Cubs after a trade that sent a couple of prospects to the San Diego Padres.
While he still barely qualifies as a prospect (must not exceed 130 at-bats, and he has 128), he ranks in at No. 37 on Mayo's list. Batting from the left side, he should add a nice power boost to the middle of the Cubs lineup that will help replenish the lost offense with the departure of Aramis Ramirez.
Rizzo didn't play well for the Padres during his limited time in the majors last season, but Theo Epstein and company have faith he will live up to his high prospect status.
He is currently competing for the starting gig at first base for the Cubs, but look for him to take over sometime midsummer if he does not win it outright in spring training.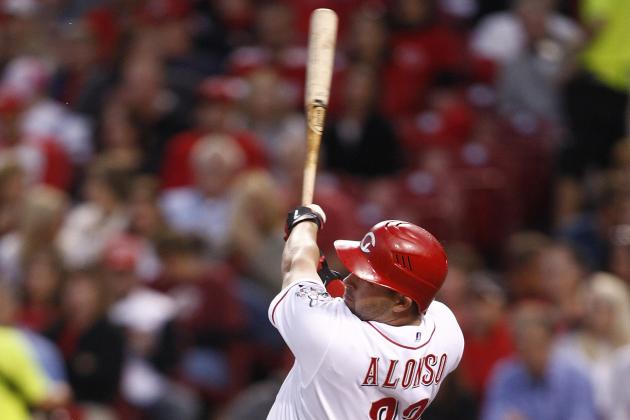 John Grieshop/Getty Images

Yonder Alonso received the gift he had been waiting for when he was traded from the Cincinnati Reds to the San Diego Padres this offseason in the Mat Latos trade. Blocked at first base by Joey Votto in Cincinnati, Alonso tried left field and didn't play very well defensively there.
Now in San Diego, Alonso returns to his natural first base and should be a solid addition to the Padres lineup for years to come. He ranks in at No. 39 on Mayo's list.
Alonso can hit for average and power and is able to drive the ball to all fields. His plate discipline is advanced, as he doesn't strike out much and is able to draw the walk.
He will likely hit more doubles than normal now that he is in Petco Park, but still look for his fair share of home runs to lead the Padres offense.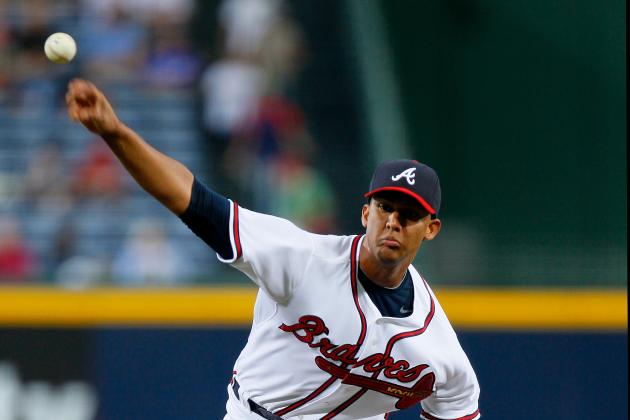 Kevin C. Cox/Getty Images

Randall Delgado of the Atlanta Braves pitched well down the stretch last season, earning him a promotion to the majors. In his 35 innings with the Braves, he had a record of 1-1 with a 2.83 ERA and 18 strikeouts.
For him to reach the next level of performance, he'll need to cut down on his walks, as he issued 14 free passes in those 35 innings. He possesses a solid three-pitch mix with a fastball, breaking ball and changeup.
Delgado is competing for the fifth starter spot for the Braves. If he is sent to the minors, look for him to be one of the first called up in the event of an injury.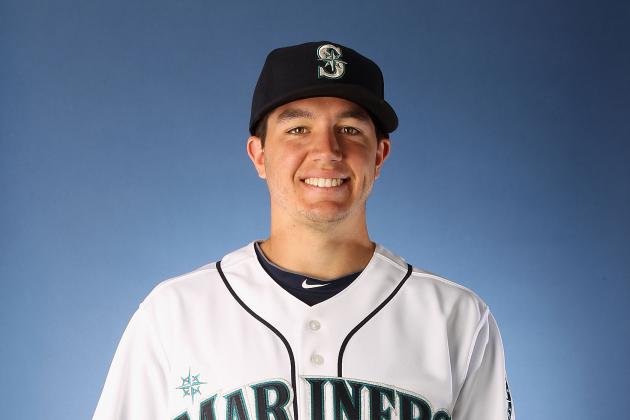 Christian Petersen/Getty Images

The second overall pick in last season's draft, Danny Hultzen of the Seattle Mariners has the chance to be on the fast track to the big leagues this season.
Hultzen ranks in at No. 16 on Mayo's list. He has a plus fastball that can reach the mid-90s and has good movement, and a plus changeup with a lot of deception and sink, usually around 82-83 MPH. His slider isn't as good, but it should be enough to use as a third pitch.
Hultzen is currently expected to start the season in the minors, but look for him to force Seattle's hand and promote him to the big-league club midseason.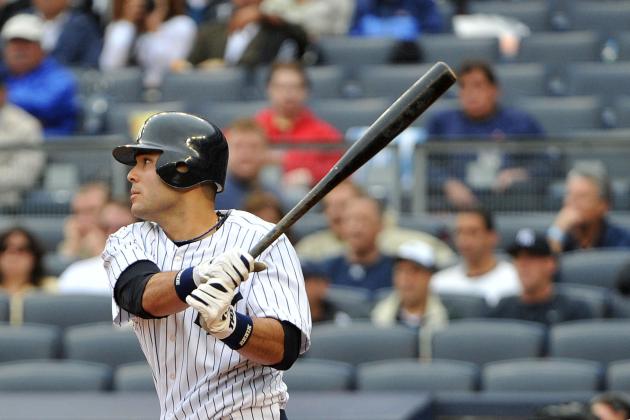 Christopher Pasatieri/Getty Images

The Seattle Mariners needed a big bat to add to their team this offseason, and they found that bat in Jesus Montero, who they acquired in the trade that sent Michael Pineda to the New York Yankees.
Ranking in at No. 12 on Mayo's list, Montero is one of the purest hitters to join the league this season. In his 61 at-bats last season for the Yanks, Montero hit .328 with four home runs and 12 RBI. He should be hitting fourth or fifth in the middle of Seattle's lineup this season.
He will likely hit as the designated hitter, but may see some time at catcher this season for the Mariners as well.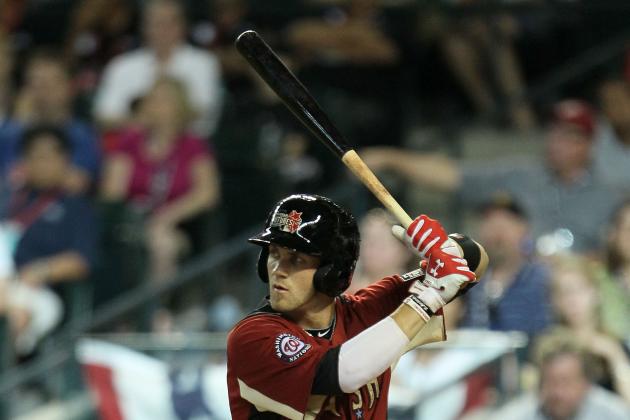 Jeff Gross/Getty Images

Bryce Harper of the Washington Nationals is currently the best offensive prospect in the game, according to Jonathan Mayo.
Harper ranks in as the No. 2 prospect in baseball this season, and is entering spring training trying to earn the starting gig in right field for the Nationals.
Harper has the ability to become a five-tool threat for the Nationals, with some impressive power highlighting his abilities. With the sudden retirement of Mike Cameron this offseason, Harper's chances of making the big-league club increased.
If he doesn't make the club out of spring training, look for him to be a midsummer call-up to add some offense for the Nationals.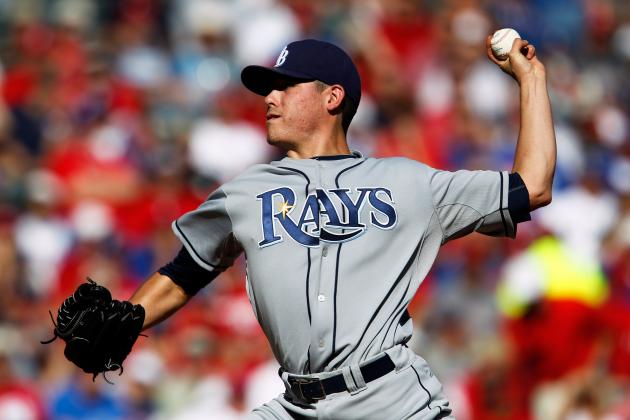 Tom Pennington/Getty Images

Matt Moore of the Tampa Bay Rays enters the season as the best prospect in baseball, earning No. 1 on Mayo's list.
And he has earned every bit of that ranking.
Moore just dominated the minors in 2011, and earned a September call-up to pitch for the Rays. In his 9.1 innings for the big-league club, Moore had a 2.89 ERA with 15 strikeouts. He should fit nicely into the Rays rotation for many years to come.
Moore's fastball is easily in the mid-90s, and can reach the upper-90s at times, while also showing good movement. His curve is a plus pitch with hard break, and his changeup can be equally effective. He took huge strides last season with his command, and has all the makeups to be an ace for the Rays.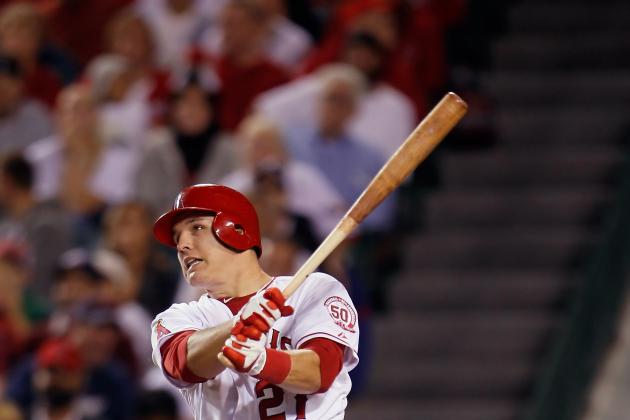 Jeff Gross/Getty Images

Mike Trout, Outfielder, Los Angeles Angels
The reason I don't have Mike Trout as a candidate, is he is trying to earn a starting gig in the outfield. With Vernon Wells, Peter Bourjos, Torii Hunter and Bobby Abreu already up at the major-league level, there is no clear spot for Trout in the outfield. If one of those players are traded (in particular Bourjos), then Trout would find his way on to my list.
Devin Mesoraco, Catcher, Cincinnati Reds
Mesoracro is currently slated as the backup catcher behind Ryan Hanigan. As he will likely be splitting time with Hanigan for most of the season, he did not qualify ahead of the others on my list.
Yu Darvish, Starting Pitcher, Texas Rangers
I am not personally sold on Darvish. I do not know if his abilities will translate to success over here in MLB, and I like the other candidates from the AL that I listed better.
Yoenis Cespedes, Outfielder, Oakland A's
Cespedes may not be reaching the majors this season, as he may be sent to the minors to adjust to pitching here in the USA. If all goes well down there, he may fight for a later spot on my list.