Philadelphia Phillies: 5 Questions Going into the 2012 Season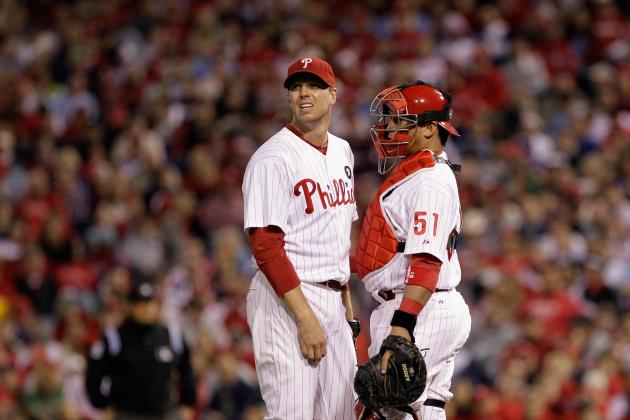 Rob Carr/Getty Images

It seems like it was only a few weeks ago Phillies fans had to watch a disappointing finish to a 2011 season with a 1-0 loss to the St. Louis Cardinals in the NLDS. But it is only two days away before we get our first view of the 2012 Phillies in a spring training game and get that disappointing taste of 2011 out of our mouths. With a new season also comes a new set of challenges and quite a few questions that need to be answered, especially if these Phillies are going to bring home another championship.
Begin Slideshow

»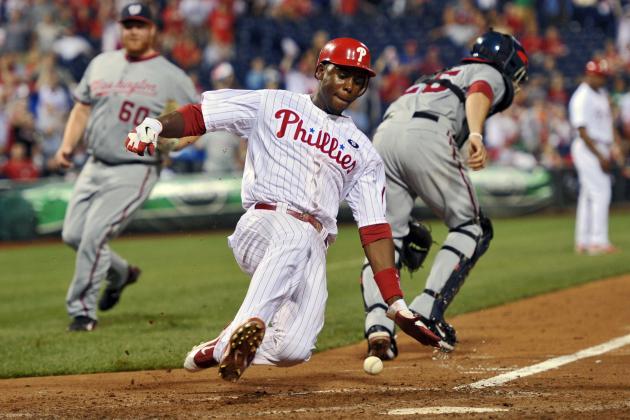 Drew Hallowell/Getty Images

John Mayberry played great last year in spot duty and is listed as the starting left fielder. But were his 15 home runs a fluke? And with Ryan Howard starting the season on the disabled list, the game plan might turn into Mayberry playing first and Domonic Brown starting in left for half the season. It's no secret the Phillies want Brown to be a starting outfielder for years to come, but if he's not ready this year, he may be traded. Lance Nix will provide some pop from time to time filling in, but consistent production out of left field will be a key in the Phillies' offense this year.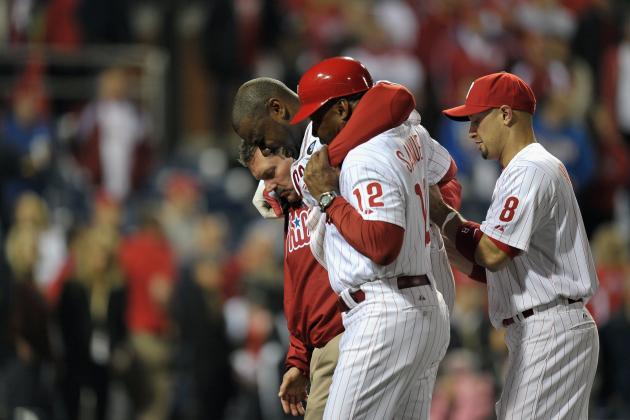 Drew Hallowell/Getty Images

Howard is on track to have a full recovery from a torn Achilles tendon, but there isn't a solid date set for his return. We've heard returns as early as May 1 to after the All-Star break, but what kind of Ryan Howard will we see?
Although he had another 30 plus home run-100 plus RBI campaign last year, his .253 average and 172 strike outs hurt the ball club, not to mention his .105 average in the playoffs crippling the offense. If we can see the Ryan Howard from the 2009 playoffs (where he batted .375 in the NLDS and .333 in the NLCS) it will do wonders for the Phils' offense.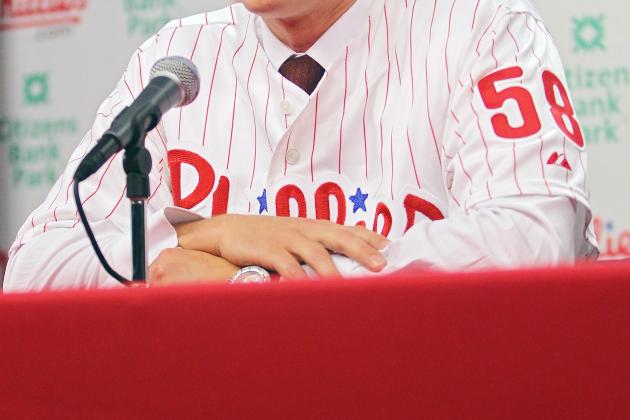 Len Redkoles/Getty Images

Ryan Madson and Brad Lidge are gone, and Jonathan Papelbon is now the new closer. Getting a solid, almost automatic, performance out of Papelbon will be very important this year if the Phillies are going to make a deep run in the playoffs. But there are many other questions in this Phillies' bullpen.
Will Jose Contreras be able to stay healthy? Can Bastardo and Stutes repeat their 2011 success? What can we expect out of Chad Qualls and Dontrelle Willis? The Phillies must be able to depend on the bullpen to close the door this season so Cliff Lee and Roy Halladay won't have to average seven-plus innings per game this year. Did you not think all that pitching didn't play a role in Lee blowing a four-run lead in Game 2 of the NLDS?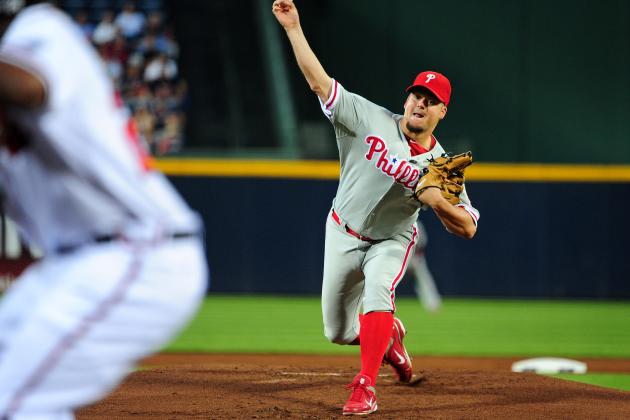 Scott Cunningham/Getty Images

It's no stretch to say that Joe Blanton had a 2011 to forget. With only 41.1 innings pitched, and an ERA over 5, the Phillies are going to need a lot more out of Blanton if he's going to be an effective fourth starter. Blanton's ERA has gone up from 4.05 in 2009, to 4.82 in 2010, to last year's 5.01.If Blanton can't get close to his 2009 form, expect to see Worley move into that fourth spot and Kyle Kendrick to become the fifth starter. That is of course, as long as Worley avoids a sophomore slump.
Worley's 11-3 record, while achieving a 3.01 ERA, last year is strikingly similar to J.A. Happ's 12-4, 2.93 2009 season, and Happ hasn't been the same since. That isn't to say Worley is destined to flop this season. But if the Phillies are going to win a much more competitive NL East this year, they will need some solid outings from their fourth and fifth starters.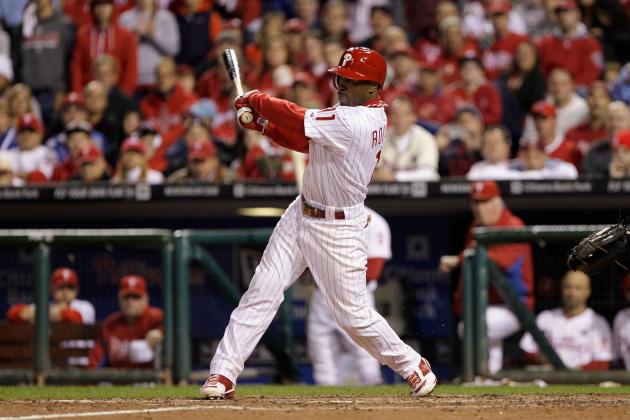 Rob Carr/Getty Images

Although the Phillies have arguably the best starting rotation in baseball, they aren't the only ones who have a great rotation. Josh Johnson, Mark Buehrle, Anibal Sanchez and Carlos Zambrano aren't too bad out of Miami, not to mention they have Heath Bell as a closer. Steven Strasburg, Jordan Zimmerman, Gio Gonzalez and Edwin Jackson in Washington isn't too shabby either. Plus, their closer Tyler Clippard was an All-Star last year. Atlanta still has Tommy Hanson, Brandon Beachy, Tim Hudson and Jair Jurrjens to go along with a pretty good backend of their bullpen.
Bottom line, the NL East is going to be the most competitive division this year, and the Phillies can not afford to see their offense disappear for long stretches. A healthy Jimmy Rollins and Chase Utley, along with a full year of Hunter Pence should defiantly help the bats, and having Ty Wigginton and Jim Thome to pinch hit will be a major improvement from Ben Francisco and Russ Gload.
If the Phillies are going to make it to the World Series this year, the key is the offense being consistent and catching fire going into October. Hopefully by the time April rolls around, all of these questions will be answered and Phillies fans will have a great feeling going into the 2012 season. Regardless of how things shake up, you can expect another exciting baseball season in South Philly.