The 10 Best Available Right Tackles in the 2012 NFL Draft Class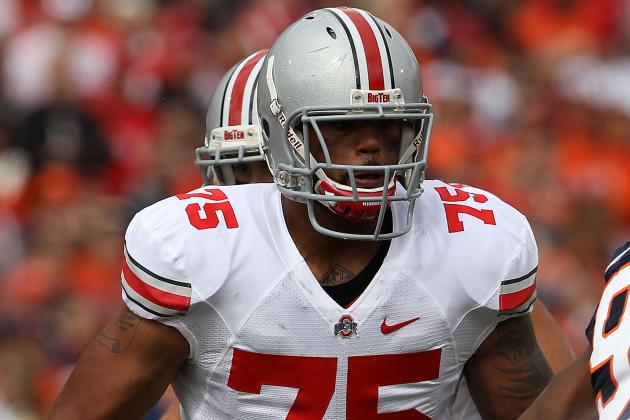 Jonathan Daniel/Getty Images

The left tackle position gets most of the attention come NFL draft season. However, the right side of the line also plays an important role in the success of the offense. Balance across the offensive line is needed to ensure weaknesses can't be exposed.
This draft class features several right tackle prospects capable of developing into elite-level players. We could see as many as three come off the board at some point in the first round.
There are also several prospects who fit the mold of a developmental player. They may come off the board later in the draft but boast some good potential.
Begin Slideshow

»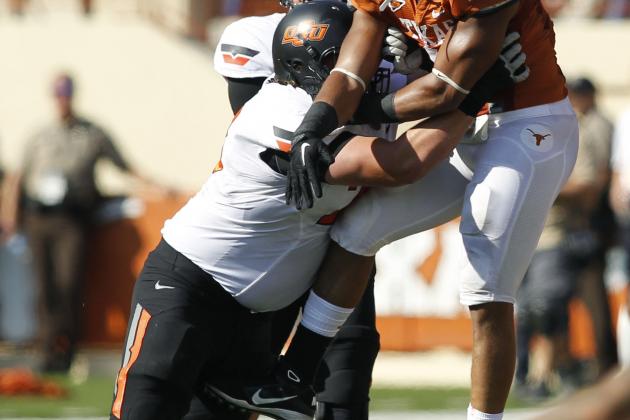 Erich Schlegel/Getty Images

Projected Round: Sixth to Seventh Round
Oklahoma State's Levy Adcock is a massive prospect who boasts good lower body strength. His ability to anchor after contact allows him to hold up against bull-rushers. In the running game, he does a good job firing off the ball and working to get inside hand placement.
Adcock is a right tackle-only prospect who struggles in space. His limited foot speed and change of direction ability hurt his ability to protect the passer. For his size, he doesn't boast great strength and struggles to move defenders off the line of scrimmage.
It appears that Adcock is likely to come off the board in the later rounds. He's a backup-caliber prospect who will get some attention because of his size.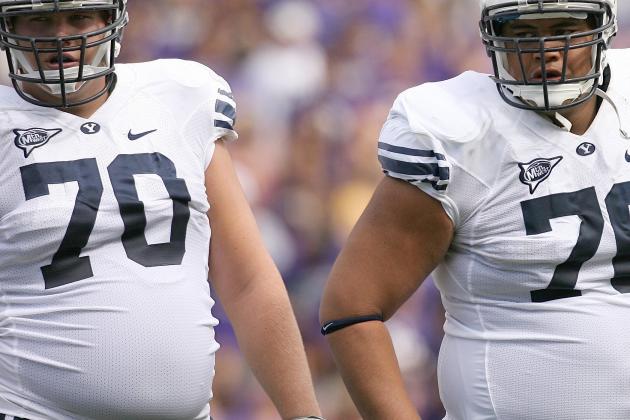 Otto Greule Jr/Getty Images

Projected Round: Sixth to Seventh Round
There was a time during his college career that BYU's Matt Reynolds was receiving some first-round consideration. However, the more evaluators got to see, the more questions arose about his overall athleticism.
Reynolds' best fit is at right tackle, where his struggles to reach the edge can be masked.
His size and strength combination makes him a strong run-blocker. A team that's looking for someone capable of moving defenders off the line should take a flier on Reynolds. However, they should expect a player who can hold up against the top speed rushers in the NFL.
Reynolds is another late-round prospect who will get attention because of his size.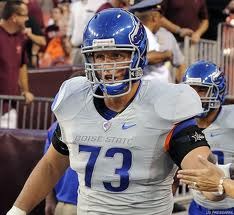 obnug.com
Projected Round: Fifth Round
Boise State's Nate Potter is a technically sound prospect who lacks elite physical skills. The combine workouts exposed his limited size and strength. He weighed in at 303 pounds and only put up 22 reps on the bench press.
This, combined with this struggles reaching the edge, make Potter a fringe prospect.
Potter's strengths are solid footwork and his change of direction ability. He also does a great job snapping out of his stance and into his set. This gives him some hope of protecting the edge against the speed rushers.
However, it isn't enough for him to hold up at left tackle at the next level.
The fact that he has some fluid movements and room to grow into his frame gives him some value. However, I would be surprised if he comes off the board before the fifth round.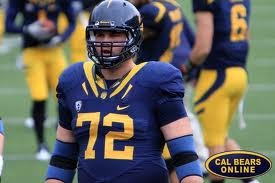 calbearsonline.com
Projected Round: Fifth Round
California's Mitchell Schwartz uses his knowledge of the game and sound technique to provide solid play. He keeps his pad level low and fights to get inside hand placement. His work ethic and football IQ help overcome his shortcomings as an athlete.
Schwartz struggles to change direction and quickly shuffle his feet. This allows most defenders to give him trouble when attempting to protect the passer. However, he knows how to use angles and fights to gain position.
In the running game, he lacks the strength to generate a good push off the line. His good hand position makes him more of a turn-and-seal blocker. Schwartz won't be a fit for every scheme, which is one of the reasons he will drop a little come April.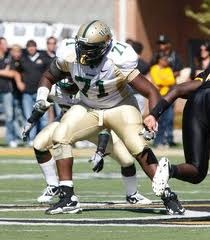 nationalfootballpost.com
Projected Round: Fifth Round
At 6'6" and 303 pounds, UAB's Matt McCants lacks the ideal size needed to play in the NFL. However, his long frame means that the potential is present for him to bulk up.
McCants' value as a prospect comes from his athleticism. He does a great job shuffling his feet and moving in space.
His limited bulk/strength limits his potential as a run-blocker, but his quickness means he can protect the passer. Coaching and time in the weight room could turn McCants into a starting-caliber tackle at the next level. His upside will be attractive to a lot of teams, potentially pushing him up the draft board.
McCants won't make an immediate impact, but he could very well develop into a solid starter.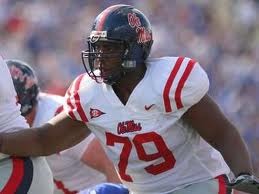 chiefsplanet.com
Projected Round: Fourth Round
At 6'6" and 313 pounds, Mississippi's Bobby Massie possesses the size needed to play tackle in the NFL. He's an excellent run-blocker who has the nasty streak required to finish off blocks.
Massie works hard to get inside hand placement and has the upper body strength to Velcro once engaged. However, he struggles to protect the passer.
His limited foot speed and struggles changing direction allow the more athletic pass-rushers to get the best of him. These issues protecting the quarterback are what make him a mid-round prospect. However, he boasts enough athletic ability to develop into a starter in the NFL.
Massie is a bit of a project, but there's plenty of room for him to grow.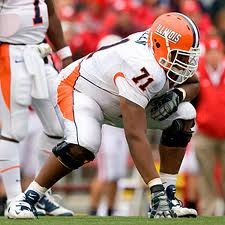 espn.com
Projected Round: Third Round
Illinois' Jeff Allen plays with a lot of strength, balance and power. His ability to anchor after contact allows him to stymie bull-rush attempts. His strong leg drive and heavy hands help him Velcro to the defender while driving him off the line of scrimmage.
However, his limited quickness limits his potential as a pass-protector.
Allen's struggles changing direction and reaching the edge make him vulnerable to the speed rush. He projects as a right tackle only, and someone who may need some extra help in pass protection. However, his anchor, length and solid technique provide some hope for improvement.
The third round would be a good landing spot for Allen, but I wouldn't be surprised if he slips a round or two.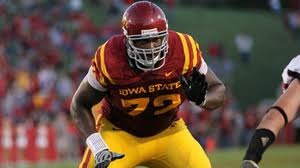 thejetsblog.com
Projected Round: Second Round
Iowa State's Kelechi Osemele is a powerful player with the ability to pass-protect and run-block. His strong lower half allows him to anchor after contact and avoid being pushed into the pocket.
Osemele's quick feet help him reach the edge against most rushers. However, he doesn't have elite foot speed, which is what makes him a right tackle prospect. As a run-blocker, Osemele possess the ideal size, strength and explosion.
Osemele needs to continue to find more consistency with his technique. He has a tendency to get over-extended and bend at the waste, impacting his balance. Osemele needs to work harder to get inside hands, as he often finds himself clutching the defenders' shoulders.
His combination of size, athletic ability and potential makes him a solid second-round prospect.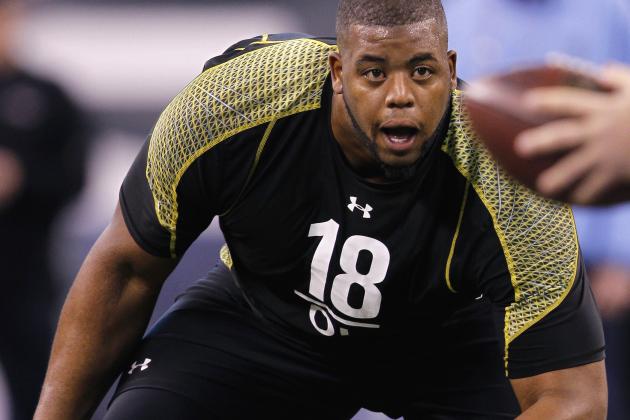 Joe Robbins/Getty Images

Projected Round: Mid to Late-First Round
Georiga's Cordy Glenn is one of the more versatile players in the 2012 draft class. He boasts the skill set needed to fill four positions along the offensive line, but his best spot might be at right tackle. His combination of size, athleticism and strength should put him on the radar for most teams in the first round.
At 6'5" and 345 pounds, Glenn moves with balance and fluidity. His natural bend and quick shuffle allow him to hold up in pass protection. In the running game, he uses his heavy hands to Velcro onto the defender and generate a push off the line.
Look for the San Diego Chargers to take a long look at Glenn. He could even get some attention earlier in the first round if a team feels he can play left tackle. Overall, this is one of the better prospects in the entire draft class.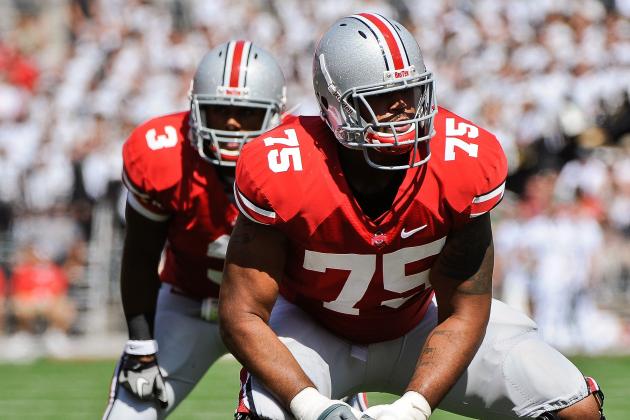 Jamie Sabau/Getty Images

Projected Round: Mid-First Round
Ohio State's Mike Adams is one of the few prospects that could make sense at either right or left tackle. He possesses the athleticism to hold up against some of the league's top pass-rushers, but doesn't quite have the elite foot speed to be considered a can't-miss prospect.
If a team is looking to play it safe, it could select Adams and line him up at right tackle. His strong leg drive and good use of leverage make him a strong run-blocker. This combined with his pass-protection abilities will make him one of the top right tackles in the entire NFL.
Adams makes a ton of sense for the New York Jets, who need to find an upgrade for Wayne Hunter.