NFL Combine 2012: 5 Players the San Francisco 49ers Should Be Watching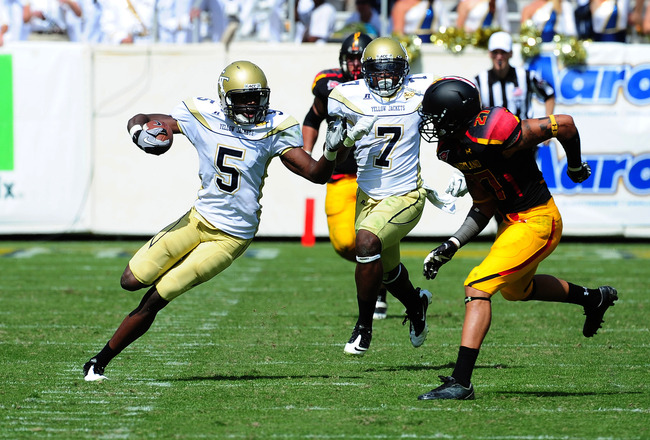 Scott Cunningham/Getty Images
For the first time since the 2003 NFL Draft, the San Francisco 49ers have earned one of the last selections in the first round. While this means that they will not get a Top 10 talent, Jim Harbaugh will be more than satisfied sorting out the borderline first rounders.
San Francisco will have a hard time repeating an incredible 2011-2012 season that ended in the NFC Championship Game. They are scheduled to play the New Orleans Saints, New England Patriots, New York Giants and Green Bay Packers in 2012.
It is pivotal that the 49ers find talented players at all levels of the draft if they expect to compete with the NFL's best next season.
This slide show will highlight five players at the NFL Combine the 49ers must keep their eye on.
Cordy Glenn, G, Georgia
The 49ers have spent more first-round picks on offensive linemen than any other position in recent years. While the emergence of Joe Staley and Mike Iupati is encouraging, Anthony Davis and Chilo Rachal have yet to assert themselves as legitimate starters.
While San Francisco fans are hoping to get a talented wide receiver in the first round, they must remember that this is a run-first team. The 49ers will continue to search for the missing pieces on the offensive line until they get the dominant front five they desire.
At the combine, Glenn improved his stock by proving that he was surprisingly nimble for a big man. The 6'5", 345-pounder ran an incredible 5.15 second 40-yard dash which debunks the theory that he cannot move. He only had three less reps on the bench press than David DeCastro, who is the considered the best interior offensive lineman in the draft.
Like Iupati, Glenn is a mauler in the run game. He has room to improve as a pass-blocker but will be able to rival Adam Snyder for the starting right guard spot (assuming Snyder re-signs with the 49ers). Glenn also adds extra value because he has the ability to play tackle.
Stephen Hill, WR, Georgia Tech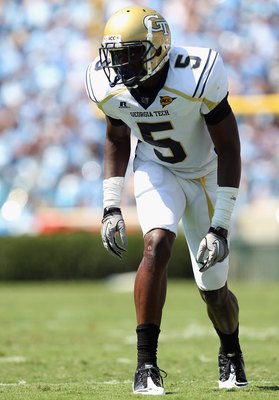 Streeter Lecka/Getty Images
Any wide receiver who runs the 40-yard dash in 4.36 seconds will get some attention. A wide receiver who is 6'4" that can run that fast will get first-round consideration.
Stephen Hill was the most impressive wide receiver at the NFL Combine. He launched himself out of obscurity and into the 49ers' reach with the 30th pick in the draft.
Hill's in-game speed rivals Kendall Wright's, a smaller speedster in whom the 49ers may be interested. But after Wright ran a disappointing 4.61 seconds in the 40-yard dash, Hill may have proven to be the sexier pick.
Coming from the run-heavy Georgia Tech offense, Hill only had 28 receptions last season. However, he averaged 29.3 yards per catch and took eight of them to the house.
The 49ers may pursue talented wide receivers such as Mike Wallace and Vincent Jackson in free agency. But if they decide to look for a No. 1 receiver in the draft, Hill is the answer. He has the speed of Wallace, the size of Jackson and unlimited potential.
Bruce Irvin, OLB, West Virginia
Ahmad Brooks will likely not be re-signed this offseason. This will force the 49ers to look for a pass-rushing outside linebacker somewhere in the draft.
After running the 40-yard dash in 4.50 seconds, Bruce Irvin has proven that he can be a legitimate speed rusher in the NFL. His arms are a few inches shorter than Aldon Smith's, but he was able to put up three more reps in the bench press.
Irvin had 14 sacks in 2010, but his total fell to 8.5 in 2011. This is because he moved to the defensive end position in the 3-4 defense last season. Considering he only weighed between 225 and 230 pounds, 8.5 sacks is an impressive total.
If Irvin (6'3", 245 pounds) is able match his speed rush with a few power moves, he has the potential to be a pass-rush specialist. He was not very stout against the run in college, but the move to outside linebacker in the 3-4 defense will allow him to be more aggressive.
The 49ers can use him to spell Parys Haralson on third downs. Irvin will be able to use his speed to counter Justin Smith and Ray McDonald's bull rush on the inside. Since Aldon Smith will be getting extra attention, Irvin will only have one man to beat before reaching the quarterback.
Alameda Ta'amu, DT, Washington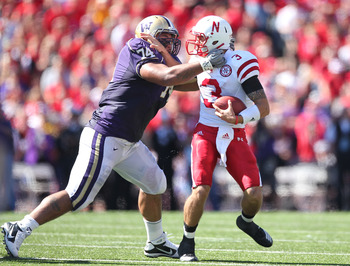 Otto Greule Jr/Getty Images
The 49ers have no depth on their defensive line behind Justin Smith, Isaac Sopoaga and Ray McDonald. This offseason, they will need to find quality defensive linemen who can give the 49ers' front three a breather.
Alameda Ta'amu, (a projected third rounder) is the perfect man for the job. He is not a threat to get to the quarterback, but he can use his mass to occupy blockers which allows the linebackers to flow to the ball.
At 6'3", 348 pounds, Ta'amu has the power and push to eventually replace Sopoaga as a starter. Only six people put up more reps in the bench press than Ta'amu at the combine.
Ta'amu will most likely have an unheralded career in the NFL. He should be similar to Sopoaga in the sense that they both are asked to do the dirty work that makes everyone else on the defense look better. However, if Ta'amu is able to develop a spin or swim move to complement his bull rush, he could be a future Pro Bowler.
Robert Turbin, RB, Utah State
With the emergence of Kendall Hunter last season, it may seem surprising that the 49ers would consider drafting a running back. However, Hunter does not have the size to carry the load if/when Gore misses time, and Anthony Dixon cannot seem to live up to his power-back hype.
Robert Turbin is a bulkier version of Gore. Just look at what NFL.com had to say about him:
Turbin is very athletic. Has the size to be a thumper inside, but moves more like a shifty, quick back. Has very quick feet that he employs to stop and start instantaneously out of the backfield. Has a big frame that gets to full speed fast. A classic downhill runner who can run through linebackers and carry the pile. Was a threat throughout his career in the pass game. Has the speed, athleticism, and durability to wear down an NFL defense for an entire game.
To continue with the comparison, he missed 2007 with a foot injury and 2010 with a torn ACL. He will need to overcome his injury-ridden past and improve his blocking if he wants to become the next Gore.
He did everything in his power to live up to his every-down-back label in the combine. He ran an acceptable 4.50 seconds in the 40-yard dash and put up an impressive 28 reps on the bench press.
Turbin also benefited from the combine's dress code. He was the most ripped out of all the running backs but still looked fluid in his motion. He could be a great mid-round pick for the 49ers come April.
Keep Reading

San Francisco 49ers: Like this team?