2012 NFL Draft: Stanford TE Coby Fleener Scouting Report
February 27, 2012

Ezra Shaw/Getty Images
The Stanford Cardinal football team has gotten a significant amount of much-deserved attention in football after several key players on the team helped lead it back to the national stage.
The players who have gotten the most attention have been quarterback Andrew Luck along with blockers David DeCastro and Jonathan Martin, but another player who has had a big impact is tight end Coby Fleener.
Fleener caught 18 touchdowns in the last two years while serving as the No. 1 target for star quarterback Andrew Luck and will likely be drafted high in a weak tight end class.
However, is he worth the high draft choice? 
Size
Fleener came in at 6'5" and six-eighths of an inch and 247 pounds at the combine, checking in as one of the biggest tight ends on the scene. He also had 10-inch hands to go along with 33-plus-inch arm length.
His large size and hands allow him to snatch passes at their highest peak when going up for them, and he possesses quality body control despite his large size. This is an impressive characteristic of Fleener's game and most certainly one of his strengths. 
Scheme and Route Running
The scheme that Stanford tight end Coby Fleener operated out of was one that saw a lot of pre-snap adjustments made to create a simplified defense, which typically ended up being some form of zone coverage and saw him line up in-line as well as a flexed and split-wide tight end.
In the scheme, Fleener was asked to run several types of routes, most notably corner, post, China (square-in) and double moves such as corner-post. These routes require specific footwork and route depths that must be done when running them and Fleener proved that he could do them.
For example, on the corner-post routes, the Stanford tight end showed the ability to separate from defensive backs, specifically safeties, by selling the route with his head and shoulders and then capitalizing by breaking inside with his inside foot, thus not wasting movement by taking an extra step. By doing this, he was able to win at the break of the route and get open. 
Quickness
The foot quickness of a pass-catcher is very important in my opinion because it is one of the integral parts of creating separation in man coverage. If the pass-catcher has quick feet, he likely will take few steps in the process of breaking off his route, which is something that not every pass-catcher can do. 
In Fleener's case, he shows quick feet when running routes such as pivot routes against zone coverage. Pivot routes are read routes that are based off the leverage of the nearby defender, and it's something that he does well in my opinion. 
Against man coverage, he also shows the ability to do this by outrunning safeties and linebackers as well as avoiding them in traffic. The latter may appear as something simplistic, but not all pass-catchers avoid traffic successfully. He can run bend routes into the seam successfully by making quick cuts toward the inside of the field that also enables him to run away from defenders.
Hands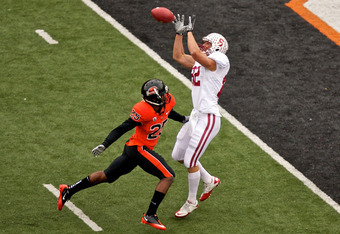 Craig Mitchelldyer/Getty Images
If you can't catch, you're unable to do your job, thus are useless. It's simple as that, and that's not an issue with Fleener most of the time. He shows quality body control to adjust to passes when in flight and catches the ball cleanly often.
There are instances, however, when he take his eyes off the ball as he's hauling it in which causes him to drop the ball. This is a matter of concentration and can be fixed, but it's still important to point out in evaluation. 
Dealing with Defenders 
Whether its on the line when Fleener has to deal with press coverage defenders or when he's running a shallow route for example, he tends to have an issue if the defender can successfully (with technique) get his hands on him.
It appears that Fleener is not particularly strong in the upper body despite his 27 bench reps at the combine as he can be knocked off his route and forced to recover, which disrupts him and the rhythm of the offense. 
At the line of scrimmage, he shows the ability to avoid press coverage (albeit it poor technique by defender) by side-stepping it and slapping the hands away. He does this well but should look to develop another move whether he plays in-line or as a split tight end.
Blocking
If there's an area in which I would like to see significant improvement from Fleener, it is his blocking. He is not a great blocker despite working in-line so much as he does not drive back the defender nor does he often play with quality technique. He needs to do a better job of dropping his pad level as well as getting his hands inside of the defender to execute proper hand placement.
While the majority of his base blocks are not good enough, in my opinion, he has shown success on other types of blocks, despite them being more simplistic. These blocks in which he's had success on have been crack blocks, which feature him blocking down the line from a flexed alignment, as well as kick-out blocks that drive the defender wide of the play and turn him back inside to seal off a running lane.
Despite this, I believe he will have to improve a significant amount at this aspect of his game. 
Overall
Stanford tight end Coby Fleener reminds me in some ways of former BYU tight end and current Baltimore Raven Dennis Pitta. Fleener is one of the top prospects at his position in this draft class because of his size and quickness.
He shows the ability to separate against man coverage while finding the hole against zone. He's coming out of a scheme that is pro-style, and that will help him make a transition to the next level.
Fleener has a lot of natural talent, such as body control and hands, that enables him to have success against defensive backs and linebackers. However, his strength and blocking will be tested at the next level, which is why I expect him to serve as a big wide receiver who moves around the line early on. By doing this, offenses will get him clean releases and minimize his blocking weakness.