Tony Romo, Tim Tebow and the Cowboys Get Robert Griffin III in the NFL Draft
February 26, 2012

Sarah Glenn/Getty Images
As a football fan without football, I feel withdrawals. Yes, I have a problem. Like a junkie in a methadone clinic, I have the NFL Network, where I can get something that closely resembles football, even though we know it is not the real thing.
While fixing my habit and watching the combine on the tube this weekend, I saw Jerry Jones. This man rules Texas, is probably the biggest personality in the NFL and has an affliction to high-profile, elite athletes. When they come from his neighborhood, he is sure to be even more enamored. 
I thought to myself, what is it that Jerry Jones wants? He has a coach he adores, he has a solid team filled with talented players and he has the biggest and baddest stadium around. Then I realized the only thing he really needs is a quarterback. 
Of course he has Tony Romo, and JJ has had Romo's back through thick and thin. But that is exactly the problem. For the past several years, anytime Romo gets all Brett Favre on us and throws a few picks in a game, JJ rushes out to defend him as his franchise quarterback. The problem is, after several years, it is now clear that Romo can be good, and can be bad, and will probably never win a title. I am sure that Mr. Jones now sees that and would do whatever he can to get a quarterback with the ability to change his fortunes. But who? Tony Romo is under contract, and if Romo somehow leaves, who would step up and fill his shoes? 
Well, the answer is in Texas. The man is named Robert Griffin III. He played his college ball about 90 minutes down the road from Mr. Jones. He is the current Heisman Trophy winner, and is sure to be the No. 2 pick in next years draft. He is an elite athlete, a hometown hero and has all the tools to be the next big superstar. He has Michael Vick's athletic ability and arm, he has Cam Newton's downfield passing ability and he has the intelligence of any elite NFL quarterback.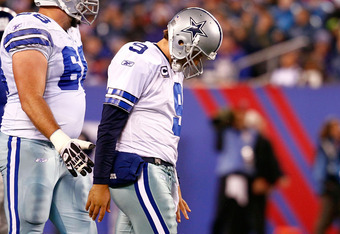 Jeff Zelevansky/Getty Images
I know, I know, I am crazy. That is what happens when you have an addiction. You lose touch with reality, you start to live in your own crazy world and you come up with hair-brained ideas. Well, here is my hair-brained idea that will get the Cowboys RGIII. Mr. Jones, are you listening?
The Cowboys have a chess piece in Tony Romo. Who would want him? He is an athletic quarterback who can play outside the pocket, yet fits into the "quarterback mold" if you will. He is not quite Brett Favre, but close. John Elway lite, very lite. A team that wants a mobile quarterback to help improve their offense. A team like, say the Broncos.
We all know the Broncos are saying they like Tebow, because they feel tied to Tebow. We also know they are actively looking for quarterbacks because they don't really have any others on their roster, and because they are scared that Tebow is really going to be the guy who has to line up under center. 
What if John Fox and Elway got a call from Mr. Jerry Jones with an offer of Tim Tebow and a 2nd round pick, for Tony Romo. While we know that Tony Romo is not HOF material, he is a viable starter in the NFL. He is also a hell of a lot better than Tim Tebow. Not to mention, with Romo on your roster, and Tebow somewhere else, John Fox and John Elway can get back to the business of playing football. 
Okay, so the Broncos have Romo and the Cowboys have Tebow and an extra second-round pick. The Cowboys now have to find a dumping space for the Tebow and his followers. The first call should be to the new guy in Jacksonville, who is desperate to sell tickets. Of course Jacksonville just drafted Blaine Gabbert and isn't in the market for a quarterback. Tim Tebow will sell tickets. Blaine Gabbert won't. The Jaguars will be on the hook for two first-round quarterbacks, but with the income in tickets, jerseys and bibles that Tebow will help sell, the extra money on a backup quarterback will look like chump change. Give Gabbert a few years on the bench and when the Tebow train runs out of steam, you'll at least have a viable backup. 
So, the Jaguars sell-out and trade their first-round pick to the Cowboys for Tim Tebow. Now the Cowboys have two first-round picks and two second-round picks. The Jaguars have their quarterback of the near future, the Broncos get rid of their headache and fill in with a Pro Bowl player, and the Cowboys have just enough trade bait to move up into the second spot of the draft and pick Robert Griffin III. 
Everybody is happy. Mr. Jones gets his guy. And I watch too much TV, think about football a little too much and come up with crazy ideas that really make sense when you are living in your own little fantasy world.