Philadelphia Eagles: Overreaction to DeSean Jackson and Robert Griffin III News
February 25, 2012

Rob Carr/Getty Images
When Baylor quarterback and 2012 NFL draft prospect Robert Griffin III announced his intent to meet with the Philadelphia Eagles, the world took notice.
Fortunately, Bart Hubbuch of the New York Post is an inhabitant of the world and, thus, took notice.
RG3 said he's scheduled to meet with the Eagles tonight. Interesting.

— Bart Hubbuch (@NYPost_Hubbuch) February 24, 2012
The abyss from the end of the Super Bowl to the beginning of free agency often is a breeding ground for overreactions. But this? The second-best quarterback in the draft, who will presumably be taken with the second overall pick, is meeting with a team that just gave quarterback Michael Vick a six-year, $100 million contract last year?
But that's not all. We're also fortunate that Adam Schefter is an inhabitant of this world, because he has the inside scoop on Vick's teammate, wide receiver DeSean Jackson.
Eagles are open to listening to trade offers for free agent wide receiver DeSean Jackson, who is expected to be franchised.

— Adam Schefter (@AdamSchefter) February 24, 2012
OK, not exactly shocking news, but might as well jump on it.
Overreaction: Are the Eagles Trying to Trade Up for RG3?!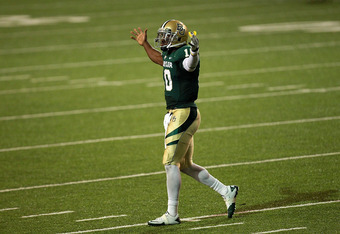 Ronald Martinez/Getty Images
The St. Louis Rams need a few things to get their franchise headed out of the doldrums, and one of those things is an explosive playmaking threat at wide receiver. Can Jeff Fisher keep Jackson in line? What about cornerback Asante Samuel, who could easily be packaged into a trade? Might as well throw as many big names into the pot as we can!
And to think...if I told you the Eagles might be a legitimate contender to move up to the Rams second overall pick two days ago, would you have believed me? No, you'd say I'm out of this world.
Guess I'm no Hubbuch or Schefter.
Or am I?
Why It'll Never Happen
Everything the Eagles do this offseason will be in a direct attempt to win Super Bowl XLVII. Andy Reid may be coaching for his job this year more than ever before. It's going to take a lot of ammunition to move up to No. 2; ammo that could be better used for other purposes.
Like, perhaps, a linebacker or two or three. 
What's more, Vick is guaranteed a cool $12 million this year for his services according to Rotoworld. There's just no way the team would cut Vick and absorb that kind of dead money when it seems like it's a make-or-break year for some Eagles players and personnel.
Overreaction? Overruled.