2012 NFL Draft: Why Vontaze Burfict Is Perfect Fit for Philadelphia Eagles
February 24, 2012

Stephen Dunn/Getty Images
Vontaze Burfict is not perfect. But he is a perfect fit for the Philadelphia Eagles.
A lot of draft analysts and fans believe that Boston College's Luke Kuechly should hold that label, but the Eagles would have to take the linebacker in the first round—something they have never done under Andy Reid. At this point, Burfict's draft stock has taken enough of a hit to where he'll probably be selected in the second.
Also, Kuechly may be best prepared for the NFL, but his ceiling isn't as high as Burfict's. That being said, he's not going to be a bust either. What Kuechly brings is a skill set that can be plugged in right away and be used right away. Five or six years down the line, he will be seen as a dependable middle linebacker who can lead the defense.
Burfict, on the other hand, will be seen as the primary playmaker on whichever team he plays for. For everything not to like about Burfict, there's much more to love about him. But we'll start with what we hate.
Penalties
Burfict is a very fired-up player, similar to Ray Lewis in that regard. The difference between the two is, Burfict releases that fire on the field with bad timing and bad logic, usually resulting in personal foul penalties. Lewis finds his outlet in Old Spice commercials.
After being a consensus All-American in 2010, Burfict's penalties kept him out of games and off the All-Pac-12 team in 2011.
Also, according to former ASU quarterback Danny White, Burfict was "the reason Dennis Erickson got fired." He went on to point out that because Burfict is such a great athlete, it's essential that he be on the field. But when his penalties became too much to be worth it, it put Erickson in a tough situation.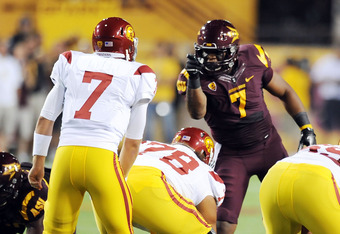 Norm Hall/Getty Images
Laziness
A huge red flag was raised when Burfict showed up for pre-draft training out of shape and was only able to do 15 reps on the bench press. He was slowed by a hamstring issue, but that shouldn't have prevented him from working out his arms. 15 is an alarmingly low total for someone that could be the second-best inside linebacker available in the draft.
Discipline
This is a general term that can describe both of the above, but it applies to his on-field play as well. When Burfict isn't getting penalties, he's actually a really good linebacker. That being said, he has tried to slip blocks he was supposed to take on and occasionally ditched the play entirely to do his own thing.
Despite all of that, the Eagles should take a chance on him if he is available in the second round. They desperately need a linebacker and could find a long-term star in Burfict. He might not be a Pro Bowler right away, but here are a few reasons why it would be stupid to pass up on him.
Size and Measurables
One of the knocks on Kuechly is that he doesn't have a dominating presence. Burfict, on the other hand, makes offensive players turn white and throw up a little inside when he's on the field. At 6'3", 252 pounds, Burfict has prototypical size for a linebacker. He also possesses great speed and burst that allow him to track down running backs and tight ends easily.
Tackling
Something you won't see Burfict do is miss tackles. He is extremely strong and can bring down guys even when he takes poor angles. This is something the Eagles would love to have, as a major complaint of the cornerbacks last year was of their inability to make tackles. Burfict will also routinely land on Sportscenter's Top Plays because of his big, violent hits.
Ceiling
People compare Burfict to Lewis because that's what he can become. He has all of the physical tools necessary to develop into a perennial Pro Bowler like Lewis.
He just needs to be more disciplined. That will come with time, as Burfict matures with age. He had been improving consistently until 2011, when he took a major step back. Under the coaching and resources of the NFL, Burfict will have more help available to him now than he had at Arizona State.
To pass up on Burfict would be a huge mistake. Overall, he isn't worth a first-round pick. His physical tools would be a steal to get in the second round (or even outside the top 15), but his mental makeup gives him the look of an undrafted free agent. The solution is simple—fix his head and you'll have an elite linebacker for years to come.
Of the Eagles' needs, linebacker is the undoubtedly the biggest. Of the linebackers available in the draft, Kuechly is the best prepared to make an immediate impact. If Reid wasn't so opposed to taking linebackers in early rounds, he would be the perfect fit.
However, with the talent available at defensive tackle in the first round, it will be tempting to take Jerel Worthy or Devon Still with the 15th overall pick. Even safety Mark Barron would be a good option for the Eagles.
In the second round, however, Philly has two picks and it would be wise to spend at least one of them on a linebacker. Taking a wild card in Burfict is risky, but since the Eagles have the extra pick from the Kevin Kolb trade, they have nothing to lose.
The talent is just too much to pass up on. If Burfict turns out to be the kind of player he is capable of being, he is without a doubt the perfect fit for the Philadelphia Eagles.