NFL Draft: Recalling the Chicago Bears' Best Drafts and Other Draft Day Triumphs
February 24, 2012

Jonathan Daniel/Getty Images
With the 2012 NFL Draft rapidly approaching, I felt now would be an opportune time to re-visit a few of the Chicago Bears' more prominent drafting conquests of years past.
With the Bears brass clearly showing a lack of drafting acumen/vision of late, it's as good a time as any to demonstrate how quickly a franchise can be turned around with just a couple of judicious draft day selections.
Here are summations on a couple of the Bears most storied drafts from over the years, plus a few other individual successes of noteworthy consideration from along the way.
1965 Draft – Bears Select Dick Butkus and Gale Sayers with Third- and Fourth-overall Picks
As it stands, five future Hall of Famers were selected in the 1965 NFL Draft. Two of those players were chosen with back-to-back picks in the first round, both by the same team—the Chicago Bears.
Those two players were none other than Dick Butkus and Gale Sayers.
Butkus, who grew up on the south side of Chicago, was a two-time All-American linebacker taken with the third overall pick out of the University of Illinois. His impact would be felt immediately, both around the league and on his own team as he led the Bears in tackles, interceptions, forced fumbles and fumble recoveries during his first season as a pro. In addition, he would quickly become known as "The Most Feared Man in the Game", as Sports Illustrated would make clear by displaying his mug on their cover with that precise caption.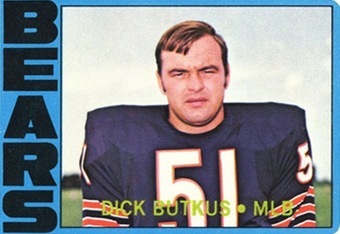 At a playing weight of 6'3", 245-pounds, Butkus was unquestionably the most ferocious and intimidating player in the league who admittedly would just as soon try to take off an opposing players' head as tackle him. As a result of his on-field savagery during his nine-year career, Butkus was selected to the Pro Bowl eight times while making the All-Pro team on six occasions.
Although his relationship with George Halas and the Bears became strained after his career was cut short in 1973 due to multiple knee surgeries (Butkus claimed the Bears continued to play him even when they knew he needed knee surgery), they would eventually mend fences when Butkus took over as a color analyst for the Bears during radio broadcasts in 1985. His post-football career also included many appearances in various TV shows and commercials, as well as cameo roles in movies such as Necessary Roughness, Any Given Sunday and Johnny Dangerously.
Gale Sayers, the second of those back-to-back first round picks, was also a two-time All-American in college and taken with the fourth overall pick out of the University of Kansas. Known as "The Kansas Comet", Sayers, too, would leave an immediate mark on both the NFL and his own team setting multiple records during his first season in the league. One of those records was his rookie total of 22 touchdowns (14 rushing, six receiving, one punt return, one kickoff return), while another would be his incredible performance of six TDs in a single game against the San Francisco 49ers. He also had 2,272 all-purpose yards that season, a record that would eventually be broken by numerous others, including himself the very next season. Needless to say, Sayers was the unanimous choice for the 1965 NFL Rookie of the Year.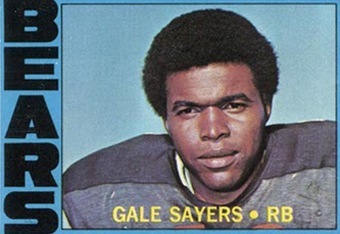 Like Butkus, Sayers' career was cut extremely short due to multiple knee injuries. Though he would end up playing just 68 games during his seven-year career (just four complete seasons), Gale is generally recognized by those within the sport as one of the top 25 players to ever play the game. He is still the youngest player ever to be inducted into the Pro Football Hall of Fame as he was enshrined in 1977 at the ripe young age of 34.
His dear friendship with fellow running back and teammate Brian Piccolo, and Piccolo's coinciding lost battle with testicular cancer (embryonal cell carcinoma), led to the making of the movie Brian's Song, which was more or less fashioned from Sayers' autobiography, I Am Third, which he wrote in 1971.
Butkus and Sayers will forever be linked in the hearts of Chicagoans as each player had their number retired by the Bears (No. 51 and No. 40 respectively) during a Monday night game against the Green Bay Packers in 1994.
The other three Hall of Famers to be taken in the 1965 NFL Draft were quarterback "Broadway" Joe Namath (first round, 12th pick), wide receiver Fred Biletnikoff (third round, 39th pick) and Chris "The Hangman" Hanburger, a linebacker who was known for his love of the clothesline tackle (18th round, 245th pick).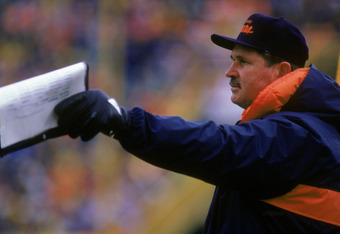 Jonathan Daniel/Getty Images
The Bears' Epic 1983 Draft
In order to win the Super Bowl, it is imperative for a team to have great draft classes.
Over the last 20 years, it's no secret the amount of trouble Bears have had in regaining the glory from their 1980s drafting success. Certainly no draft, either before or since, has come close to their epic draft class of 1983—not  even the 1965 draft which landed Dick Butkus and Gale Sayers.
The 1983 draft marked the beginning of a rebuilding process for the Bears'  new Head Coach, Mike Ditka. Jim Finks, the General Manager at the time, helped build the memorable 1985 Super Bowl champion Bear team with this famed draft class of 1983.
With the sixth-overall pick in the first round, the Bears selected OT Jim Covert—an absolute beast and best lineman on the '85 Super Bowl team. With their second of two first round selections, the Bears landed WR Willie Gault with the 18th-overall pick. While Willie never quite set the NFL on fire, he was still a very important cog in the Bears' Super Bowl run.
Chicago would then have one pick in each of the next two rounds, choosing to use both in solidifying their defensive backfield. The first of them, their round two selection and 33rd-overall pick, was "LA" Mike Richardson. In the third round, with the 64th-overall pick, the team chose Dave Duerson. Each of these defensive backs turned out to pay nice dividends as both became starters on the famed 1985 Super Bowl team.
The Bears then had two fourth-round picks coming to them and ended up hitting yet another home run on the first, selecting OG Tom Thayer with the 91st-overall pick. Thayer, too, would become a starter along the offensive line for the '85 Super Bowl team. Their second pick of the fourth round, however, was TE Pat Dunsmore—a player who never panned out as the Bears now had to wait until the eighth round to make their next selection (yes, drafts used to be 12 rounds long).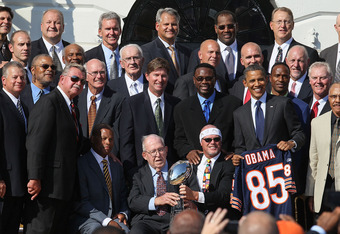 Mark Wilson/Getty Images
Again, the Bears found themselves with another two-pick round and may have come up with two of the best eighth-round picks in NFL history. With their first of the two, the Bears selected Hall of Fame DE Richard Dent (203rd-overall), the man who would go on to become the MVP of Super Bowl XX. With the last great pick of the Bears 1983 draft—the second of two eighth round picks—the Bears selected OG Mark Bortz (219th-overall), yet another starter for the Super Bowl Champions of 1985. 
The overall football knowledge and evaluation skills of Jim Finks back in 1983 led to one of the greatest drafts in NFL history—let alone Bears history—and proves that drafting well is truly one of the most important factors in building a Championship team.
Bears fans have been waiting patiently for another draft class like the one they came up with in 1983. Hopefully, with a new regime in town, they won't have to wait too much longer.
Click Here for a Story on the Ridiculous Devin Hester
Click Here for a Story on the Effects of the Jay Cutler/Kyle Orton Trade
Click Here for a Story on Wilber Marshall and One of the Greatest Plays in Bears History