NFL Combine 2012: The Cautionary Tale of Mike Mamula
February 23, 2012

Rick Stewart/Getty Images
Every year the talk of the NFL scouting combine are the "workout warriors"—lesser known players who show up in Indianapolis and post a gaudy 40-yard dash time or bench a ton of weight while pundits such as myself blather on about how much that player has "helped his stock."
It will no doubt happen again this year, but before NFL coaches and scouts get too worked up about workouts, it's in their best interest to sit down for a moment, take a deep breath, and think back to the saga of Mike Mamula.
Entering the 1995 combine, Boston College defensive end Mike Mamula was a fairly well thought of college senior expected to be drafted in the third or fourth round after a solid, albeit not eye-popping, collegiate career.
Mamula then showed up in Indy and proceeded to blow the roof off the RCA Dome, running a 4.58 second 40-yard dash, out-pressing the draft's top tackle (Tony Boselli), and scoring a 49 out of 50 on the enigmatic Wonderlic Test.
The Philadelphia Eagles were so blown away by Mamula's dominance at the combine, by April the team had become so enamored with him that they traded a first and two second-round picks to Tampa Bay for the seventh overall pick in the '95 draft (along with a third-rounder), which they then used to select Mamula.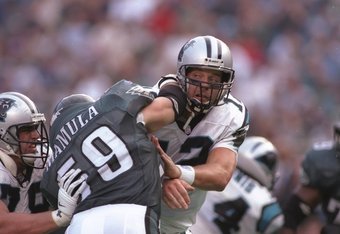 Rick Stewart/Getty Images
Only one problem: Mamula just wasn't that good.
You see, Mike Mamula was something of a pioneer in that he was one of the first players to work out specifically for the combine. Not to get better at football, but to get better at the shuttle drill, and the three-cone drill, and the vertical leap.
That sort of training is commonplace now, but it was almost unheard of nearly 20 years ago, and the shock waves it sent across the combine are still felt today.
For their investment the Eagles got a solid but totally unspectacular player who recorded 209 tackles and 31.5 sacks over an injury-marred six-year career devoid of a Pro Bowl.
The Buccaneers, on the other hand, used two of the picks acquired from the Eagles in 1995 to draft defensive tackle Warren Sapp and linebacker Derrick Brooks, who were voted to Honolulu a total of 18 times combined.
The moral of this story is that before you get too caught up with that filthy 40 time a player just ran, you might want to go back, find some film of the young man, see if he can actually play, and hope that your favorite team is doing the same.
If they're not, they may just get Mamula'd.