Green Bay Packers: What Jermichael Finley and Matt Flynn Mean for the Future
February 23, 2012

Jamie Squire/Getty Images
Now that starting tight end Jermichael Finley was signed to a two-year contract, the phones of general manager Ted Thompson's staff must be setting satellites on fire with activity.
Why?
Thompson has scored a coup in not being forced to sign the 24-year-old Finley to a long-term contract with tons of guaranteed money while still retaining the budding star.
Finley is only 24 years old—some rookies in the upcoming draft are older than Finley is as a three-year vet.
Sure, Finley has had his discouraging moments in a Packers uniform, from publicly criticizing his role as a rookie to having mysterious drops this past season, but there are less than a handful of offensive weapons in the NFL that attract a defense's attention like Finley.
The fun part now is predicting how the Packers can use this newfound roster freedom after securing Finley in Titletown for the next two years.
For much of the offseason, many of us speculated either backup QB Matt Flynn or Finley would get slapped with the franchise tag. 
Now it's only a matter of being a trading partner away (and the likely cutting or restructuring of Donald Driver and Chad Clifton's hefty contracts) from Flynn being franchised or signed in a sign-and-trade type of situation.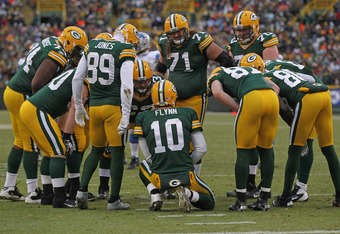 Jonathan Daniel/Getty Images
While nobody can be sure how the crafty Thompson will play his cards, here's my prediction.
Flynn is traded on draft day to a QB-needy team in exchange for between the eighth through 15th pick in the draft (I don't think it's ultra-important who that is, just that they're a willing trade partner—and that could include numerous current non-contenders outside the NFC North division). 
The Packers then would trade Flynn to move up in the first round while exchanging a likely second or third rounder in addition to their current picks.  Thus, they'd go from picking 28th in the first round to picking in the top 15.
Landing ahead of the top-20 picks means the Packers are more likely to land an impact player. 
Some of the top defensive pass-rushers and linemen are rare talents that would take the Packers back to the top and provide the missing piece necessary to dominate.
Since each slot moving up costs a certain amount of points in a widely acknowledged system, it's hard to predict exactly what the move up would cost or be until we know the trading partner.
But if for example, Miami trades for Flynn—given new coach Joe Philbin's roots in Green Bay—they might be willing to part with the No. 8 pick in exchange for the Packers' No. 28 (and additional later-round switches possibly in the mix). 
This could mean the Packers land a rare talent like Quentin Coples, Michael Brockers or Courtney Upshaw.
For a hypertalented roster that doesn't need to rebuild with 10 or more picks in the draft (like Thompson did in his early years as GM), trading up would be a great situation for the Packers while also being beneficial for a team looking for a franchise-caliber quarterback.
Furthermore, since you can't trade compensation picks, it's fairly likely Thompson will want to trade up his standard picks to make a splash in the early rounds.
If this scenario doesn't play out exactly as expected, one way or another Flynn's eventual trade will enable Thompson to do quite a lot in the draft. 
Even gaining another team's early second-round pick would be a win. 
In the worst-case scenario, if the Packers can't tag Flynn or work out a sign-and-trade, they'd likely get a mid-round compensation for a guy that only played two games and was a seventh-round pick. 
Not a bad problem to face for the folks at 1265 Lombardi Avenue.
Look for things to really heat up on the roster front in the coming days when many GMs and agents meet up at the combine in Indianapolis.