2012 MLB Predictions: Top 7 AL Cy Young Candidates Entering Spring Training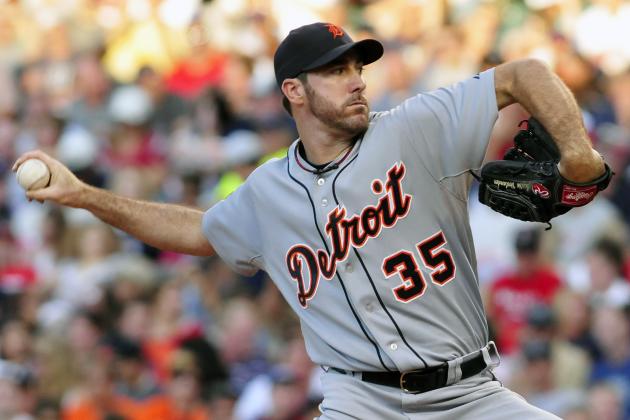 Jason Miller/Getty Images

May the winter blues be gone, baseball fans.
While spring isn't officially underway until March 20—baseball action is beginning to heat up—and that means it's time for the predictions to start rolling in on the 2012 season.
In respect to Justin Verlander's miraculous season from a year ago (he captured both the AL Cy Young and AL MVP awards), the initial outlook on the 2012 AL Cy Young race might seem rather uneventful.
However, the 21st century is yet to see a back-to-back AL Cy Young winner—proof that sustaining dominance is much more difficult than reaching it.
With plenty of hungry hurlers waiting to toe the slab and dethrone the Tigers' ace, let's take an early look at seven candidates most likely to claim the AL Cy Young award in 2012.
Begin Slideshow

»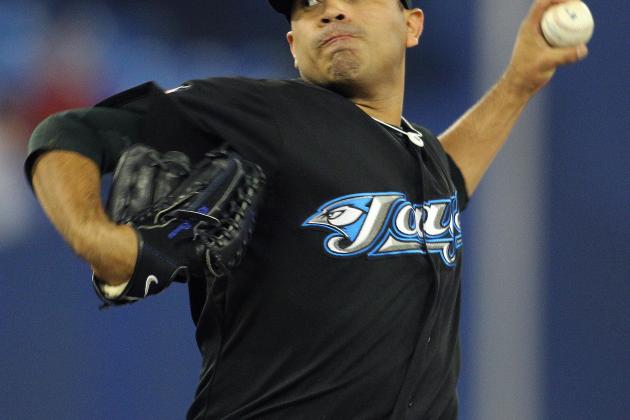 Claus Andersen/Getty Images

Blue Jays fans likely figured it'd be quite some time before they found an ace comparable to Roy Halladay.
Then came Ricky Romero.
Now entering his fourth season in the majors, Toronto's newest ace continues to improve in almost every pitching category as each year passes.
In 2011, Romero logged 225 innings on the mound while posting impressive numbers as well (15-11, 2.92 ERA, 1.14 WHIP).
He plays in no cupcake division either, with exactly half of his 32 starts in 2011 coming against the powerful offenses that lie within the AL East.
If Toronto can provide Romero with a little extra run support in 2012, he may be the Jays' best chance at a Cy Young winner since the "Doc" left town.
Leon Halip/Getty Images

Sabathia's name has remained in the Cy Young conversation ever since he claimed the award with the Cleveland Indians in 2007.
With that said, finding him among the names on this list is a given.
But why so far back, you ask?
Despite racking up 19 or more wins in each of his three seasons wearing pinstripes, the Yankees' ace is showing consistent declines in some important Cy Young-determining areas.
Sabathia posted a 3.00 ERA in 2011, his lowest as a Yankee. But his WHIP (1.23) and opponent batting average (.255) have increased each of the last three years—not a good sign for any Cy Young hopeful.
Look, CC is a dominant force on the mound, and has been for years. New York's portly pitcher even dropped some weight this winter—upon requests from the Yankees' front office.
But aside from a 17-start stint with the Brewers in 2008 (seven of which were complete games), CC hasn't had an ERA under 3.00 in his 11-year career.
Although the Yankees significantly improved their pitching staff in the offseason, nothing was done to help Sabathia in terms of run support. Curtis Granderson likely won't reach his astronomical numbers from a year ago—Derek Jeter and Alex Rodriguez looking like a thing of the past—and their newest designated hitter has failed to log 300 plate appearances in four straight seasons.
Furthermore, the Yankees have absolutely no depth behind their starters, which is peculiar considering the lack of youth and extensive injury history from players like Andruw Jones and Russell Martin.
Unless CC can buck his trending stats, and the Yanks can keep their starting lineup intact—I don't see Sabathia cracking the top five in the AL Cy Young voting this season.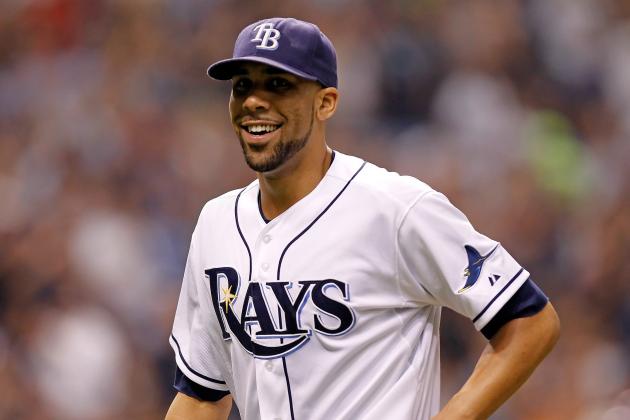 J. Meric/Getty Images

Just two years ago, Price emerged as one of baseball's best—posting a 19-6 record, 2.72 ERA and finishing second in the AL Cy Young voting.
However, 2011 was somewhat of a rough season for the Rays' promising young ace. Although his numbers were certainly respectable (12-13, 3.49 ERA, 1.14 WHIP), the season was a setback in comparison to the expectations placed on him entering the season.
Searching for answers to his drop in numbers, I discovered two potential explanations that also lead one to believe he'll recover considerably in 2012.
A website for the Rays put together a piece during the winter after his phenomenal '10 season, cautioning that his 221.1 innings pitched in 2010 may have been more than Price's young arm was prepared for.
The post can be read here.
Price did seem sluggish in 2011, and his control escaped him in many starts. He also didn't receive nearly the run support of that 2010 season, going from 7.03 runs per outing to just 5.5 in 2011.
The absence of Carl Crawford and injury to Evan Longoria (missed the month of April and didn't find his swing until late-June) were factors in an off-year for the Rays' bats.
But the addition of Luke Scott and emergence of Desmond Jennings should help increase Price's run support—and his arm should now be better suited for the workload that goes along with being your team's top pitcher.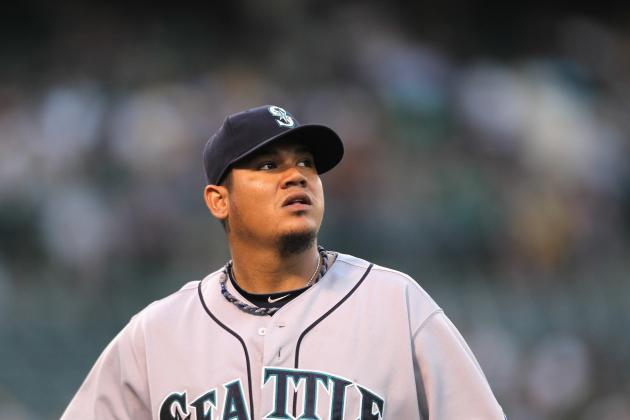 Ezra Shaw/Getty Images

King Felix as another American League ace guilty of a disappointing 2011 season.
Entering his eighth MLB season at the young age of 25, it's unlikely he'll be down for long.
Despite playing for the lowly Mariners, Hernandez claimed his first Cy Young in 2010 while accumulating just 13 wins on the season. His impressive numbers in other categories (2.27 ERA, 1.06 WHIP, 232 K's) were enough to sway voters toward favoring Hernandez and overlooking the underwhelming number in the win column.
The face of the Seattle franchise likely won't receive much more run support in 2012, as the Mariners' offense seems to be a permanent work-in-progress.
But Hernandez is a lock for at least 200 innings pitched and 200-plus strikeouts—and if he can get his ERA and WHIP back to normal—the king of Seattle should find himself entrenched in the Cy Young debate once again.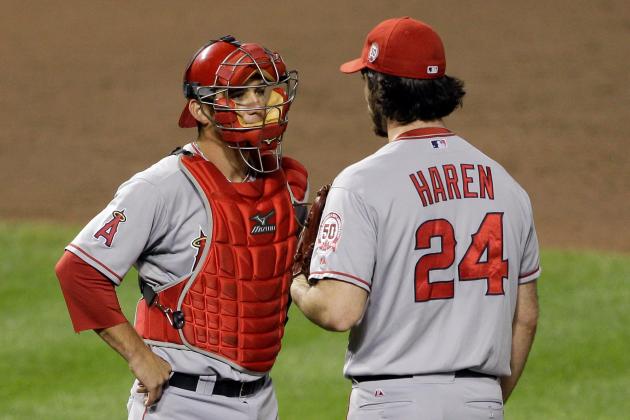 Rob Carr/Getty Images

At age 31, Haren has been a model of consistency throughout his career.
He's made at least 33 starts in each season since 2005. Only once since becoming a regular starter has he posted an ERA higher than 3.91, and his control is phenomenal (238.1 innings pitched in 2011 and walked just 33 batters).
He's quite possibly pitching at the highest level of his career since joining the Angels in 2010. And the 2011 season was arguably his best performance yet.
With that said, Haren hasn't experienced that career-defining season to this point. Despite impressive overall numbers (107-84, 3.59 ERA, 1.17 WHIP), the Angels' strikeout machine has never racked up more than 16 wins in a season—nor has he posted an ERA on the south side of 3.00.
But placing Albert Pujols in the center of a power-packed lineup should help Haren accumulate an extra handful of wins and give him the run support he's lacked throughout his career.
What I consider to be one of the most underrated pitchers in baseball—Haren will get plenty of much-deserved credit after his Cy Young-caliber season in 2012.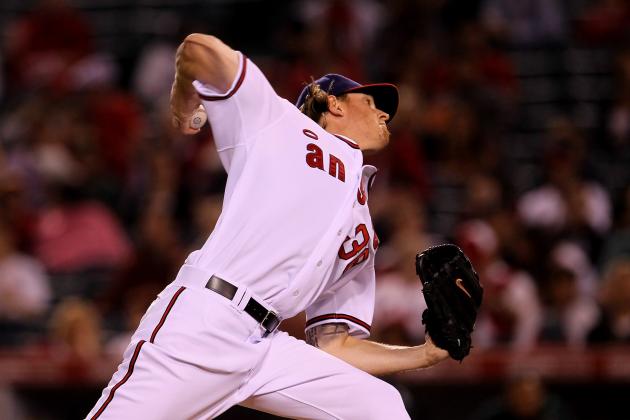 Stephen Dunn/Getty Images

If it weren't for Verlander, Weaver would be the best pitcher the American League has to offer.
Coming off his finest campaign to date (18-8, 2.41 ERA, 1.01 WHIP), the lanky flamethrower has been mowing down opposing hitters on the regular and still hasn't touched the brakes.
Even so, he's still not satisfied with his current arsenal of pitches. Weaver's been working with fellow Cy Young candidate and teammate Dan Haren this winter, trying to add a cutter to his repertoire. Haren owns one of the best cutters in baseball, and featured it often in 2011.
I'm not sure Weaver will actually feature this cutter-in-progress during the '11 season, but fortunately for the Angels, he won't need to.
At age 29, he's already a nightmare for opposing hitters when he takes the mound—and is currently the best candidate to unseat Verlander as the top pitcher in the American League this season.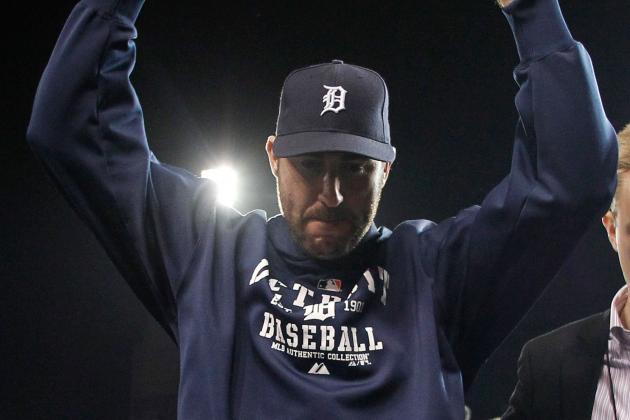 Gregory Shamus/Getty Images

Sorry, no surprises here.
In the spring of 2011, Verlander was fed up with his notorious slow starts (both early in games and slow starts to the season in general) and decided to ramp up his efforts in an attempt to gain mid-season form before the calender even flipped to April.
The results speak for themselves.
Entering 2012, Verlander isn't just the best pitcher in the American League—he's the best baseball has to offer—hands down. Every trip to the mound in 2011 was electrifying, and he carried no-hitters into the late innings on several occasions.
But if you don't know JV that well, read up on this.
Verlander isn't satisfied with being the best, he wants to get even better. If there's a blueprint for pitching success, he certainly displays it each and every outing.
When he toes the slab, he's got every intention of throwing a perfect game. He treats a base hit or a walk like it's the end of the world—a perfect mentality for a perfectionist such as himself.
With that type of stinginess and dedication, who knows what we may see in 2012?
He may not repeat as AL MVP (he's got two teammates competing with him for that award), but he won't give up his grasp on the Cy Young anytime soon.
Not this year, anyway.