Denver Broncos Should Re-Sign Brady Quinn to Compete against Tim Tebow
February 22, 2012

Ezra Shaw/Getty Images
The Denver Broncos are going to add quarterbacks this offseason to challenge Tim Tebow for the starting job, and one of them needs to be Brady Quinn.
On Monday, Broncos head coach John Fox told the Denver Post that he believes the team will add two quarterbacks to compete with Tebow. 
"Numbers wise that's accurate. Who, what, where, when, what market—it's still way too early how we get those quarterbacks," Fox said. 
On Tuesday, the March issue of GQ quoted Quinn sounding extremely bitter about Tebow's rise as the starter and Quinn never getting his chance to shine. He took several shots at Tebow, but later went on Twitter saying the reporter messed everything up. 
It sounds like there may be some beef between the two quarterbacks, and there is no better way to settle it than out on the field. 
Quinn believes he should have had a chance to start this past season, but the fans chanting for Tebow helped push the popular quarterback into the starting position. 
Once there, Tebow never made it look pretty, but he won. He was beyond clutch last year, which is what you want from your quarterback.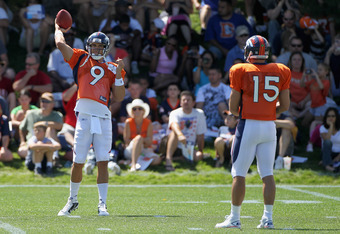 Doug Pensinger/Getty Images
You'd also like for the starter to be able to thrive all game long as opposed to the final minutes of the game. Denver is smart in bringing in quarterbacks to compete against Tebow, as it will hopefully help him improve his game. Tebow actually needs a challenge, though, and he would get that from Quinn. 
Since Quinn clearly thinks he could start over Tebow, the Broncos need to bring him back and give him a shot. Quinn already knows the system, so it's more of a fair competition between him and Tebow. 
Tebow would have the upper hand if the Broncos brought in two guys unfamiliar with what the team runs. 
It's a mystery how much faith Denver has in Quinn, or even Tebow for that matter, which is why the Broncos need to let these two go head-to-head.
Quinn was very brash with his comments in GQ, and if he truly feels he is better than Tebow than he deserves a chance to prove it. 
Denver has a lot to think about in the coming month or so, but its best bet is to re-sign Quinn because even if he doesn't beat out Tebow, the Broncos will have a backup quarterback that has experience with the offense, and that is crucial.