NFL Rumors: Franchising Peyton Hillis Would Be a Bad Idea for Browns
February 22, 2012

Christian Petersen/Getty Images
It was a foregone conclusion for much of the 2011 season that the Cleveland Browns and Peyton Hillis were going to part ways after the season was over. He didn't do himself any favors with his efforts to get a new contract extension, and his play on the field left much to be desired.
Mike Freeman of CBSSports.com reported last week that the Browns are "uncertain" about what they want to do with Hillis. Some want to keep him, while some think drafting Alabama running back Trent Richardson in the draft is the best course of action.
The Browns probably aren't going to do Hillis the favor of giving him an extension, but one option at their disposal is the franchise tag. Browns beat writer Scott Petrak of the Elyria Chronicle-Telegram says says that's a legitimate possibility if the team signs middle linebacker D'Qwell Jackson to an extension.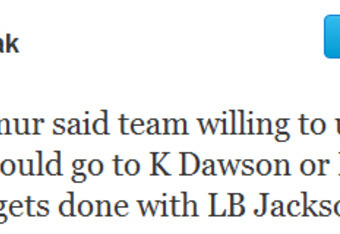 Petrak noted in a full report that Jackson and the Browns started contract talks last week, and that both sides "want to reach a multiyear deal."
The Browns have until March 5th to use their franchise tag. If talks with Jackson stall, you have to think the Browns won't hesitate to use the franchise tag on him and then take their chances with their other free agents once they hit the open market. That includes Hillis.
The interesting part, naturally, is what the Browns will do if they do sign Jackson to an extension. It's going to be very tempting for them to use the franchise tag on Hillis.
They shouldn't, though. They'd be using the tag on Hillis in hopes that he would recapture the form he showed in 2010, but they'd be rolling the dice in a big way.
The biggest problem is the money. Franchising running backs isn't going to be as costly this year as it has been in years past, but the word from The Seattle Times (and numerous other publications) is that franchise running backs are still going to be owed $7.7 million.
That's a lot of money to pay for any running back, especially one who has only had one good season and who wasn't able to stay healthy in 2011.
The Browns could roll the dice by tagging Hillis, but they need to consider their options. Richardson is one of them, as the Browns could easily scoop him up with the No. 4 overall pick in the draft if they so choose. If they don't want to go for him, they could draft another running back later in the draft.
Running backs are a dime a dozen, and it so happens that this year's class is pretty deep at the RB position.
The Browns could also consider letting Hillis go and trying to re-sign him as an unrestricted free agent. Odds are they could get him at less than $7.7 million, as surely there won't be a huge demand for Hillis' services after the season he just had.
Again, the idea of the Browns tagging Hillis is contingent on their contract talks with Jackson, which means there's a chance all of this talk will be for naught. Making sure Jackson comes back is Cleveland's top priority.
Making sure Hillis comes back should not be a top priority for the Browns. They're free to bring him back, but they should only do so if they can do it at the right price.