Patriots: For the Love of God, Run the Ball More!
February 28, 2012

Rob Carr/Getty Images
As a Patriots fan I've reached a unique point.  I have nothing to complain about.  How could anyone complain about a team that's given you five conference championships, three titles, nine division titles, a 16-0 season, a Hall of Fame head coach and QB tandem, numerous winning streaks and plenty of joy over the past eleven years? 
The intellectually honest answer is you can't.  Yet as Brady's career winds down and the team has lost their last two Super Bowls I have one suggestion. Philosophically speaking, can Josh McDaniels please commit to running the ball more?
Over the past few years things have gotten out of hand.  Now I'm not asking the Patriots to become a ground and pound offense, but if they're going to win another title they need to (a) beef up the defense and (b) return to a more balanced offensive attack. 
I'm not trying to rip off an old scab here, but the fact is the Patriots have lost two Super Bowls partially because they couldn't move the ball when the passing game broke down.  You could list a million other reasons why the Patriots lost those two games, and you'd be right.
Tom Coughlin's game plan was simple and effective: swallow up the run, wait for the Pats to panic and go pass-happy.  Once they abandon the run, unleash the dogs on Tom Brady and you've got him.  Eli was brilliant in Super Bowl XLVI.  One of the reasons why is because the Ahmad Bradshaw/Brandon Jacobs combo ran the ball 26 times for 109 yards and a TD.   
The trend is very clear: if you want to win a Super Bowl, you need to attack a defense with both rushing and passing.  Time isn't on our side.  Brady is going to be 35 years old this year. Realistically, how many years does he have left until Ryan Mallett takes over?  I'd say two or three tops. Mr. Bundchen has played 183 games (161 regular season and 22 playoff) in his NFL career. All in all that means he has 11.4 years of wear and tear on his body.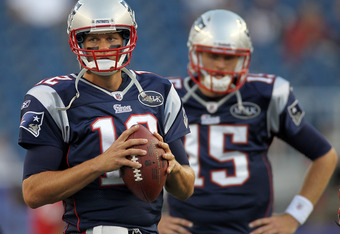 Jim Rogash/Getty Images
Let's look at the five Super Bowl trips the Patriots have made since 2001. 
In 2011 the Patriots had 1,050 plays on offense; 612 passes and 438 rushing attempts.  The breakdown is 58.3% pass 41.7% run.  
In 2007 the Patriots had 1,037 plays on offense; 586 passes and 451 rushing attempts.  The percentage breakdown is 56.5% pass 43.5% run. 
In 2004 the Patriots had 1,009 plays on offense; 485 passes and 524 rushing attempts.  The percentage breakdown is 48.1% pass 51.9% run.
In 2003 the Patriots had 1,010 plays on offense; 537 passes and 473 rushing attempts.  The percentage breakdown is 53.1% pass 46.9% run. 
In 2001 the Patriots had 955 plays on offense; 482 passes and 473 rushing attempts.  The percentage breakdown is 50.5% run 49.5% run. 
Yes, the NFL is a passing league. Bill Belichick was right to try and use the new rules to his advantage, but you can't change the fact that you need a quality D and rushing attack to win in the NFL. What do the '09 Colts, '08 Cardinals, '07 Patriots, '04 Eagles, '02 Raiders, '01 Rams and '90s' Bills have in common?
All of those teams had a high octane passing attack that was so fun to watch.  Each team made it to the Super Bowl, and none of them raised the Lombardi Trophy when the game was over.