Philadelphia Eagles Mock Draft: Full 7-Round Team Predictions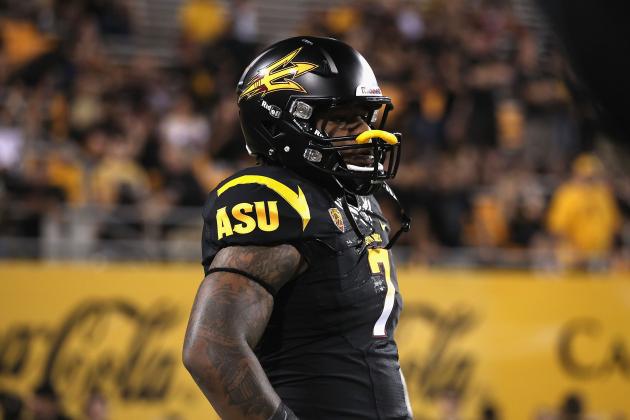 Christian Petersen/Getty Images

Glaring holes at several key positions on the football team ultimately cost the Philadelphia Eagles a postseason opportunity. The team lacked veterans at both the linebacker and safety positions, as those spots cost the team several key games.
The New York Giants ended up winning the division at 9-7, just one game better than the 8-8 Eagles. Andy Reid is on the hot seat for 2012 like never before, and he can't afford to have weak areas on the team like he had in '11.
Begin Slideshow

»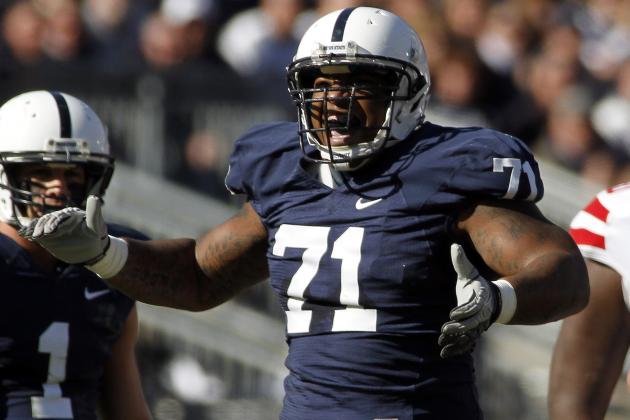 Justin K. Aller/Getty Images

Andy Reid loves defensive linemen. That's evident in his previous first round picks of Corey Simon, Jerome McDougle, Mike Patterson, Brodrick Bunkley and Brandon Graham.
The Philadelphia Eagles have an extremely solid group of tackles with Mike Patterson and Cullen Jenkins. However, Jenkins is due a sizeable roster bonus this spring, and reports have surfaced that the Eagles may cut Jenkins rather than pay him.
If that is the case, the Eagles will need to replace Jenkins, and Penn State's Devon Still is a player that can do just that. Still is a big body at 6'5", 320 pounds, and he can plug the gap and stuff the run exceptionally. In Still and Patterson, the Eagles would have two interior linemen that are exceptional at stopping the run and two ends that are adept at getting to the quarterback.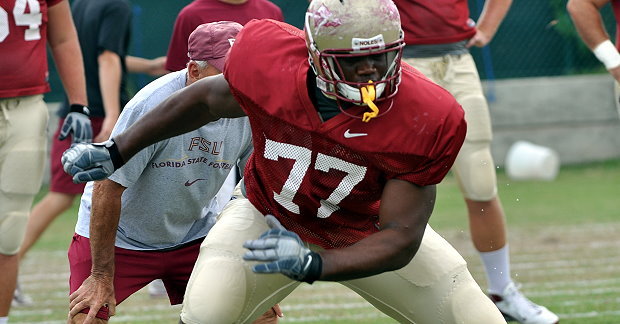 Zebrie Sanders is a mammoth of a man at 6'6" and well over 300 pounds. He was a four-year starter at Florida State, where he played both right and left tackle, before ending his collegiate career as a blindside protector.
Jason Peters and Todd Herremans are quality offensive tackles that can start for the Eagles for many more years, but the team will need a backup. King Dunlap is set to hit free agency, and Winston Justice may be too expensive for the team to keep around. Sanders could develop as a future starter at tackle, and if the Eagles don't bring back Evan Mathis, Herremans could always slide back over to left tackle, and Sanders would start at right tackle.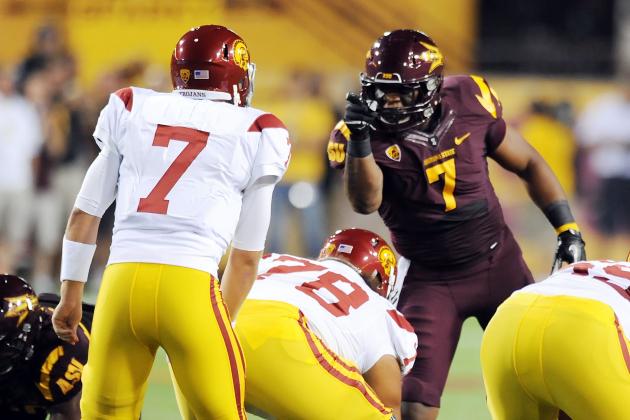 Norm Hall/Getty Images

His draft stock seems to be slipping almost daily at this point, but I have the Philadelphia Eagles grabbing Vontaze Burfict with their second pick in the second round.
Burfict has the ability to be the quarterback and emotional leader of the defense if he keeps his head on straight. Following a season in which the Eagles blew five fourth-quarter leads, Andy Reid needs a player that can inject a little emotion into the team.
Burfict would take over for Casey Matthews and Jamar Chaney, neither of whom made an impact in 2011.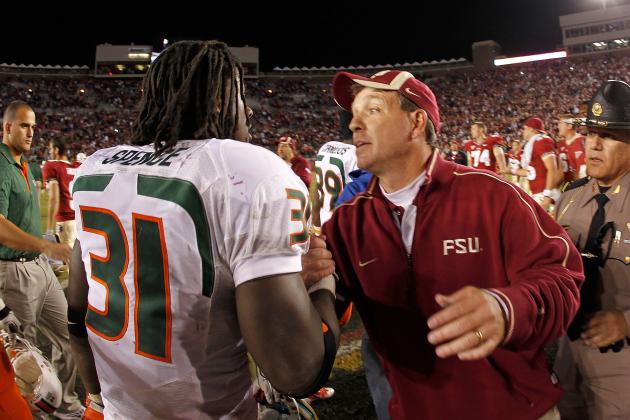 Mike Ehrmann/Getty Images

This is about where Andy Reid would first pick a linebacker, a position the Philadelphia Eagles desperately need. I expect the team to sign a veteran in free agency, maybe a player like Jarret Johnson of the Baltimore Ravens or Bradie James of the Dallas Cowboys.
Sean Spence is undersized, but he's always said to be around the ball, and he has good speed. Spence should at least provide an upgrade to an Eagles linebacking corps that was downright awful in 2011.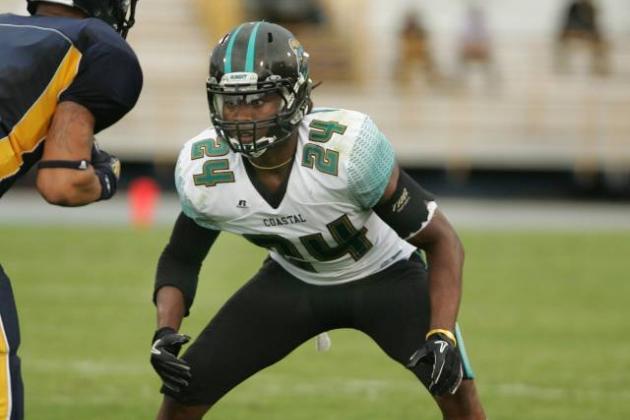 If the Philadelphia Eagles trade Asante Samuel in the offseason, they will need a player that can start in the future, especially with Dominique Rodgers-Cromartie's contract set to expire after the 2012 season.
Josh Norman is said to have tremendous instincts with great ball skills and terrific athletic ability. He also jumps routes too quickly, meaning he is an extremely similar player to Samuel.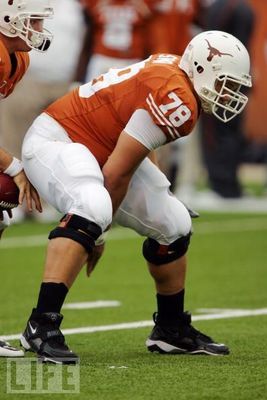 David Snow is more like the kind of guy Howard Mudd likes, as he's an undersized linemen that could fit Mudd's schemes well. Snow is said to be a center that doesn't dominate or blow away scouts with his skills, but he is an aggressive blocker.
Snow is much like Jason Kelce, given his size. Jamaal Jackson likely won't be back in 2012, considering he will want to start somewhere, so Snow could become the Eagles' new backup in that he's made much in the mold of Kelce.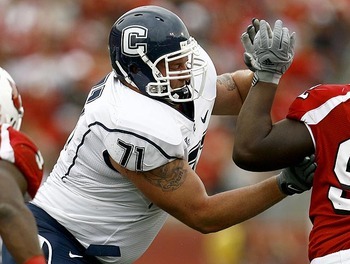 This pick likely won't happen if Howard Mudd comes back as the offensive line coach again, since Mudd likes quick and undersized linemen that are traditionally more mobile.
Mike Ryan might be a good fit for the Philadelphia Eagles line though, in the sense that he is a mammoth of a man at 6'5", 335 pounds. Ryan can play both offensive tackle and guard, which could be helpful in case the Eagles allow Evan Mathis to walk in free agency and move Todd Herremans back over to right tackle. Either way, Ryan probably wouldn't be ready to contribute to the team in 2012, but he could be groomed to help out the Eagles in a few years.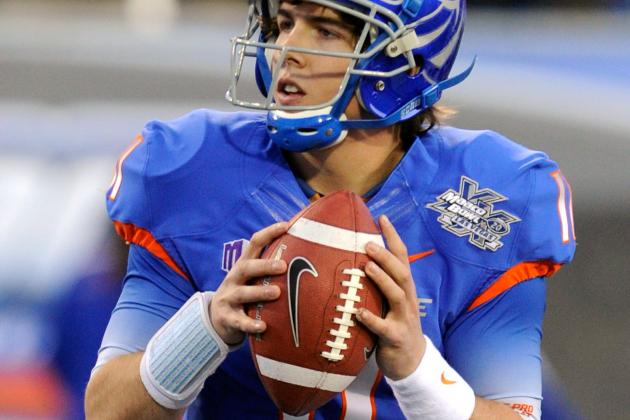 Ethan Miller/Getty Images

He lacks a lot of the physical tools that would make him an elite or even a solid starting quarterback in the NFL, but he has the brains to succeed. Kellen Moore is smart, an excellent decision-maker, and might be a good fit on the Philadelphia Eagles offense.
Moore could be groomed to be the Eagles backup behind Michael Vick since the team will likely allow Vince Young to walk. Moore is smart, just like Mike Kafka, drafted by the Eagles in 2010.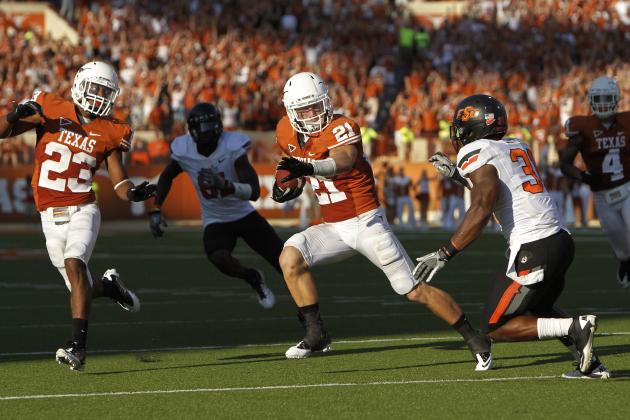 Erich Schlegel/Getty Images

Blake Gideon is probably hurting his draft stock by choosing to go after his junior year, but a coach with a keen eye for developing defensive players could help Gideon's case.
Gideon is said to have the tackling ability, and he's a notorious hard hitter. The Philadelphia Eagles have lacked intensity in their defensive backfield ever since letting Brian Dawkins go, and Gideon's hard-hitting prowess could toughen up a defense that has been said to be soft in recent years.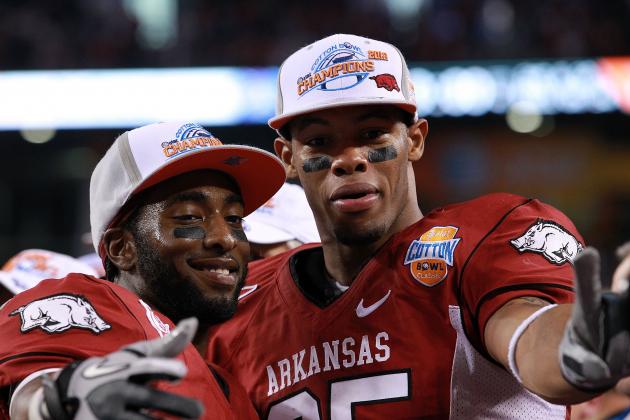 Ronald Martinez/Getty Images

The Philadelphia Eagles could get a steal if they go for Joe Adams in the later rounds. Adams is a former high school cornerback projected to go in the fifth to sixth round of the 2012 NFL draft. He is still raw and unpolished as a wide receiver, but a good offensive coach could coax the most out of him.
Adams has pure speed (4.38 40-yard dash), and as everyone knows, you can't teach speed. He has good hands and rarely drops a pass. In addition, he was an extremely effective punt returner while at Arkansas. If he can add on some muscle and work on his route running, the Eagles could have a steal of a player in Adams, a receiver with straight line speed and top return skills.