NFL Combine 2012: How Smart Are You? Time to Take the Wonderlic Test
February 21, 2012
John W. Ferguson/Getty Images
Dumb jock. Meathead. Thug. Locker room bully. These stereotypes of athletes have been around as long as athletes. But today, a professional athlete can't just be a dumb, muscle-bound ball of angry.
In today's NFL world, players are representatives of the franchise all day, every day, year-round. When they're with the team or working in the community, they're being constantly tracked by the professional media. Even in their few off hours, they can't ever escape the searing eye of the smartphone-equipped citizen journalist.
Modern professional athletes have to do and say all the right things, all the time, and be ready with their clichés (Note: link to Bull Durham clip contains audible profanity). Players who can't represent their franchise will face serious challenges to their NFL career.
Consider Ndamukong Suh. As talented as he is physically, he was not a once-in-every-five-drafts prospect on that talent alone. His vanishingly rare combination of elite physical ability, engineering-major intelligence and media-friendly demeanor made him a defensive tackle prospect worthy of the No. 2 overall pick.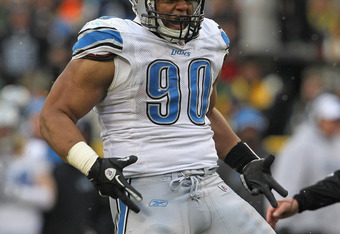 Jonathan Daniel/Getty Images
The corresponding $60 million contract and bevy of endorsements soon followed, but as the Good Book says, "to whom much is given, much is expected." Suh committed one too many brainless personal foul penalties, and the companies he endorses began "evaluating" their relationship.
Besides their ability to think on their feet off the field, NFL players have to think on their feet on the field. NFL teams have objective tools to measure draft prospects' physical abilities: heights, weights, times and measures. The Wonderlic is the only objective tool teams have to assess players' intelligence.
Of course, the Wonderlic is essentially an IQ test: It evaluates basic intelligence, but can't measure emotional stability, learning speed, spatial awareness or football instincts, all of which are crucial to a player's mental game.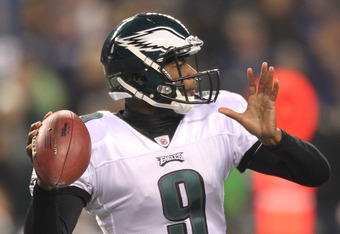 Otto Greule Jr/Getty Images
But the Wonderlic can, like yardsticks in front of roller coasters, show who is not mentally tall enough to ride the NFL ride. Philadelphia Eagles quarterback Vince Young famously scored a six (out of 50) on his first try; Young's mental and emotional struggles have kept him from dominating in the pros the way he dominated on every other level.
It's debatable whether Bills quarterback Ryan Fitzpatrick's astounding Wonderlic score of 48 helps him succeed on the football field. In fact, the only player ever to score a perfect 50, former Bengals punter Pat McInally, thinks his perfect score hurt his draft stock.
"I think they think guys who are intelligent will challenge authority too much," McInally told Rivals.com.
But of course, it's easy for us fans to sit back and dissect these players' brainpans like armchair phrenologists. Why don't you take the Wonderlic yourself and see how you stack up?
The following sample (via WalterFootball.com) is a 12-question test, unlike the players' 50-question assessment. Get paper and pencil and set a timer (like your microwave's) for two minutes, 53 seconds. Answer as many of the following questions as you can. Don't be afraid to skip a hard one and come back to it; you'll be judged on your number of correct answers.
---
Question 1: Assume the first two statements are true. Is the final one: (A) true, (B) false or (C) not certain?
The boy plays baseball. All baseball players wear hats. The boy wears a hat.
Question 2:
Paper sells for 21 cents a pad. What will four pads cost?
Question 3: How many of the five pairs of items listed below are exact duplicates?
Nieman, K.M.          Neiman, K.M.
Thomas, G.K.         Thomas, C.K.
Hoff, J.P.                 Hoff, J.P.
Pino, L.R.                Pina, L.R.
Warner, T.S.            Wanner, T.S.
Question 4: Do the following two words (A) have similar meanings, (B) have contradictory meanings or (C) mean neither the same nor the opposite?
PRESERVE          RESERVE
Question 5:
A train travels 20 feet in 1/5th of a second. How many feet will it travel in three seconds?
Question 6:
When rope is selling at $0.10 a foot, how many feet can you buy for sixty cents?
Question 7: The ninth month of the year is:
(A) October, (B) January, (C) June, (D) September, (E) May.
Question 8: Which number in the following group of numbers represents the smallest amount?
7     .8     31     .33     2
Question 9:
In printing an article of 48,000 words, a printer decides to use two sizes of type. Using the larger type, a printed page contains 1,800 words. Using smaller type, a page contains 2,400 words. The article is allotted 21 full pages in a magazine. How many pages must be in smaller type?
Question 10:
Three individuals form a partnership and agree to split the profits equally. X invests $9,000, Y invests $7,000, and Z invests $4,000. If their profits are $4,800, how much less does X receive than if the profits were divided in proportion to the amount invested?
Question 11: Assume the first two statements are true. Is the final one (A) true, (B) false or (C) not certain?
Tom greeted Beth. Beth greeted Dawn. Tom did not greet Dawn.
Question 12:
A boy is 17 years old and his sister is twice as old. When the boy is 23 years old, what will be the age of his sister?
Ready to grade your test? Here are the answers:
(1) A—true; (2) 84 cents; (3) one; (4) A—similar; (5) 300 feet; (6) six feet; (7) D—September; (8) .33; (9) 17; (10) $560; (11) C—not certain; (12) 40 years old
Take the number you answered correctly, and multiply that number by 4.167. That's your Wonderlic score. How'd you do? Post up in the comments, if you're brave enough!