Dallas Cowboys Mock Draft: Full 7-Round Team Predictions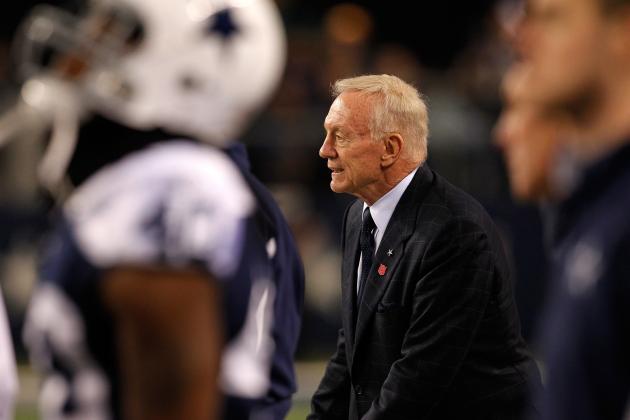 Tom Pennington/Getty Images

The NFL Draft is creeping closer and closer, and the Dallas Cowboys are going to be major players in both free agency as well as the event at Radio City Music Hall.
As Cowboys owner Jerry Jones has pointed out, his son Stephen (the team's vice executive vice president) has been able to prime Big D for a big offseason this year.
The Jones' high profile team will be in the market for some big men to put on the offensive line and plenty of help on defense this upcoming draft, and here's the seven men they'll be selecting come April.
Begin Slideshow

»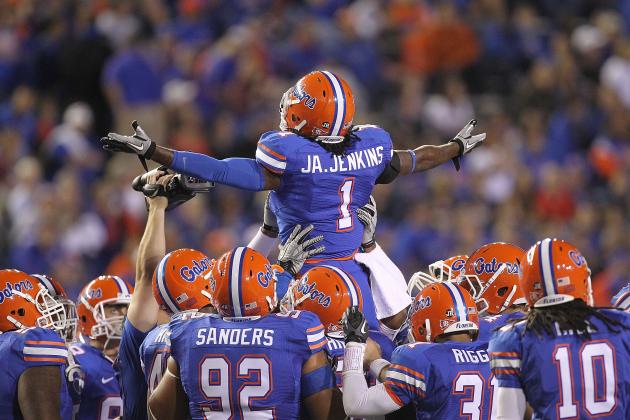 Mike Ehrmann/Getty Images

If you're an NFL Draft or just a regular old Cowboys fan, I'm sure you've heard this name and seen this picture more than your fair share since the team's season ended.
Everyone knows the story of Janoris Jenkins and why he ended at North Alabama instead of Florida, but Dallas has a long history of drafting based on talent and not off-the-field issues.
The marijuana troubles are concerning, but more often than not most players move on from their weed-smoking days, and Jenkins spent much of his time during the Senior Bowl event explaining the past is behind him. He's arguably the best corner in this year's draft, which is the kind of help Big D needs in its secondary right now.
Both myself and fellow Featured Columnist Andrew Kulha see Jenkins becoming a Dallas Cowboy in just a few short months.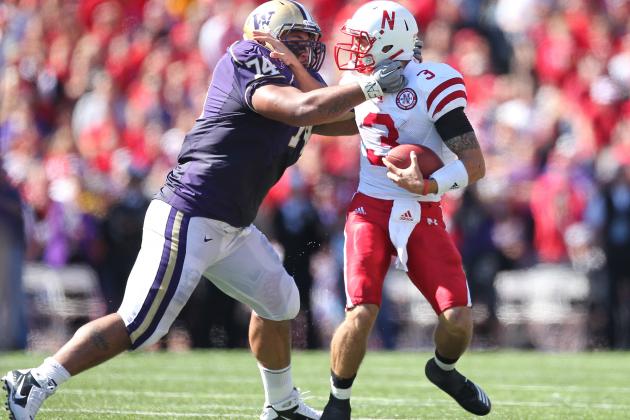 Otto Greule Jr/Getty Images

It's not that I think Jay Ratliff didn't do a nice job at nose tackle this season, but myself as well as many other Cowboys analysts and fans alike would enjoy seeing him line up back at defensive end.
The team of Keyon Coleman and Jason Hatcher just didn't get the job done last season, and Alameda Ta'amu is a physical beast.
He's 335 pounds and knows how to get into the opposing offenses' backfield, making him a solid pick in the second round if he's available when Dallas is on the clock.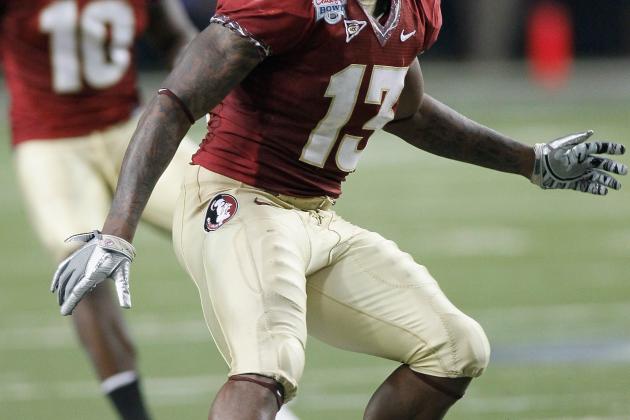 Kevin C. Cox/Getty Images

The Cowboys' linebacker corps could thin out when free agency starts, as Bradie James, Keith Brooking and Anthony Spencer could hit the market.
That means that while one or two men may be re-signed, Dallas will look to add some depth at the position during the draft. Enter Nigel Bradham out of FSU, who posted 98 tackles and five sacks for his team last season.
NFLDraftScout.com lists him as the 11th best at his position in this year's draft class, and Bleacher Report's own Matt Miller believes Bradham will be available in the third round.
Bradham gives the Cowboys depth at OLB in the short-term, with the potential to gain a starting player if the Seminole is fast learner.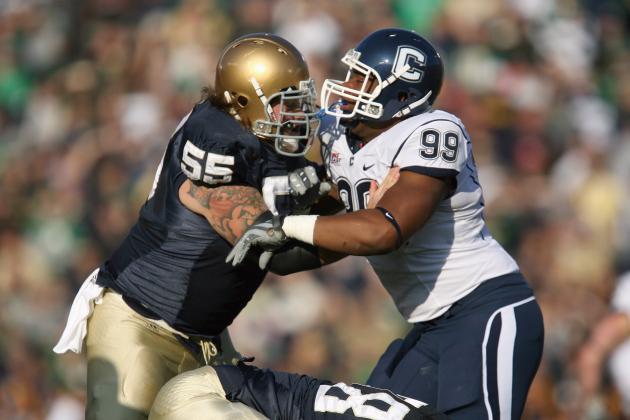 Jonathan Daniel/Getty Images

The great thing about UConn's Kendall Reyes isn't just his quickness and overall physical play, but he's also versatile.
Reyes can play both defensive end and defensive tackle, which allows defensive coordinator Rob Ryan to watch this draft pick during training camp and see where best he can help the team.
The Connecticut alum allows the 'Boys to add depth to two positions through one pick, and considering the situation at defensive end and the lack of quality help at both positions, sounds like a smart move to me.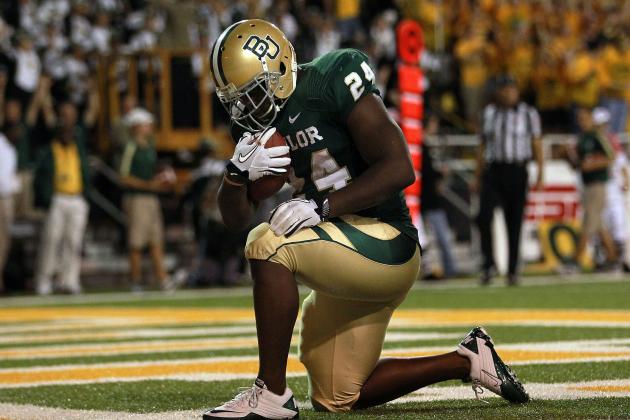 Ronald Martinez/Getty Images

While Robert Griffin III was the talk of Baylor football this season, just consider Terrance Ganaway the Robin to his Batman.
Dallas learned the hard way what the lack of depth at running back can do to a team last season, when both DeMarco Murray and Felix Jones went down with injuries. Ganaway would give the team a nice insurance policy for both players, and his bruising style adds another element to the Dallas running game.
Sammy Morris filled in well when called upon, but he's scheduled to become a free agent and Ganaway gives the 'Boys a younger version of what the former Patriots rusher can bring to the table.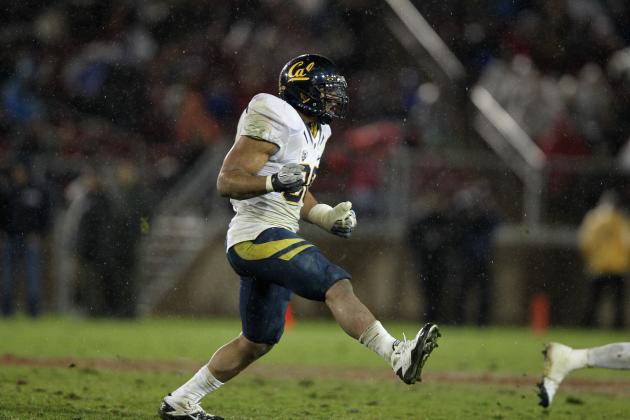 Ezra Shaw/Getty Images

As a longtime fantasy football and baseball player, I've been known to take risks on guys who others forget due to a recent injury.
Cal's Mychal Kendricks is coming off successful shoulder surgery, and when your a team who could be losing three linebackers, taking a gamble in the fifth round makes sense.
Kendricks was a second-team All-Pac-10 selection back in the 2010 season, and without his injury, there's reason to believe he could have made the first team this season. He might be gone by the fifth round, but thanks to the injury flag, Dallas could snag him in the sixth.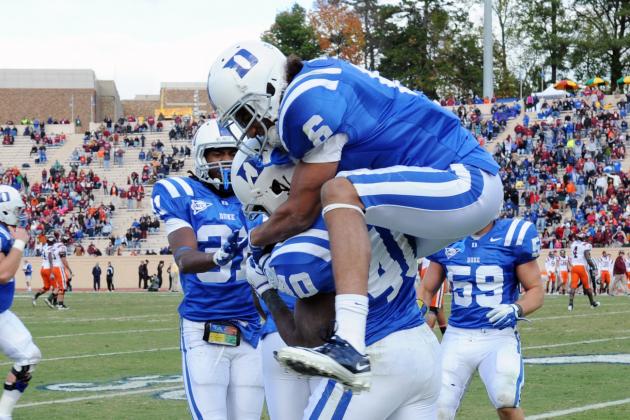 Al Messerschmidt/Getty Images

Duke's football program might not be the highlight of the university's athletic program, but taking a shot on safety Matt Daniels could pay off for Dallas.
The Cowboys have been flat out savvy in the later rounds of recent drafts and picking up undrafted free agents as of late. From Jay Ratliff to Miles Austin and Tony Romo, this team knows how to find diamonds in the rough.
Daniels would be a nice candidate for the team's last round pick, as the team could potentially lose three players from last year's secondary to free agency, including Abram Elam. Depth at safety is something the Cowboys could certainly use, and Daniels can at the very least give Big D that much.