New York Yankees: Should A.J. Burnett Have Been Traded with Pitching Concerns?
February 20, 2012

Hannah Foslien/Getty Images
Mentioning the name A.J. Burnett will conjur a strong and most likely negative reaction out of any New York Yankees fan. 
Watching the erratic right-hander over the past three years has raised the blood pressure of every supporter of the club in addition to being an expensive and monumental disappointment. 
After signing a five-year deal for $82.5 million with the Bombers in 2009, Burnett has been inconsistent, frustrating and downright agonizing.
So, did the Yankees make the right move?
Obviously, taking the contrarian point of view isn't the most popular, but it's worth discussing.
During the past three years, the Yankees have paid Burnett $49.5 million for a record of 34-35.  
For 2012 and 2013, the team will pay him $20 million to contribute nothing and pitch for someone else.  In return, the Yankees receive two low level prospects in Diego Moreno and Exicardo Cayones from the Pittsburgh Pirates with limited professional playing time. 
As a touted reliever, Moreno topped out at 98 mph and 1.17 ERA in 38.1 innings in 2010.  Unfortunately, last year, he struggled in A-ball and fell out of the Top 50 prospects according to Pirateprospects.com.
Similarly, Cayones went through the same growing pains as his partner.  After stroking line drives all over the Gulf Coast League in 2010, he regressed the next year.  His jump to single A-ball produced a paltry .063 average and a dismal 40 percent strikeout rate before returning back to the GCL.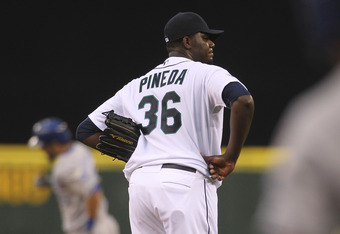 Otto Greule Jr/Getty Images
Yet, after reading some minor league scouting report, most people could care less about the talents of unknowns who will probably never see their names on a major league lineup. 
The only thing that matters is the simple fact that A.J. Burnett is not starting every fifth game.  The poster boy for Yankee futility has left the Bronx for good and the Yanks won't miss him…right?
Coming into spring training, the Yankees have a surplus of starting arms that are making the masses giddy.  Some are holdovers from last year while others are tenderfoots to the organization.  What some people fail to notice is the massive question marks in the rotation. 
For instance, Michael Pineda had a sensational beginning to his rookie year, but struggled down the stretch for the Mariners.  Can he be trusted to translate his moderate success in Seattle to full-time progress in New York?
Speaking of freshman prosperity, Ivan Nova played a major role in New York's 2011 season.  However, the sophomore jinx has affected many in their second season.
Many crystal gazing experts have Freddy Garcia repeating his solid 2011 season, but the same predictors seem to forget his most recent past.  His 3.62 ERA last year was the first time the 35-year-old dipped below 4.00 ERA since 2005.  With his injury-riddled past, can he stay healthy for another year?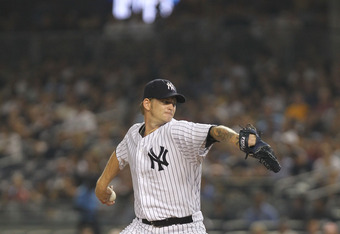 Nick Laham/Getty Images
If Garcia were to start out slow, Phil Hughes could round out the rotation to be the fifth starter in 2012.  With hampering injuries and rampant inconsistency the past three years, it's safe to say Hughes can't be counted on with certainty either.
With all that being said, all the prospective shortcomings of the rotation are purely hypothetical situations.  In fact, it's quite realistic that none of these problems rear their head during the 2012 campaign. But, if any of these dilemmas were to occur, wouldn't Burnett become a somewhat viable replacement?
All Yankee fans know on certain days when the sun is aligned with the Galactic equator above the Mason-Dixon Line that Burnett shined with the "electric stuff" he is known for.  If the staff were to be decimated by a laundry list of problems, why wouldn't Burnett make a great start-stop option?
Questioning the removal of A.J. Burnett will receive more jeers than cheers.  But, which response will Yankee fans be showering on their starting staff in 2012?