2012 NFL Draft Projections: Why Defense Could Dominate the First Round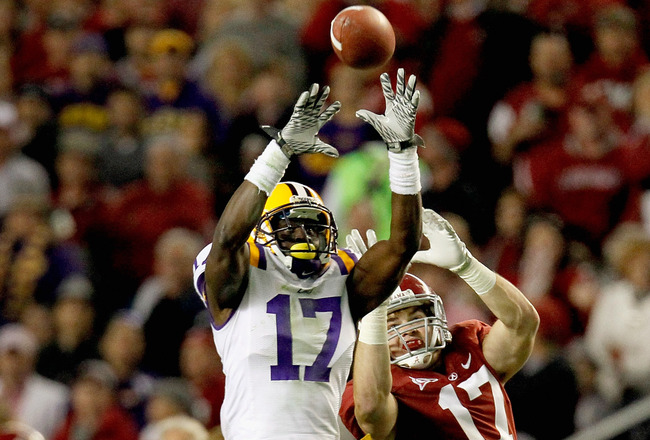 Morris Claiborne could end up as 2012's elite defensive prospect.
Kevin C. Cox/Getty Images
Upon a cursory glance at the surface of the 2012 NFL draft projection, it may seem unrealistic that defensive prospects could win out and carry the round. How will players from that side of the ball compete with two franchise quarterbacks, one of the best running back prospects in the last six years, one or two receivers in the top 10, a franchise offensive tackle and another who could go in the top 10, along with the best offensive guard prospect in years?
The answer is depth. While this year's defensive prospect crop cannot compete with its counterparts across the line of scrimmage in terms of high-end talent at the top of the draft, they could outnumber them after Thursday night, April 26, ends with the New York Giants selecting 32nd to conclude the first round.
Consider that 15 defenders are currently considered locks, or very close to it given how far away we still are, and that another nine players are also possibilities to vault into a day one selection. A reasonable result, if still unlikely due to how many weeks remain in the process, could see as many as 20 of the 32 picks in the opening stanza come on the defensive side of the ball. Potential domination!
The next three slides will look at each level of the defense (linemen, linebackers and defensive backs) in order to identify, and briefly describe, all 24 players who could represent the defensive side of the ball in April's lottery.
Defensive Line: Potential First-Rounders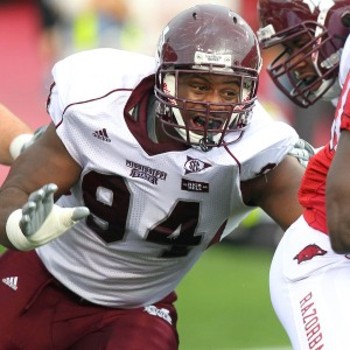 Fletcher Cox could turn out as the top DL in this class. ESPN.go.com
Whether an NFL team primarily operates a 4-3 or 3-4 defensive scheme (first number corresponding to linemen, the second to linebackers), the stability and consistency of that unit begins along the defensive line. They are the proverbial tip of the sword, responsible for creating pressure in both the run and pass dimensions. Different alignments and philosophies will ask of varying responsibilities from certain positions, some of which will be alluded to in the below player descriptions.
But regardless of form or flavor, an elite defensive line can wreak havoc in the backfield, free up its own linebackers to fly around and make impact plays and even bail out a lesser secondary by shortening the quarterback's time to throw.
Fletcher Cox, DL, Mississippi State University, junior, DOB: 12/13/1990...Cox is currently, and may remain even, an upset pick as the top defensive lineman in this class. I see him being of equal appeal to odd- or even-front schemes. As a three-technique defensive tackle in a 4-3, his penetration and disruptive style could make him a force inside. Or in a 3-4 alignment, manning a five-technique defensive end spot, he could be a rare playmaker due to his quickness and awareness at the point of attack.
Michael Brockers, DL, Louisiana State University, redshirt sophomore, DOB: 12/21/1990...Brockers is another scheme-versatile defensive line projection. He is expected to measure in this week at the combine around 6'6" and 300 pounds, arguably the most physically gifted in the group. The natural athleticism and rare length do bear great promise but there are also concerns over how unproductive he was the last two years at LSU.
Melvin Ingram, DE, University of South Carolina, 6'2" 275, redshirt senior, DOB: 4/26/1989...I have Ingram listed here as an end with the defensive line grouping but one of his most appealing traits is projected versatility. There is an accepted school of thought that Ingram can play on his feet as a 3-4 outside linebacker and even slide inside to tackle on certain pass rush downs to accommodate other perimeter personnel.
Whitney Mercilus, DE, University of Illinois, redshirt junior, DOB: 7/21/1990...Mercilus is not seen universally as a first-round certainty, though that may change in a few days when NFL personnel get their first up close and personal look at his physicality and speed. He fits into the one-year wonder category after coming from total obscurity to lead the nation in sacks and forced fumbles in 2011. There is also talk that he could be another edge player that can convert to 3-4 OLB.
Dontari Poe, NT/DT, University of Memphis, junior, DOB: 8/18/1990...Yet another underclassman that will finally be officially measured this week in Indianapolis, Poe's dimensions (expected at over 6'3" and around 350 lbs.) and quick feet are a rare combination. And 3-4 teams looking for an impact nose tackle could be very interested.
Quinton Coples, DE, University of North Carolina, 6'6" 280, senior, DOB: 6/22/1990...Coples is widely considered the top 4-3 defensive end prospect in the draft due to his prototypical build and burst. But after a quiet senior campaign, there are questions surrounding his motor, dedication and want-to.
Devon Still, DT, Penn State University, redshirt senior, DOB: 7/11/1989...I like Still as one of the top interior defensive linemen in this class as a three-technique 4-3 DT. He is huge and quick and, while he may never be an elite pass-rusher inside, he generates consistent pressure up the middle. Some question does exist about the consistency of his motor.
Further signaling the importance of talent and future productivity in this unit, along with the depth in the 2012 class, five other prospects have the potential to be first-round defensive line selections.
Jerel Worthy, DT, Michigan State University, redshirt junior, DOB: 4/28/1990
Chandler Jones, DE, Syracuse University, redshirt junior, DOB: 2/27/1990
Andre Branch, DE, Clemson University, 6'5" 260, redshirt senior, DOB: 7/14/1989
Alameda Ta'amu, NT/DT, University of Washington, 6'2.5" 340, senior, DOB: 8/23/1990
Brandon Thompson, DT, Clemson University, 6'2" 310, senior, DOB: 10/19/1989
Linebackers: Potential First-Rounders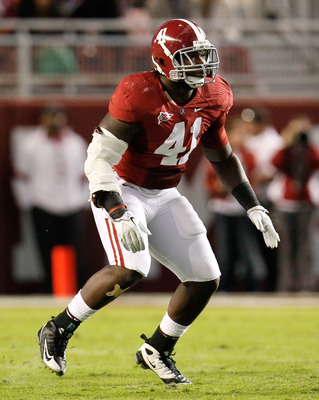 Upshaw is the most complete linebacker in the draft.
Kevin C. Cox/Getty Images
Similar to how distinct defensive alignments carry different responsibilities for the defensive linemen, the same holds true at the linebacking position. Traits at these various spots include speed and range in coverage or rushing the passer, strength at the point of attack, block-shedding and tackling sureness. Ideally, any linebacker on the field has quality instincts and read-and-react capability. Linebackers are the most athletically versatile defensive group, in general, and their execution is often the difference between a plus or minus outcome on any given play.
Courtney Upshaw, 3-4 OLB, University of Alabama, 6'1.5" 275, senior, DOB: 12/13/1989...Some analysts are quibbling with Upshaw's sub-elite measureables (not being the tallest or fastest at his position) but that is a mistake. He is plenty talented in combination with great football intelligence and character. His strength and hand violence are so good that he is even considered a viable defensive end prospect despite his height. Highlighted by quality change-of-direction skills and tenacity, Upshaw does everything asked of the position well and may have the best NFL career of any defender in this draft.
Nick Perry, 3-4 OLB, University of Southern California, redshirt junior, DOB: 4/12/1990...Expected to measure this week in the area of 6'3"/250, I am not on board with the notion that Perry will make a quality NFL defensive end. He screams 3-4 outside linebacker where his best asset, speed and range, will allow him to make plays in space and get after the quarterback.
Zach Brown, 4-3 WLB, University of North Carolina, 6'1.5" 235, senior, DOB: 10/23/1989...The w in his position listing stands for weak-side, also called Will, referring to which side of the offense's formation he aligns. Brown intrigues with reported 4.4 speed and the skills to potentially offset the NFL's latest offensive weapon: oversized inside receivers. The problem is that he is extremely incomplete right now as a football player, one of the most finesse front-seven defenders I have ever evaluated.
Luke Kuechly, MLB, Boston College, junior, DOB: 4/20/1991...Pronounced KEEK-lee, he is being widely lauded as the premier middle linebacker prospect in the class. Evaluators that love him gush about the tackling machine's consistency, instincts and relentlessness to the football. After pledging to participate fully in this week's combine, Kuechly's measureables will be some of the most covered at the event. His detractors point to marginal athleticism, fundamentals and lacking a dynamic quality to his play.
Two other linebackers that have been discussed in the draftnik industry as having first-round potential along with warts that could push them to the second are both middle/inside 'backers.
Vontaze Burfict, MLB, Arizona State University, junior, DOB: 9/24/1990
Dont'a Hightower, ILB, University of Alabama, redshirt junior, DOB: 3/12/1990
Defensive Backs: Potential First-Rounders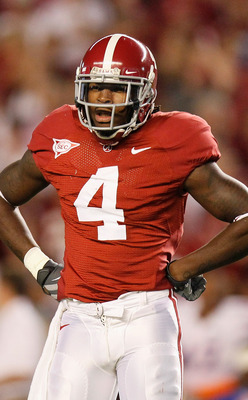 Barron is one of the top DBs, and likely the best S, in the class.
Kevin C. Cox/Getty Images
Defensive backs comprise the corners and safeties and are typically the fastest players on that side of the ball, lining up the furthest from the line of scrimmage, and whose most crucial role is in coverage. Defensive backs, especially corners, are often on an island by themselves whether this is in coverage or tackling a player in space to prevent a much longer gain.
This existence requires the non-physical trait of resiliency to go along with elite speed and quickness. Anticipation skills and the ability to read passing routes, similar to play diagnosis from linebackers, is another cerebral quality amongst the best at the position. Safeties must also play with the aggressiveness and physicality to operate in the box, get off blocks between the tackles and make plays in run defense.
Morris Claiborne, CB, Louisiana State University, junior, DOB: 2/7/1990...Featured in the photograph of this slideshow's introduction, Claiborne is being rated unanimously as a top-five prospect and a future elite cornerback with a better overall skill set for the position than last year's LSU phenom, and former teammate, Patrick Peterson, despite being less of an athlete. Claiborne comprises everything desired in the position including measureables, recognition and ball skills, the latter two which can lead to a lot of big plays.
Mark Barron, S, University of Alabama, senior, DOB: 10/27/1989...Presently dealing with a hernia injury that cost him participation in the Senior Bowl, as well as this week at the combine, Barron is not expected to see his draft stock fall. Size and speed projections in the 6'2"/220/4.5 area, along with the cover and fill skills desired of the position, should have him coming off the board in the middle of the first round. He is expected to be the first safety taken and there are a bevy of teams with a primary need at this spot on the field.
Janoris Jenkins, CB, University of North Alabama, 5'10" 190, senior, DOB: 10/29/1988...Jenkins is arguably the best pure cover corner in the class after Claiborne despite just average size and top-end speed. He does this with excellent foot quickness and hip fluidity, allowing him to change directions and stay in receivers' back pockets. The other part of the story is that after starring for three seasons at the University of Florida, including notable 2010 performances versus A.J. Green and Alshon Jeffery, Jenkins was reportedly dismissed from the program after multiple drug-related offenses. His background investigation and interview process will have to convince NFL suitors that he is past those mistakes and can stay clean. I think he will and ends up in the middle of the first round because of it.
Dre Kirkpatrick, CB, University of Alabama, junior, DOB: 10/26/1989...Another highly-celebrated corner prospect in this class with a black mark of his own; he was arrested in December on marijuana charges right after declaring early for the NFL draft as a junior. The character question aside, Kirkpatrick may slide in Round 1 because of concerns about his ceiling as a cover man. He is extremely tall for a corner (expected to measure close to 6'3") and plays physically in both the pass and run support but likely lacks the agility needed to consistently win one-on-one match-ups. This leads some evaluators to classify him as a Cover 2 scheme guy, which could limit the number of teams interested in the first round.
Two more defensive backs with realistic first-round aspirations are also cover corners. Jamell Fleming is one that I particularly like, moreso than the market at large at this point, because he has all the tools but plays with hunger and aggression not often seen from his position.
Stephon Gilmore, CB, University of South Carolina, junior, DOB: 9/19/1990
Jamell Fleming, CB, University of Oklahoma, 5'10.5" 205, redshirt senior, DOB: 5/5/1989
Keep Reading