San Diego Chargers Offseason 2012: Part 4 Wide Receivers and Tight Ends
February 19, 2012

Harry How/Getty Images
The following is the fourth installment in a nine-part series analyzing every position, from the front office to the defensive backfield.  To access previous installments click here: http://bleacherreport.com/users/213082-justin-peniche
Wide Receivers and Tight Ends
The contract battle between A.J. Smith and wide receiver Vincent Jackson has epitomized the irresistible force versus the immovable object paradox. Jackson continues to be a monster on the field and has managed to rehabilitate his image as a trouble maker off of it. Smith has strong armed Jackson at every chance from suspensions to franchise tags and has created tension between Jackson's agents and the organization.
Now that Smith remains the Chargers' general manager, it could mark the end of Jackson's time with the team. If Smith finds himself on a shorter leash this season with Spanos and Turner having more say on personnel decisions, Jackson may very well get the lucrative multi-year contract he desires and deserves. It's no secret, Jackson loves San Diego and would ideally like to remain a Charger but after all the turbulence of the past two years the Chargers will have to make good and show him the money.
Jackson and fellow receiver Patrick Crayton are both unrestricted free agents leaving only Malcom Floyd, and rookie Vincent Brown under contract for 2012. Richard Goodman is a restricted free agent who got a shot last season after spending the majority of 2010 on the practice squad. Floyd is a reliable target when healthy and Brown proved himself more than capable in limited opportunities. It should be noted that Cowboys' receiver Laurent Robinson was with the Chargers in preseason but was let go in favor of Bryan Walters. Robinson finished the season with 54 receptions, 858 yards and 11 touchdowns. Walters had three catches for 27 yards and was inactive most of the season.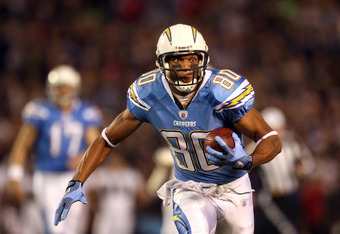 Donald Miralle/Getty Images
What happens at the wide receiver position will be dictated by what the Chargers decide to do with Jackson. If Jackson is signed to a long-term deal, the Chargers can get away with drafting for depth in the later rounds but if Jackson leaves, the Chargers will need to draft an impact receiver in the early rounds or pursue a quality pass catcher in free agency.
2012 presents one of the deepest classes of free agent wide receivers the league has ever seen; a group that could consist of Marques Colston, DeSean Jackson, Dwayne Bowe, Wes Welker, Plaxico Burress, Reggie Wayne and Brandon Lloyd just to name a few.
Crayton and Goodman represent an unproductive duo of punt and kick returners respectively. Crayton had little to no impact on offense or special teams and has most likely played his way out of San Diego. The Chargers seem to like Goodman and although his contributions are minuscule, I expect to see him wearing lightning bolts in 2012.
I would like to see the Chargers retain Jackson and add a receiver in the draft; preferably one who can bolster the Chargers return game. Jackson is rumored to be seeking a five-year contract worth approximately $10 million a season, and if the Chargers decide to let him leave he will get that deal elsewhere.
At tight end the prognosis is simple; the Chargers need one. Gates gimpy foot makes him a Jekyll and Hyde performer going forward, and Randy McMichael is like getting a Ford Focus as a rental car when your BMW is in the shop. Sure McMichael can get the Chargers from A to B but he doesn't replace the luxury of a healthy Antonio Gates. Kory Sperry is a big body who is probably never going to be much more than a third-string player.
McMichael is a free agent but his familiarity with Norv Turner's offense, coupled with Gates' fragile foot, could keep him in the blue and gold for another season or two. Sperry may or may not stick around and it doesn't really matter, because the Chargers should look to draft Gates' eventual replacement while he is still healthy enough to mentor one.