The Pittsburgh Steelers' Greatest Draft Selection of Each Round (Super Bowl Era)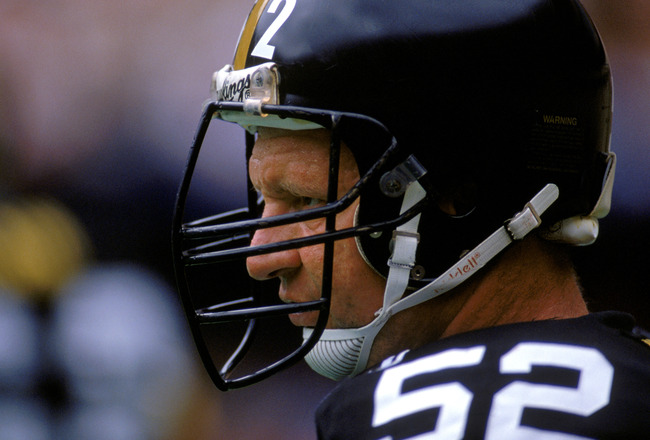 Mike Powell/Getty Images
The Pittsburgh Steelers have performed admirably in the NFL Draft during the Super Bowl Era, promoting many legendary players from the collegiate ranks to all-pro professionals and, lastly, more than a handful of those into Hall of Fame members.
In 1974, the Black and Gold put together what is largely considered to be the finest draft class in NFL history, bringing the talented likes of Lynn Swann, John Stallworth, Mike Webster, and Jack Lambert to the Steel City.
Looking at more recent selections, one can see the six-time Super Bowl winning franchise has "still got it." In fact, one can attest with relative ease to the fact that no top tier draftee in Pittsburgh has been wasted in recent seasons. Troy, Heath, Ben, Maurkice, and other top draft selections are so renowned in the 'Burgh that they are referred to often by first name only.
This list doesn't stop with celebrating first round talent. This is a selection of the finest players to ever be drafted by the Rooney family in each round of the NFL Draft in the modern era. The time for eligibility in this selection process begins in 1966 until the current date.
In keeping with the current structure, one dynamic player will be chosen as the best team selection for each of seven rounds. However, noting that the draft has been as long as twenty rounds in this time frame, we will also look back at the three greatest Steelers to be called upon by the team after round seven.
One thing is certain: a draft class made up of these studs could turn the fortunes of any fledgling franchise almost immediately.
Round 1: Joe Greene, 1969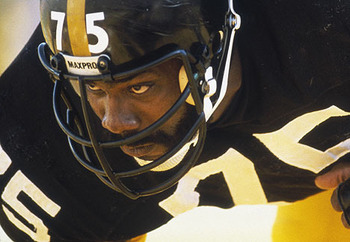 The list of top draft picks by the Pittsburgh Steelers is a veritable who's who of Hall of Fame talent.
With a few beers in hand and all of your buddies around the table, any given member of the circle could easily make an argument for Terry Bradshaw, Franco Harris, Rod Woodson or Ben Roethlisberger as the best selections in the first round.
For example, no pick had more weight to bear than the top overall pick of 1970, Terry Bradshaw. The affectionately nicknamed Blonde Bomber went on to win four Super Bowls as the starting quarterback of a dynasty.
Two years later, Franco Harris came into the fold in 1972. Is it a coincidence that the Steelers won their first ever playoff game that year?
Rod Woodson is considered by many as a legendary player who came into the fray a decade to late or a decade too early. After all, many of his peers regard him as the best defensive back of his generation, and some argue that he's even superior to Mel Blount.
And, who can deny the immediate impact of Big Ben, winning his first fifteen games as a starting quarterback and leading the team to three Super Bowls?
For my money, despite all of the valid arguments to the contrary, the greatest first round selection of the Black and Gold was Joe Greene.
After being drafted, newspaper articles asked "Who's Joe Greene?" It didn't take long for the public to be baptized in his dominance. Opponents realized who Greene was, and many chose to double or triple-team the unbelievably physical tackle.
Make no mistake that Greene brought a new identity into Pittsburgh as the first draft pick of newly christened coach Chuck Noll. Unlike those before him, Greene found losing abhorrent.
As the nasty, physical, and intimidating keystone of the "Steel Curtain," Greene rallied teammates around him in his burning desire to win. Angry about losing in his early years, legend has it that Greene went as far as to challenge Dick Butkus in a fit of rage.
While he had the support of all-pro defensive talent all around him, it was "Mean Joe" who served as the keystone piece for infusing those around him with his "take no prisoners" approach to defense.
He is known for the great innovation of the "stunt 4-3," lining up at an angle between the guard and center and forcing multiple blockers to account for him inside. The approach was completely successful, freeing up other key members of the legendary defense to make plays.
Those who had to block Joe often left bruised, both physically and egotistically.
Sure, he was the nice guy who threw the bottle of Coca-Cola to the kid in the Super Bowl commercial; yet, he was also the "Mean Joe" that threw a monkey wrench into NFL offenses for years on end.
Round 2: Jack Lambert, 1974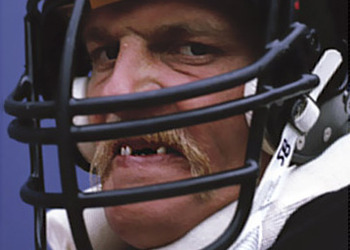 As if the blessings reaped by the addition of Joe Greene weren't enough, the Steelers added a gangly looking linebacker from Kent State to their ranks in 1974.
And, to put it bluntly, he was a mean son-of-a-gun!
From picking gravel from his face during outdoor practices in the parking lot to pounding NFL opponents mercilessly, Jack Lambert became the face of intimidation for a Steelers team steeped in it.
Taking a chance on the undersized Lambert, who barely eclipsed 200 pounds as a rookie, the Steelers replaced injured Henry Davis with the fierce linebacker. History was beginning, and the gnarly-faced 'backer with the Count Dracula teeth dominated the NFL for ten seasons.
Lambert averaged 146 tackles per season in his first ten years in the league. During the span, he was honored in nine straight Pro Bowls and won NFL Defensive Players of the Year.
Oh, and he, along with Greene, won four Super Bowl rings, in case it had slipped anybody's mind...
In arguably the pinnacle moment of his career, Lambert looked on as the Cowboys' Cliff Harris teased kicker Roy Gerala after a near miss in Super Bowl X. After Harris condescendingly tapped Gerela on the helmet, Lambert grabbed the Dallas star and threw him to the turf.
After the game, Lambert responded candidly:
"I never want to see the Pittsburgh Steelers being intimidated. NEVER. I let the other guys know that I was mad and we started playing our kind of defense...we hit some awfully good licks."
Before the incident, Pittsburgh trailed 10-7. With the Steelers incensed and the defense intently focused, Dallas's momentum hit a brick wall named Lambert, and Pittsburgh rallied to a 21-10 lead before winning by four points.
Round 3 (TIE): Mel Blount, 1970; Hines Ward, 1998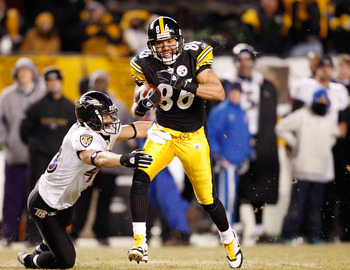 Gregory Shamus/Getty Images
While the previous rounds' "bests" focused on the defensive front, nobody had more impact in any NFL defensive backfield than Mel Blount.
Known for a physical "bump and run" style of coverage, Blount imposed his strength and voracity on opposing receivers, who often went full games without ever properly cutting into their assigned route. The superb corner took away the best receiver on every team, redefining the "dominant defensive back."
His dominance caused the NFL to change the rules of what was allowable in pass coverage. Known as the "Mel Blount Rule," changes instituted made such bullying of NFL receivers, particularly five yards beyond the line of scrimmage, illegal.
Blount adjusted and continued to excel anyway.
Equally adept at reading and reacting to passes as domineering wideouts, Blount had 57 interceptions in his career, including his league-leading total of 11 in 1975.
While Blount redefined the prototype of a great corner, Hines Ward proved that the typical pass-catching wideout could be much more diverse and team oriented.
The team's third draft choice in 1998, Ward began his career on special teams, eventually making enough amazing receptions in his offensive spots to get noticed.
Brimming with talent, Ward worked up the ranks in becoming a starter through hard work and with gifted hands. Many were the catch that had fans in awe made by No. 86.
Yet, for his amazing gifts as a catcher, Hines also turned out to be a grand deliverer. He dealt out punishment to those whose heads weren't on a swivel, showing a complete unwillingness to shy away from contact, an element nearly extinct in the modern receiver.
As a fierce blocker, Ward earned an unfair reputation as a "dirty player" from opponents unused to a wideout throwing around so much muscle. While the opposition grimaced and groaned, the Steel City rose in unison and waved its Terrible Towels every time its blue collar receiver delivered another crushing block or bone-cracking hit.
Contributing on the offense in nearly every way possible—throwing key passes, making clutch catches, blocking downfield and running the football on rare occasion—Ward became a Pittsburgh favorite.
Ultimately, Hines ascended up the ranks until finally becoming the teams' all-time leading receiver in most categories.
Round 4: Aaron Smith, 1999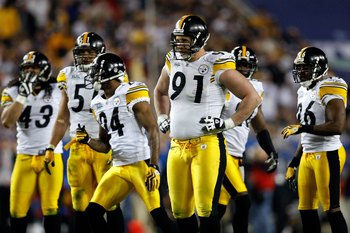 Chris Graythen/Getty Images
Smith is one of the most underrated defensive ends in NFL history.
Throughout the 2000s, the defensive front centered at the confluence of the three rivers often met with opposing runners in the backfield or at the line of scrimmage, stuffing them.
Since 2001, the Steelers have ranked among the top three defenses against the run in all but two seasons. While gap containment is a huge element of this success, containment is also a key.
A defensive end must not only soundly handle his gap, but he also has the responsibility of getting around his block and containing the outside whenever possible.
Few have ever been better and stopping the opposing running back around the left tackle than Aaron Smith, who swallowed up rushers during his time in Pittsburgh. Until injuries hampered the talented defensive end in recent seasons, Smith was largely regarded by peers as the most underrated talent in the game at his position.
After playing soundly in his first two seasons as a starter, his third year (2002) saw the end finish with 60 solo tackles, not surprising considering the number of games in which Smith managed five or six solo tackles breaking off of the offensive tackle and getting the running back soundly wrapped. In 2004, he finished with a career high eight sacks.
In 2008, Aaron Smith anchored the defense, finishing with 60 tackles and six sacks in a championship season. The Steelers allowed fewer points and yards than any defense in the NFL.
Yet, fans who watched Smith dominate along the front line know that the statistics and accolades were not what made this talented player the man. It was his domination of the man in front of him, especially in containment of the run game, that made Smith a premiere defensive linemen in the game of football.
Just looking back with the eyeball test, I can't remember a more disrupting force against the run....truly.
As a whole, nothing says more about the man than the fact that his teammates remember him so fondly as a leader. Indeed, Smith was the greatest 3-4 defensive end the Steelers have ever seen.
Round 5: Mike Webster, 1974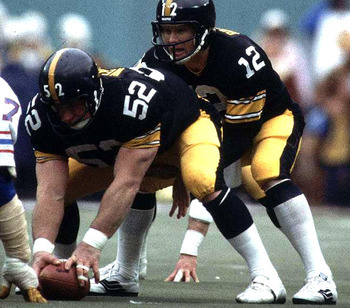 For 150 straight games beginning in 1976, Mike Webster served as the premiere lineman for the Pittsburgh Steelers at center. An avid weight lifter with his bare arms and muscles bulking even in the dead of winter, Webster dominated defensive linemen with his brute strength and impeccable form.
Truly, it seemed apparent that God made Mike to be an NFL center.
This was illustrated by his nine Pro Bowls and seven All-Pro selections. As the anchor of the line in front of Terry Bradshaw and Franco Harris, Webster made life miserable for the man in front of him.
Showing his appreciation for the greatness of the center lined up in front of him, Terry Bradshaw asked Mike Webster to snap him a football one last time during his Hall of Fame induction speech. It was a special moment between two football players, one of whom had his hands against the others' butt (as T.B. would surely and so eloquently put it) for nearly eight seasons.
Sadly, the damage of playing football during an exceptionally physical era took its toll on Webster. Fighting with bouts of depression, dementia and amnesia, the unfortunate story of arguably the greatest lineman in Pittsburgh history ended with Webster being periodically homeless. By the end of his life, he was barely able to care for himself by most accounts, living with his son and relative caretaker, Garrett.
It was an inglorious end for a dedicated professional and great man.
Frankly, let's be honest. Who wants to pop pads with a man whose arms look like the tree trunks pictured above?
Round 6: Greg Lloyd, 1987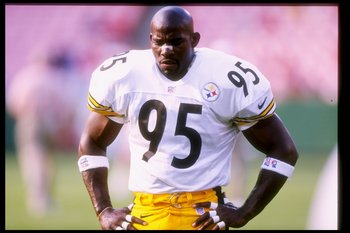 Stephen Dunn/Getty Images
That Greg Lloyd was a sixth-round draft selection is almost flabbergasting. Chosen by Pittsburgh during the Chuck Noll era, Lloyd truly blossomed into his own and peaked in the early 90s, under coach Bill Cowher.
Lloyd, along with Rod Woodson, who was selected in the first round of the same draft class, served as an All-Pro presence on an intimidating defense properly nicknamed "The Steel Trap."
In 1992 and 1993, Lloyd totaled over 200 tackles. In 1994, his tackles dropped, but he finished with a career high 10 sacks. The team narrowly missed going to the Super Bowl, falling in a dramatic loss to San Diego in the AFC Championship.
The next season would see Lloyd and the Steelers slump to a 3-4 start. Bill Cowher proposed a nine game season to his ailing team. Lloyd, along with his teammates, never looked back.
In 1995, alongside intimidating defenders such as Chad Brown, Kevin Greene, and Levon Kirkland, anchored the Black and Gold to their first Super Bowl appearance since the days of Joe Greene and Jack Lambert. Lloyd led the team with 88 tackles, and also achieved career highs in forced fumbles (six) and interceptions (three).
Sadly, great men didn't fulfill their ultimate goal on the season's final evening, losing to the Cowboys in Super Bowl XXX, 27-17. After giving up the early lead to Dallas, the defense clamped down on Emmitt Smith and essentially shutout the Cowboys in the final three quarters, barring two critical interceptions.
Certainly, "The Steel Trap" played well enough late in the game to win.
From 1991-95, the stud linebacker made five straight Pro Bowls, finishing as a first team All-Pro in each of those final three seasons.
Just as it appeared Lloyd was in the midst of the prime of his career, fans' stomachs turned to knots watching on as their heroic defender fell apart physically.
At the start of 1996, Greg Lloyd suffered a serious knee injury in Jacksonville. Unlike teammate Rod Woodson, who rehabbed to start in the Super Bowl in the same season as a knee injury almost exactly one year earlier, the "manimal" never returned that season.
After vigorous rehabbing, Lloyd came back in 1997, slowly regaining his form. By midseason, he had sacks in three consecutive games. In the third game, against the Eagles, a sack attempt of Bobby Hoying missed, and Lloyd fell to the turf with an injured ankle. This led to a series of events culminating in a serious staff infection that cost Lloyd 20 lbs.
He would never wear the a Steelers helmet again.
Who knows how much more impressive his career numbers may have been if not for an unfortunate series of events that sidelined him in 1996-97?
Round 7: Brett Keisel, 2002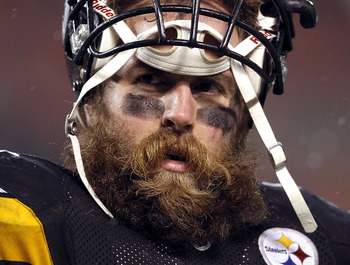 Matt Sullivan/Getty Images
Whether you call him "The Diesel" or "The Beard," you can certainly agree that Brett's career in Pittsburgh can be aptly described by two words: pleasantly surprising. It's hard to argue that the seventh round of the draft is about seizing unexpected talent, and Brett has fit the bill.
Aaron Smith is arguably the team's greatest fourth-round draft choice ever. As this is the case, Brett Keisel has to be argued as the finest seventh-rounder ever selected.
With the departure of Kimo von Oelhoffen, the team demonstrated a faith in Brett's ability, signing him to a lucrative contract. Brett's performance has paid the Black and Gold back in spades.
In his first season as the entrenched starter, Keisel recorded 55 tackles and 5.5 sacks in 2006.
Playing most of his career on the opposite end of Aaron Smith, it's not far-fetched to describe Keisel's performance as being "nearly as good" as the legendary Smith's in most games. That is a high compliment against such talented company.
While other defenders have received more praise and hype, "the Diesel" has come through in a number of critical moments, causing fans to think to themselves in unison, "good ol' Keisel."
Who can forget his fumble recovery of Kurt Warner to end Super Bowl XLIII? It was a fitting center stage for the man so comfortable with being out of the limelight.
And, who didn't exalt jubilantly in Pittsburgh when Brett intercepted Josh Freeman in Tampa Bay, rumbling to his first career touchdown in early 2010?
For a pick in the final round of the 2002 draft, Keisel has outperformed his value as the next-to-last non-compensatory pick of the selection process. Taking a look at the NFL 2002 Draft board, how many others taken so late have a Pro Bowl denotation by their name?
Like many other great Steelers, Keisel's physical image has added to his reputation. With a beard so substantial it found its way into a "Head and Shoulders" commercial, "the Beard" has certainly become a historical icon in the Steel City.
Later Rounds: L.C. Greenwood, 1969; Rocky Bleier, 1968; Merrill Hoge, 1987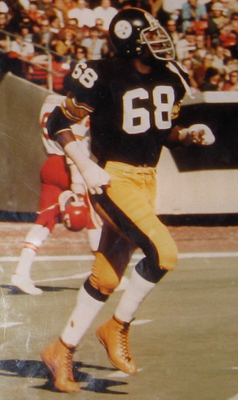 The draft hasn't always been seven rounds, and there have been great Steelers born from much later selections.
Rocky Bleier, who worked so hard to return to the field from serious war injuries in Vietnam, coupled with Franco Harris to complete the most devastating backfield duo in Steelers history.
Bleier peaked in 1976 when both backs gained over 1,000 rushing yards. Bleier's 4.7 yards per carry were a career high.
However, his career highlight may have come on a reception. In Super Bowl XIII, a Terry Bradshaw lob into the corner of the endzone found Bleier, who leaped to make the reception. The score gave Pittsburgh a 21-14 halftime lead over the rival Cowboys.
Who would believe that one of the most beloved figures in Steelers history was chosen in the 16th round of the 1969 draft?! Coupled with his war injuries, Bleier's career is nothing short of a study in miracles.
A less heralded running back was chosen in the 10th round of 1987, but he was a hard runner who embodied the blue collar image that fans so revered.
He never eclipsed 1,000 rushing yards or had the flashiest highlight reel, but he was a great dual purpose back. His all-purpose yards almost always took him over the century mark, and the running back could be depended on for approximately 40 catches and 350 yards in any given season. After peaking with 8 rushing touchdowns in 1989, Hoge scored 10 total touchdowns (3 receiving) in 1990, a career high.
His best and most memorable game in the Black and Gold came in the Divisional Playoffs against Denver. Minus a late John Elway rally and an inopportune miscue in the passing game to rookie receiver Mark Stock, it would have been Hoge getting the legendary status of having willed the team to victory.
The 1989 Steelers were Chuck Noll's finest reclamation project, a unit that likely had no business in the NFL playoffs. Yet, like their lunch pail running back, the team came to work each week, rallying from a 4-6 start to make the playoffs.
Hoge's 16 carries for 120 yards combined with eight receptions for 60 yards, totaling nearly half of the team's offense. Nevertheless, Pittsburgh fell to Denver at Mile High Stadium, 24-23, narrowly missing on a trip to the AFC Championship Game.
Saving the best late round selection for last, who would have imagined L.C. Greenwood, whose draft status must be one of the unfair factors keeping him from the Hall of Fame, came to Pittsburgh via the 10th round of the 1969 NFL Draft?
Wouldn't one think that such a projected long shot achieving so much would be a factor working in his favor?
I digress.
The man would become the Steelers starting left defensive end, an important part of the famed "Steel Curtain."
He made the Pro Bowl six times, twice going All-Pro.
Unofficially, as certain stats weren't kept in those days, the Steelers credit him with leading the club in sacks six times, finishing with 73.5 career sacks. His highest total is accredited as 11 in 1974.
With his bright yellow shoes standing out along the line, he had to play well or lend himself to ridicule. As it always turned out with any member of the Steelers defense, respect was the only option. Hell, the guy sacked Roger Staubach in Super Bowl X...four times!
All one can do is shrug and throw their hands up in exasperation at the notion that Greenwood is not in the Hall of Fame.
One thing is for sure; L. C. Greenwood represents the best draft value the Steelers have ever acquired.
Keep Reading

Pittsburgh Steelers: Like this team?