2012 NFL Free Agents: Cincinnati Bengals Targeting Steelers' WR Mike Wallace?
February 18, 2012

Jared Wickerham/Getty Images
NFL free agency is set to begin in less than a month, and the Cincinnati Bengals are in prime position to make massive waves once the gates open.
With a reported $60 million in free cap space the Bengals can address a multitude of areas via free agency. One area that needs to be addressed is the wide receiver position. Adam Schefter of ESPN seems to think the Bengals are a strong possibility for Pittsburgh Steelers' receiver Mike Wallace.
The team is set when it comes to a No. 1 receiver thanks to A.J. Green, and is also in good shape in the slot with a combination of Jordan Shipley and Andrew Hawkins. The second receiver across from Green is a blank right now thanks to the acrobatic Jerome Simpson dealing with legal issues.
While there are a plethora of players on the free-agent market that could fill the No. 2 slot nicely for the Bengals, none come close to Wallace. The four-year player out of Ole Miss is the fastest player in the league and terrorizes defenses with his big-play ability.
Last season Wallace posted 72 catches for 1,193 yards and eight touchdowns. Wallace joining the Bengals would be a dream come true, but is impossible because he is a restricted free agent, right?
Wrong.
Under the newly ratified CBA agreement, a team signing a restricted free agent from another squad only costs one first-round pick. It used to be a first and third pick. Outside of forfeiting a pick, the player will likely cost a huge amount of money because the original team can match any offer and retain the player.
But here is where things get interesting. The Bengals have two first-round picks, both coming in the middle of the round. That price would be well worth it for a player like Wallace. With the $60 million in cap, any number Wallace demands would be simple to pay.
The Steelers are still a reported $10 million over the cap, meaning it is unlikely they could match a huge offer from Cincinnati. To make matters worse for Pittsburgh, using the franchise tag is impossible because the tag is in the range of $9.5 million for wide receivers.
It's a sure bet that the Steelers will end up under that cap thanks to restructuring contracts and releasing players, but that doesn't mean they will have near-enough to give Wallace the money he wants—and deserves.
The move makes too much sense for Cincinnati. Paying out a large contract to an elite player is a no-brainer—but to steal that elite player from the team's most hated rival? If Mike Brown and the Bengals don't make this move, one has to seriously consider if the team cares about winning at all.
So, not only do the Bengals get to undermine an AFC North foe, they don't have to watch Wallace torch their secondary twice a year. Giving a rival another first-round pick is a risky move, but Wallace is a proven elite-level player while the draft pick could turn out to be a bust.
Another contender in the Mike Wallace sweepstakes is another AFC North team—the Cleveland Browns. Cleveland has two first-round picks as well. However, Cleveland wouldn't dare make a move for Wallace.
Signing Wallace would mean Cleveland forfeits the fourth overall pick to Pittsburgh. If a team has two first-round picks when signing a restricted free agent the team has to forfeit their original pick, thus Cleveland would have to give up the fourth overall pick while Cincinnati would have to give up the 21st overall.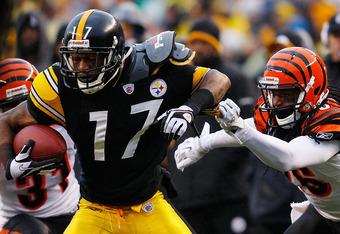 Jared Wickerham/Getty Images
The ball is in the Bengals' court. Any NFL fan can only imagine the possibilities of seeing A.J. Green and Mike Wallace on the same offense. Add in Andy Dalton, Jermaine Gresham and a top running back talent from the draft and the possibilities are endless.
This isn't a typical Bengals' move, but the last few years in The Jungle haven't been very ordinary in terms of player personnel moves. If the Bengals want to seriously contend as soon as next year, the opportunities are certainly presenting themselves.
The Bengals have to be considering bringing Mike Wallace to the Queen City.