2012 NFL Draft: Justin Blackmon and 10 Big Playmakers Teams Can't Pass Up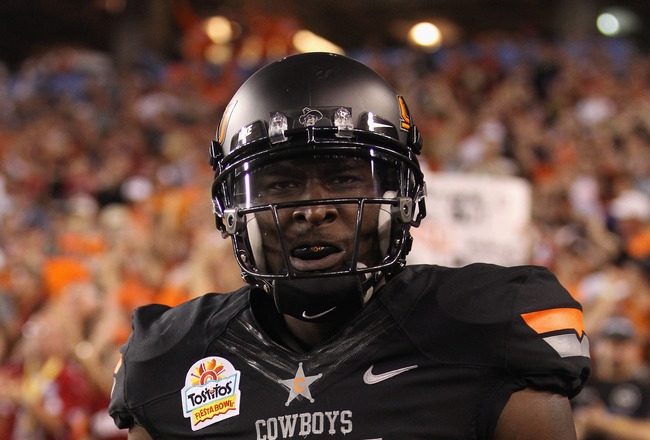 Christian Petersen/Getty Images
There are two things we know going into this year's draft: In order to win in the NFL you need big-time playmakers, and we also know wide receiver Justin Blackmon is the cream of the crop in this year's draft. The last two Super Bowl champs have had playmakers on both sides of the ball.
Here are the top guys in 2012 NFL draft when it comes to making plays.
Baylor WR/KR Kendall Wright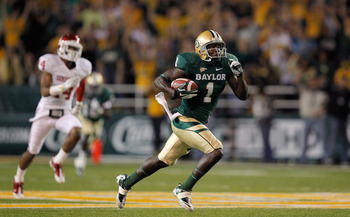 Kendall Wright
Sarah Glenn/Getty Images
Robert Griffin III is not the only Baylor player impressing NFL teams. WR/KR Kendall Wright is flying up draft boards right now with his amazing top-end speed, ability to stretch the defense and large contributions to the kick return game.
Look for him to go early in the first round.
North Carolina DE Quinton Coples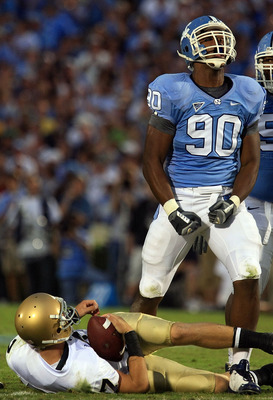 Quinton Coples
Scott Halleran/Getty Images
Some people question his effort and drive on the football field. Even still Quinton Coples is projected in the top 10 overall.
Why? The guy is a freakish athlete who can take control of a football game on the defensive side of the ball.
Alabama RB Trent Richardson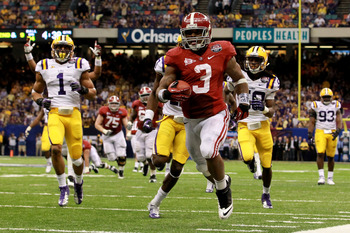 Trent Richardson
Ronald Martinez/Getty Images
The best running back in the draft just so happens to come from the reigning national champion. He scored the only touchdown in the national championship because of his affinity to reach the end zone.
Richardson's ideal size, quickness through the hole and great vision makes him a home run threat every time he touches the ball.
South Carolina DE Melvin Ingram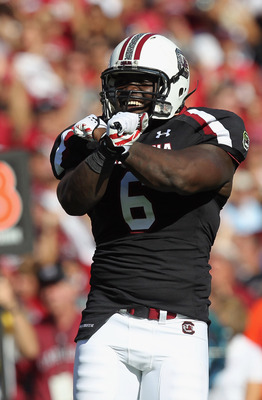 Melvin Ingram
Streeter Lecka/Getty Images
How is it every time you looked up last season you saw Melvin Ingram running with the football? He often looked like a tight end out there as he would gallop his way to the end zone.
Then you had to remember the guy is a defensive end. He is one of the best available in the draft and with his ability to find the football, he is an instant playmaker.
Notre Dame WR Michael Floyd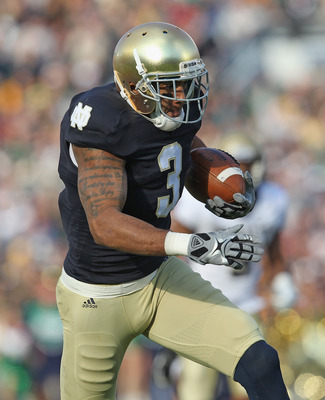 Michael Floyd
Jonathan Daniel/Getty Images
When you get a big target with amazing hands like Michael Floyd, it becomes easy: Throw the ball in the air and let him go get it.
Floyd will be a great target in the red zone at the next level. He also shows great ability to run after the catch. A true playmaker at his position.
Alabama S Mark Barron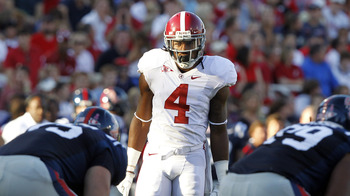 Mark Barron
Butch Dill/Getty Images
When you get an instinctive safety who is smart, athletic and has great ball skills, you get a playmaker; folks in Baltimore and Pittsburgh can attest to that. Mark Barron is built and can hit like a linebacker but plays the ball like a cornerback.
He will be a first-year starter and playmaker in the NFL.
Georgia CB Brandon Boykin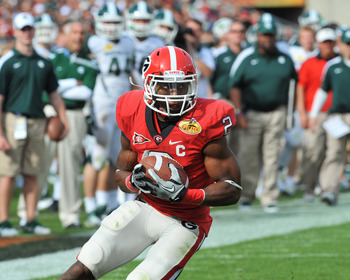 Brandon Boykin
Al Messerschmidt/Getty Images
He plays corner, wide receiver, some running back and returns kicks. Not only is it safe to say Brandon Boykin is versatile but he is also a playmaker. He has a nose for the ball on both sides of the field and loves the spotlight.
Arkansas WR/KR Joe Adams
Joe Adams
Wesley Hitt/Getty Images
Remember when Joe Adams had that crazy pinball-style punt return against Tennessee this past season? Yeah, that should get him on this list alone. He didn't stop there though.
This deep threat and punt return specialist made a name for himself with his uncanny ability to find a seam and make something out of nothing.
Oregon RB LaMichael James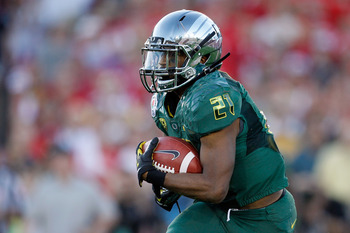 LaMichael James
Jeff Gross/Getty Images
He was the most explosive player in Oregon's high-octane, video-game-style offense. While he will most likely be a third-down back in the NFL, there is no doubt his speed, receiving skills, surprising strength and ability to find the end zone will make him a known playmaker.
Appalachian State WR Brian Quick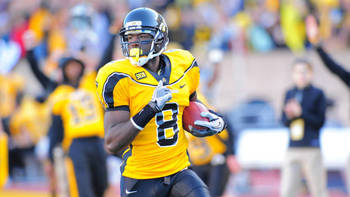 Brian Quick
Wait! You haven't heard of Brian Quick? You will.
The young man is blessed with size, can flat out go get the football and has a knack for finding the end zone. The former basketball player is new to the sport of football but he has great upside and playmaking ability. He is a sleeper looking to go off the board in the third to fourth round.
Keep Reading