Atlanta Braves: Is Chipper Jones the Most Beloved Brave of All Time?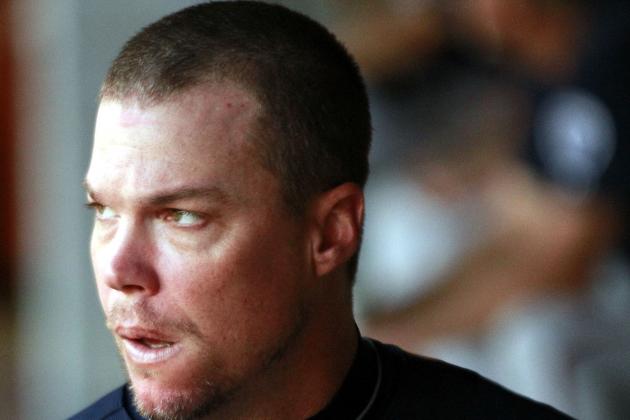 Marc Serota/Getty Images
Chipper Jones is the face of the Atlanta Braves.
Chipper Jones is nearing the end of a long and great career that was spent entirely in an Atlanta Braves uniform. He's accomplished many great things, and for the better part of their dynasty has been considered to be the face of the franchise.
Jones is beloved by fans, but is he the most beloved Brave of all time? This article takes a look at some of the other figures in that conversation and whether that spot belongs to Chipper or someone else in franchise history.
Begin Slideshow

»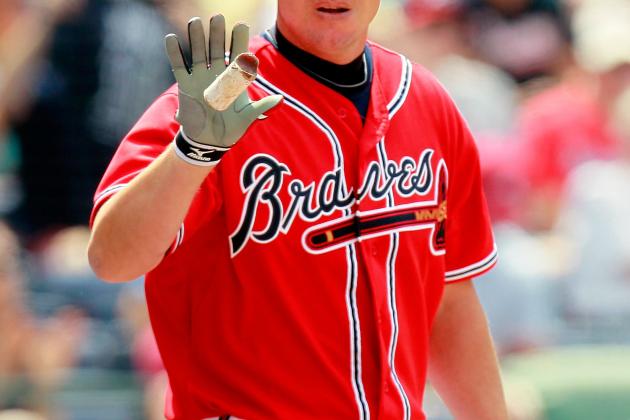 Kevin C. Cox/Getty Images
Chipper Jones could be the most beloved Brave of all-time.
From 1991 through 2005 the Atlanta Braves won their division every year, other than the strike-shortened year where no team won a division. Chipper Jones was a key cog for those Braves teams from 1995 right on through until today.
Jones has done a lot in his 18-year career. He's a career .304 hitter with 454 homers and 1,561 RBI's. He's won a World Series title, MVP Award and batting title. He's also been the face of a team commonly referred to as "America's Team" because of their coverage on TBS during their run.
On a team with Greg Maddux, Tom Glavine, John Smoltz, Andruw Jones and many other talented players, it was Jones that the fans fell in love with. Jones may not have been there at the start of the run, but he's the only player that didn't leave the Braves to play elsewhere. Fans will always remember that Jones is a home grown player from not too far away that has spent his entire career in an Atlanta uniform.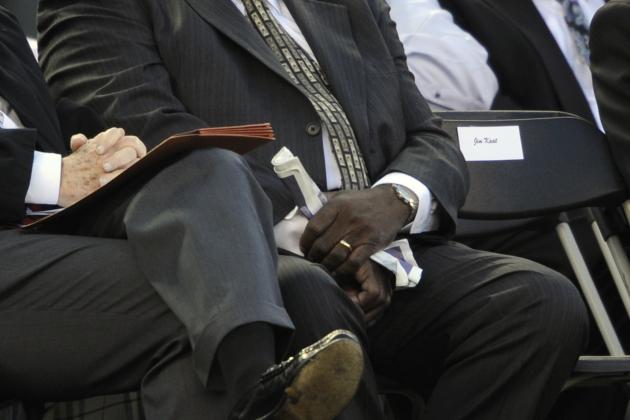 Hannah Foslien/Getty Images
Hank Aaron is among the Top 10 players to have ever played the game.
Hank Aaron may be the all-time face of the Atlanta Braves. The former all-time leader in home runs meant so much for Atlanta as an African-American superstar during a time of racial injustice in the South. Aaron wasn't only the best player in the game, but he was a source of hope during a tough time for many people.
Aaron spent 21 of his 23 seasons in a Braves uniform, hitting 733 of his career 755 homers with the team. He's also hit .310 with 2,202 RBI's while being an offensive force. Aaron wasn't only an offensive force however, as he won three Gold Glove Awards because he also was great with the glove and had a strong arm.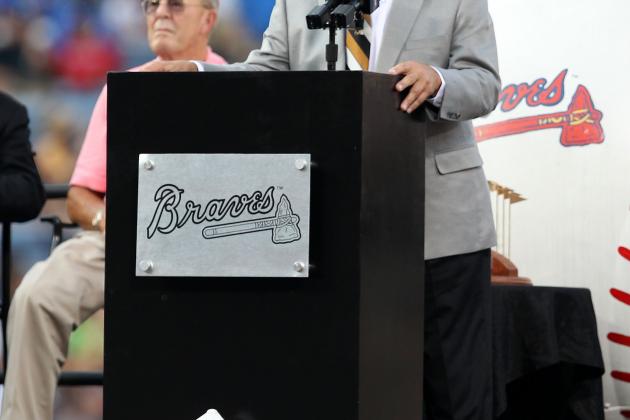 Mike Zarrilli/Getty Images
Bobby Cox during the ceremony to retire his number.
Bobby Cox may have never played for the Braves, but is still a beloved figure in franchise history. The manager who led the team during their long successful run is a man that was loved by both his players and fans.
In spite of going 266-323 during his first stint as the Braves manager, Cox went 2149-1709 managing the Braves while winning five pennants, a World Series title and of course 14 consecutive division titles.
Cox is a great man who already has a spot in Cooperstown reserved for him when he is eligible. He was beloved enough to have had his number retired, and many fans will have fond memories of him.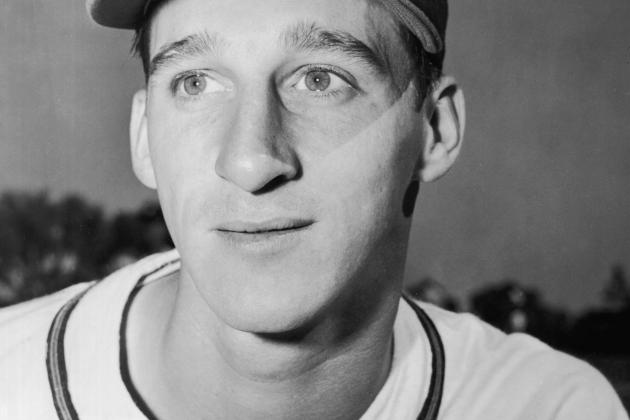 Getty Images/Getty Images
Warren Spahn won 356 games for the Braves.
Warren Spahn was among the greatest pitchers in the history of the game. The Hall of Fame pitcher spent 20 of his 21 seasons in the big leagues with the Braves, and won 356 games with a 3.05 ERA for the franchise.
Spahn was a Cy Young Award winner and World Series champion that was beloved by the fans in Boston and Milwaukee. Since he was so successful, fans started the famous phrase "Spahn and Sain and pray for rain" because Spahn and Johnny Sain were the only talented starting pitchers in the rotation for the Braves for a little while.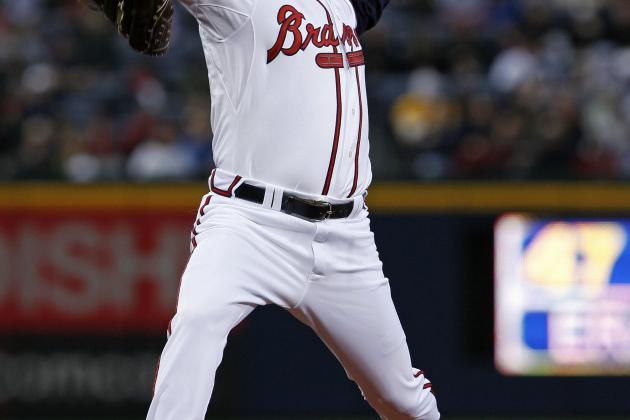 Mike Zarrilli/Getty Images
Tom Glavine will one day end up in the Hall of Fame.
Tom Glavine was the totally homegrown pitcher in the Braves trio of aces. The left hander won 244 games and a pair of Cy Young Awards in a Braves uniform.
As if that isn't enough, he went 2-0 with a 1.29 ERA in a pair of starts when the Braves beat the Indians for the 1996 World Series. Glavine's big game heroics played a huge role in helping the Braves break through and win their only World Series title during their 14 consecutive division title run.
The only mark against him is the fact that following the 2002 season, Glavine signed a free agent deal with the rival New York Mets. He may have finished up his career in a Braves uniform in 2008, but that certainly hurts his legacy with some.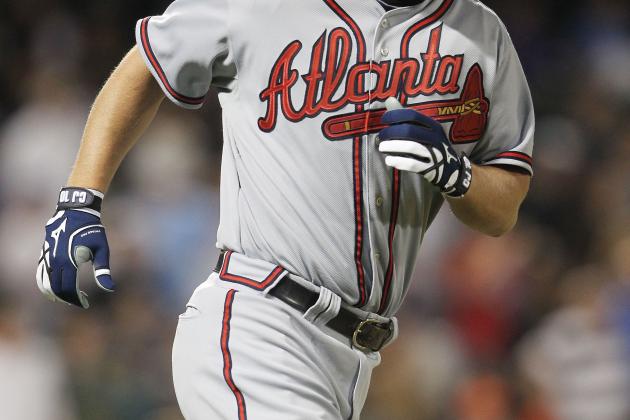 Nick Laham/Getty Images
Chipper Jones is the most beloved figure in Braves' history.
While Cox had a major impact, he never played a game for the Braves. Glavine was great, but was at times overshadowed by Greg Maddux and John Smoltz. Warren Spahn may be among the greatest pitchers in the history of baseball, but he just isn't as beloved by the fans as the two finalists.
That leaves Chipper Jones and Hank Aaron as the two finalists for the most beloved figure in franchise history. Aaron was the better player and meant so much to many people, but it just seems that fans of the franchise gravitate towards Chipper. Jones' media presence is greater than that of Aaron, but that is due to the era we live in.
In conclusion Chipper Jones is the most beloved figure in franchise history, although I wouldn't argue if someone wanted to say that it was Hank Aaron.
This article includes five players with legitimate cases to be the most beloved player in Braves' history and doesn't even get into the likes of John Smoltz, Eddie Mathews, Greg Maddux and Phil Niekro among others. It also has a pair of players that are fairly equally considered to be the most beloved figure in franchise history. That only goes to show how great the history of the franchise is.