Tony Gwynn: Hall of Fame Outfielder a Cautionary Tale for Chewing Tobacco Use
February 14, 2012

Chris McGrath/Getty Images
If you venture to go check out old footage of Hall of Fame outfielder Tony Gwynn, you're going to be reminded of just how sweet his swing was. 
You may also notice that the former San Diego Padres star rarely, if ever, stepped up to the plate without some chaw in his mouth. Like myriad other big league players over the years, Gwynn was quite fond of chewing tobacco in his playing days.
He's paying for it now. Gwynn had to have surgery to remove a malignant growth in his mouth in 2010, and the word from Tom Friend of ESPN.com is that Gwynn had to have another surgery on Tuesday to remove a new cancerous tumor in the same spot where he had his last surgery.
Worse, this new surgery is significantly more complicated. Gwynn's facial functions themselves are at risk.
According to Gwynn's wife, Alicia, Gwynn has told doctors to remove the tumor completely, which may require them to remove a key facial nerve. If they have to remove that nerve, they'll have to replace it with a nerve from Gwynn's shoulder or leg.
"Hopefully, his face will work fine; hopefully he'll be able to blink his eye. They said they will make his face as normal as they can -- and that it might be better than it was," said Alicia Gwynn on Tuesday morning.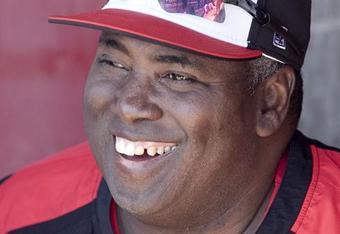 When Gwynn had his surgery in 2010, doctors discovered that the tumor they were dealing with was wrapped around a nerve on the right side of Gwynn's face. This particular nerve controls the right side of his face from his forehead all the way down to his mouth. Without the nerve, the right side of Gwynn's face would effectively be paralyzed.
It has not been proven that Gwynn's chewing tobacco habit is responsible for these tumors, but Gwynn himself is convinced that chaw is directly responsible.
"Of course it caused it ... I always dipped on my right side," he said in 2010.
Friend published a lengthy piece about Gwynn's dipping habit and the damage it has caused in August of 2011. In it, Gwynn admitted to being a "junkie" for the stuff. He used it during all 20 of his major league seasons, and he continued dipping after he retired in 2001. He didn't even stop when he was broadcasting games for ESPN.
The degree to which Gwynn used chewing tobacco is not typical for major league ballplayers, but it's no secret among the public that ballplayers and chewing tobacco have gone hand in hand for a long time. Chaw has practically been standard equipment for professional and amateur ballplayers for well over a century.
Credit where credit is due, Major League Baseball is finally trying to distance itself from the image of swollen-cheeked ballplayers spitting brown liquid all over the field. Per the Associated Press, the new collective bargaining agreement prohibits players from using chewing tobacco during pregame and postgame interviews, and they're not allowed to carry tins of it when fans are permitted in the ballpark.
They are, however, permitted to keep chewing if they please. Players can still chew during games, and that means television cameras will be powerless to keep from showing major leaguers dipping. Impressionable children may continue to take cues. Unless MLB bans chewing tobacco altogether, some of these youngsters may grow up and start dipping just like their favorite ballplayers.
If anything good can come from Gwynn's health struggles, it's that they should serve to show kids and people of all ages what chewing tobacco can lead to. Chaw certainly didn't rob Gwynn of any of his abilities when he was a player, but he would probably do things over again if he knew he was going to spend his post-baseball life trying to save the right side of his face.
For the record, Gwynn's health problems aren't restricted to his post-baseball life. He's dealing with the worst of them at the age of 51, but doctors found growths inside Gwynn's mouth twice during his playing career. He didn't know it, but the writing was on the wall at that point.
Kids and amateurs who dream of playing in the majors someday shouldn't be the only ones to avoid following in Gwynn's footsteps. His story should serve to scare current ballplayers straight too. They don't want to go through what Gwynn is going through.
It bears repeating that it hasn't been proven that chewing tobacco is at the root of Gwynn's problems. But when you take his insistence and the entirety of his story into consideration, it's obvious that this is not something worth gambling on.