10 Biggest NFL Front Office Fails of the Last Decade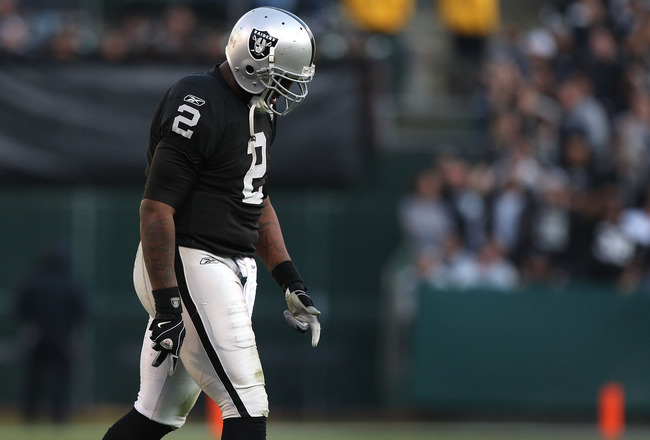 Jed Jacobsohn/Getty Images
When it comes to digesting information about the decision making of their favorite teams, fans of the NFL may be a ravenous pack of wolves. However, when it comes to teams' front offices making mistakes, these same fans can turn into elephants, with an ability to remember long past after the decision's relevancy.
With that said, let's look back at some of the worst mistakes made by NFL front offices during the past 10 years. In addition to explaining why the decisions were so bad, this slideshow will give some benefit of the doubt and break down why some of these ideas may have made sense at the time.
Here are the ten biggest NFL front office fails of the last decade.
10) The Definition of Fandom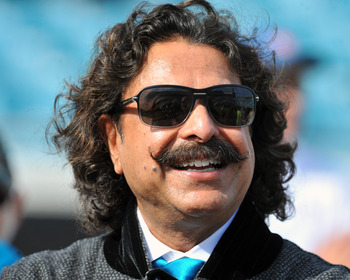 Al Messerschmidt/Getty Images
New Jacksonville Jaguars owner Shahid Khan may have gotten off to the wrong foot after he declared on a radio show that he defined fans as the team's season ticket holders.
"For me a fan is somebody who is a season ticket holder for the Jaguars. So that is a key definition we need to get out. We want to hear from people, we want a huge amount of constructive feedback. We need input, but we need that from fans who are season ticket holders," Khan said.
Why it seemed like a good idea: It's nice to give special recognition to the fans who can afford and are willing to pony up for season tickets.
Why it turned out to be a bad idea: Given the prohibitive cost of season tickets, there are many more fans who will never consider season tickets compared to the fans who will.
9) The Minnesota Vikings Two Week Signing of WR Randy Moss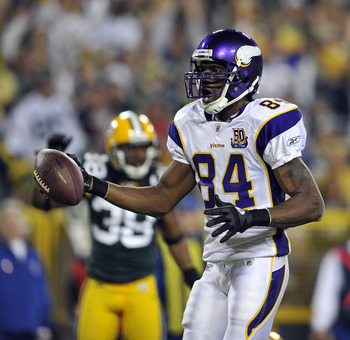 Jim Prisching/Getty Images
The planned reunion for the Minnesota Vikings and All-World wide receiver Randy Moss failed to live up to expectations, after the New England Patriots traded him away for a third round pick.
However, after less than three weeks, he wore out his welcome in town. In addition to be called out for giving up on a play, he was accused of a lengthy rant about food catered at the locker room.
He was cut from the roster, and eventually picked up by the Tennessee Titans. Then-Vikings head coach Brad Childress called the trade "a poor decision."
For their part, the New England Patriots made out like bandits, both in acquiring and dismissing Moss. Getting him for a fourth round pick from the Oakland Raiders, Moss gave the Patriots several tremendous statistical years (most notably the record-setting 2007 season). The third round pick the Patriots received from the Vikings was used to grab Arkansas quarterback Ryan Mallett, potentially giving them their quarterback of the future.
Why it seemed like a good idea: C'mon... it's Randy Moss (the dynamic playmaker)
Why it turned out to be a bad idea: C'mon... it's Randy Moss (the locker room disaster)
8) The Carolina Panthers Re-Signing of Jake Delhomme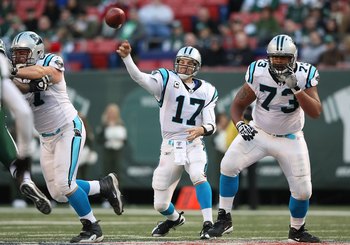 Nick Laham/Getty Images
Jake Delhommme was at the top of his game in the 2008 season, as he returned from injury and led the Carolina Panthers to a 12-4 record (the best in team history). However, that good will and strong play ended dramatically, as he was picked off five times (and lost a fumble) against the Arizona Cardinals in the divisional round of the playoffs.
Despite this horrific ending, the Panthers decided to award him a juicy contract extension, valued at $42.5 million over five years. He immediately proceeded to crash and burn all of his goodwill built up through the years, throwing interceptions at a pace unimaginable a year before (including multiple games with four or more interceptions).
He ended the 2009 year on injured reserve, and released during the following offseason.
Why it seemed like a good idea: He just lead the Panthers to its best record in franchise history.
Why it turned out to be a bad idea: Delhomme was never the same quarterback after the five interception performance.
7) The Ego of Dan Snyder
Larry French/Getty Images
You can't silence all of your critics, but Washington Redskins owner Dan Snyder decided to make life inconvenient for one such writer, Dave McKenna of the Washington City Paper. McKenna, who in late 2010 wrote the brilliant The Cranky Redskins Fan's Guide, outlined every possible reason to both question and ridicule Snyder's football and business decisions (he tried to sell mattresses at Six Flags. This happened).
In a very well-thought out move, Snyder promptly sued the paper.
While the suit was expensive and time-consuming (with little done or decided), Snyder eventually dropped the case in September during the opening weeks of the season.
In a neat sign of media unity, Deadspin.com posted McKenna's column on its site every day for over 200 days in protest of the suit.
Why it seemed like a good idea: How dare the Washington City Paper publish those inaccuracies and untruths!
Why it turned out to be a bad idea: What do you mean it was accurate?
6) Oakland Raiders Signing Javon Walker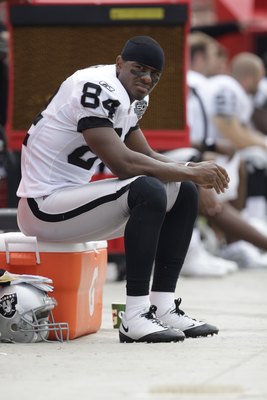 Jamie Squire/Getty Images
After wearing out his welcome in Green Bay and Denver, wide receiver Javon Walker was probably someone whose salary could have been negotiated down heavily. However, the Oakland Raiders completely ignored the memo, signing him to a baffling six-year, $55 million contract, with $16 million guaranteed.
Things got off to a rocky start while still in the offseason, after he was robbed and assaulted while leaving a nightclub on the Las Vegas strip.
Walker only played eight games in his first year, after going on the injured reserve. He would also play three games in 2009, but had no statistics.
For less than a single season's worth of games played, Walker, er, walked away with $21 million (or maybe just $14 million). He ended his time in Oakland totaling 196 yards of offense and a single touchdown.
Why it seemed like a good idea: It's nice to get some extra speed on the team to stretch the field.
Why it turned out to be a bad idea: It's not nice to see your money speed away to a player who has less than a minimal impact on the game.
5) Dallas Cowboys Trade for Roy Williams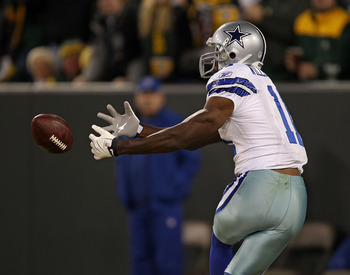 Jonathan Daniel/Getty Images
The Dallas Cowboys thought they had the missing piece of a championship formula in sight with Detroit Lions wide receiver Roy Williams, and showed no apprehension in making a splashy move to get him.
To get him, the Cowboys parted with a first, third and sixth-round pick in 2009, along with a seventh-round pick in 2010. He was also signed to a $45 million contract extension, with nearly $20 million guaranteed.
While the expectations were high, Williams was not able to live to expectations. In 40 games, he caught just over 1,300 yards and added 13 touchdowns. Good, but nowhere near the cost of bringing him in.
He was released in July 2011. Reflecting on the trade, Cowboys owner/GM Jerry Jones didn't pull any punches (against himself).
"I'd love to have that trade back."
Why it seemed like a good idea: Roy Williams had all the potential to be a big star.
Why it turned out to be a bad idea: Roy Williams couldn't handle the pressure that came with playing with the big star.
4) The Free Agent Signings of Dan Snyder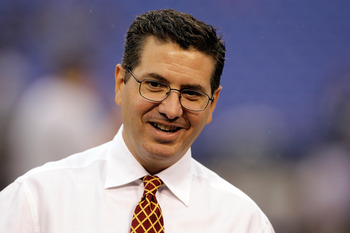 Rob Carr/Getty Images
While there's too many contracts to name, the Washington Redskins' Dan Snyder has a way of dropping the big money on player signings, even when it isn't necessary. Among Snyder and the Redskins' greatest hits:
-Albert Haynesworth, $100 million deal, seven years, $44 million guaranteed. Burned out in less than two seasons.
-Donovan McNabb, $78 million deal, five years, possibly $40 million guaranteed. Signed only weeks after he was benched late in a game for not fully understanding the team's two-minute offense.
-Jeremiah Trotter, $35 million, seven years. Only played for two seasons, and his numbers never matched the levels produced when he was in Philadelphia.
-Adam Archuleta, $35 million, seven years, $10 million guaranteed. Bad fit with the defense, constantly out of place, traded the year after his signing.
-Mike Barrow, $11.6 million, six years. Never played a down with the team.
-Brandon Lloyd, Antwaan Randle El and Christian Fauria
Why these all seemed like a good idea: The money was burning a hole in Dan Snyder's pocket?
Why it turned out to be a bad idea: A fool and his money are quickly separated.
3) The Draft Adventures of Detroit Lions GM Matt Millen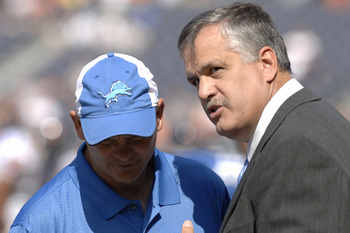 A. Messerschmidt/Getty Images
Wide receiver, wide receiver, wide receiver. When Detroit Lions general manager Matt Millen held high draft picks, he famously went with pass catchers.
From Charles Rodgers to Mike Williams (he also drafted quarterback Joey Harrington), Millen's track record of draft picks left much to be desired (although it should be noted wide receiver Calvin Johnson and offensive lineman Jeff Backus and Gosder Cherilus are still with the team).
The Lions would lose miserably with Millen as GM, with the team posting a 31-81 record. They would also fail to win a road game for three consecutive seasons.
Millen's draft methods would become the foundation for comedy, like this satire similar to the film Moneyball.
Why it seemed like a good idea: Wide receivers can be the most fun playmakers on the field in the right system.
Why it turned out to be a bad idea: You need more than wide receivers to win games
2) Oakland Raiders Drafting Jamarcus Russell No. 1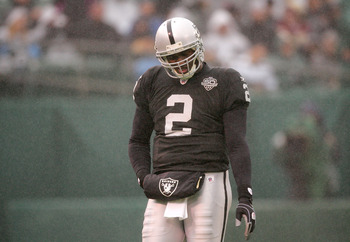 Ezra Shaw/Getty Images
While Jamarcus Russell defended himself in a recent issue of Sports Illustrated, there was little to defend when it came to his play on the field. He was awful.
In addition to being an inaccurate passer, he was accused of being woefully out of shape in returning from the offseason, and a less than stellar teammate. Accusations of illegal codeine use didn't help his cause either.
While there has been some talk of teams trying Russell out over the last year or so, they only go to show how far Russell, the former No. 1 pick of the 2007 draft, has fallen.
Why it seemed like a good idea: The Raiders needed a quarterback, and he was evaluated as the best of the class. His pre-draft arm strength was unmatched.
Why it turned out to be a bad idea: Inaccurate passing, indeterminate leadership, inflated expectations lead to the labeling of Russell as the ultimate draft bust.
1) Dolphins Skipping on Drew Brees for Daunte Culpepper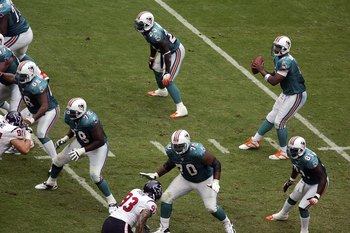 Ronald Martinez/Getty Images
In the bungled decision of the decade, the Miami Dolphins in 2006 had a chance to lock up their quarterback spot for years when the seemed to have everything lined up with quarterback Drew Brees.
A free agent in San Diego, he was not enthused after the Chargers presented a cautious offer, due to the shoulder injury that had ended his previous year. While he expressed more interest in playing in Miami, the team's evaluation methods (including a reported six-hour physical) killed off the interest in what could have been their golden goose. He would go on to sign with the New Orleans Saints, a pairing that would lead to several major records being taken down and a Super Bowl win.
Interestingly, this wasn't the first time Miami passed on Brees. The team also skipped on him in the 2001 draft, in order to take the immortal Jamar Fletcher.
Why it seemed like a good idea: Drew Brees health was slightly questionable, Culpepper was cheaper.
Why it turned out to be a bad idea: One just broke the NFL single-season passing yardage mark, the other is (was) playing for (what is left of) the UFL.
Keep Reading