MLB Fantasy Baseball 2012: 5 Players Who Can Quietly Anchor Your Team This Year
February 14, 2012
Jonathan Daniel/Getty Images
Albert Pujols. Troy Tulowitzki. Miguel Cabrera. Prince Fielder. Matt Kemp. Five fantasy studs. Five players who will inevitably be taken in the first half of the first round of your fantasy baseball draft. These are not the five players we are going to discuss that can help make your team a fantasy contender this season.
Let us go forth with a blind résumé of two players to show how much big names are overvalued in fantasy baseball. Player A hit .302 with 30 HR and 105 RBI with nine stolen bases, while Player B hit .289 with 31 HR and 88 RBI with 21 steals.
Player A? Troy Tulowitzki, who will most likely be a top-five pick in your draft. Player B? Justin Upton, someone who you can probably grab in the late first round or even second round depending on the other owners in your draft room. Arguably the same player, 10 to 25 picks later in your draft, thus possibly enabling you to maybe...grab both? 1. Justin Upton, OF, Arizona
This next player in the last three seasons has totaled 74 HR and 279 RBI while hitting .307, yet ESPN has him ranked 45th on their top 250 player list of 2012, making him at best a second-round pick in many drafts. To be clear, David Wright is ranked 31st on that list, and the oft-injured Jose Reyes is at 24.
I challenge anyone to find players outside of the top 20 that average what Matt Holliday has averaged over the past three seasons. Having spent the past few years being overshadowed by Pujols, Holliday is now the man in St. Louis. Chances are, he'll be hitting in Pujols' No. 3 spot in the order, giving him numerous chances to drive in 100 runs once again. If there ever was a "sleeper" that should most definitely not be one, it's Holliday. 2. Matt Holliday, OF, St. Louis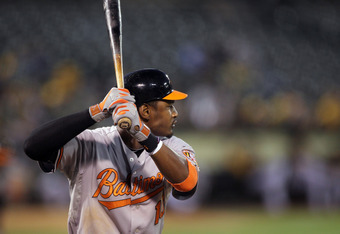 Ezra Shaw/Getty Images
I'm sorry, what were Tulowitzki's numbers in 2011—.300, 31HR, 105 RBI? Close. Those were actually White Sox 1B Paul Konerko's numbers last year. The difference? Tulowitzki will go in the top 10 in your draft. Konerko will probably be fortunate to crack the top 50. Same player. Tulowitzki is just a more attractive name. Be the smarter owner and bide your time, and you'll get rewarded with a carbon copy of a top-five pick in the later rounds. 3. Paul Konerko, 1B, Chicago
He hit .280 with 25 HR and 83 RBI for a team that scored 708 runs and won 69 games. Imagine if he gets traded midseason and is this year's Hunter Pence. Don't tell anyone, but this budding young outfielder in Baltimore is just starting to turn heads, and is looking for a breakout campaign in 2012. If he can cut down on his strikeouts, improve his patience and continue making solid contact, look out for Adam Jones. 4. Adam Jones, OF, Baltimore
Finally, there has been another Tulowitzki clone unearthed. With a .303 average, 31 HR and 95 RBI, Michael Morse provided the Nationals with an instant jolt of offense. Ranked 78th on ESPN's top 250 list, Morse is eligible at both first base and outfield, thus making him a very flexible fantasy option.
Chances are, other managers in your draft are quite aware of Morse, but quite unaware of the similarity of his stats to that of Tulowitzki. Or Konerko's. But let's keep that our little secret. 5. Michael Morse, 1B/OF, Washington
Justin Upton, Matt Holliday, Paul Konerko, Adam Jones, Michael Morse. Five players who you can steal right from under the noses of other owners in your league. Unless they beat you to it.