NFL Draft: Comparing the Top 50 Combine Invitees to Their NFL Counterparts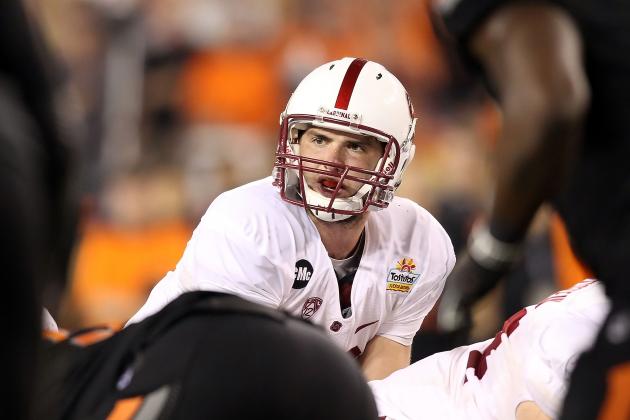 Christian Petersen/Getty Images

The NFL Scouting Combine is approaching and NFL draft season is in full swing.
The combine is an exciting time. Prospects distance themselves from the pack or fall back in with the crowd. Just a few measurements can kill or boost a prospect's stock.
With the combine comes increased draft talk. We're already talking about players and we'll pick up the pace even more when all 32 teams gather in Indianapolis.
One of the easiest and best ways to analyze a prospect is through comparisons. Now, comparisons aren't necessarily saying how good a player will be, but what type of player he will be.
Here's your comparison guide for when the NFL Scouting Combine does come around.
Begin Slideshow

»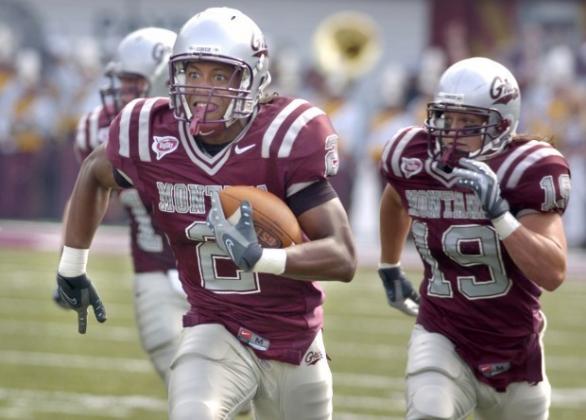 NFL Comparison: Jimmy Smith
Unlike the Ravens' Jimmy Smith, Trumaine Johnson will probably move to safety. Johnson weighs in at 6'3", 197 pounds and his hips aren't overly smooth.
Like Smith, however, Johnson is big. Johnson is a bit taller and not quite as bulky, but both are physical players with similar styles.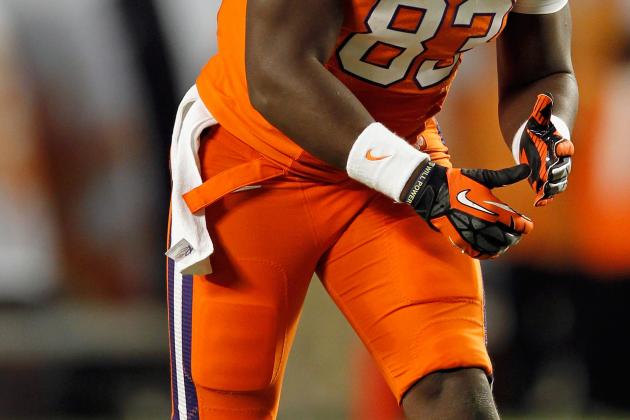 Streeter Lecka/Getty Images

NFL Comparison: Tony Moeaki
Though he was hurt in 2011, Moeaki had a great rookie season and should be an integral part of the Kansas City offense moving forward. Like Moeaki, Allen is 6'3" and is primarily utilized as a receiving tight end. The Clemson star isn't the fastest or biggest player, but he can catch and is shifty enough to get open.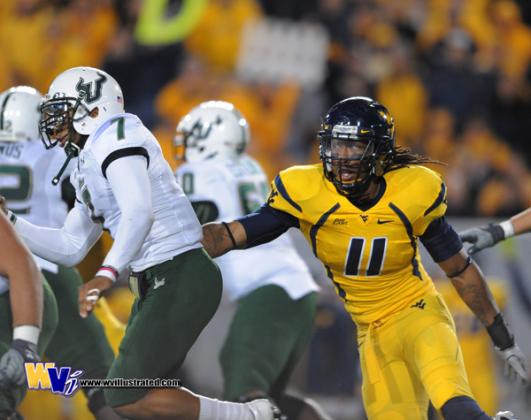 NFL Comparison: O'Brien Schofield
Both O'Brien Schofield and Bruce Irvin weigh around 240 pounds and use their speed to terrorize off the edge. Irvin struggles against the run, but his pass-rushing ability makes him a fit in the second round and possible even earlier.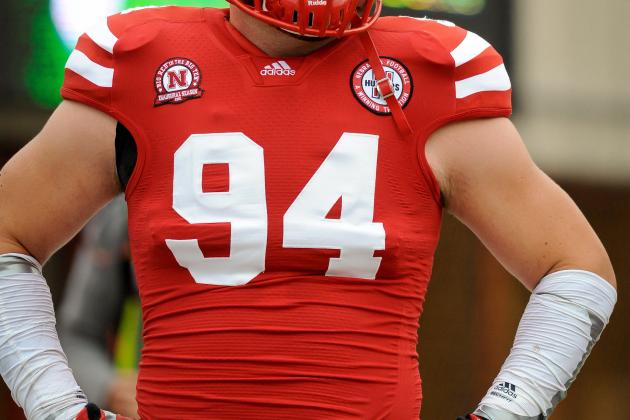 Eric Francis/Getty Images

NFL Comparison: Aaron Smith
For years, the Steelers' Aaron Smith was one of the NFL's premier 5-techs. Jared Crick's best fit happens to be at the same position and the two share similar size and athletic ability. Crick could play in a 4-3 scheme, but he is far better suited in a 3-4.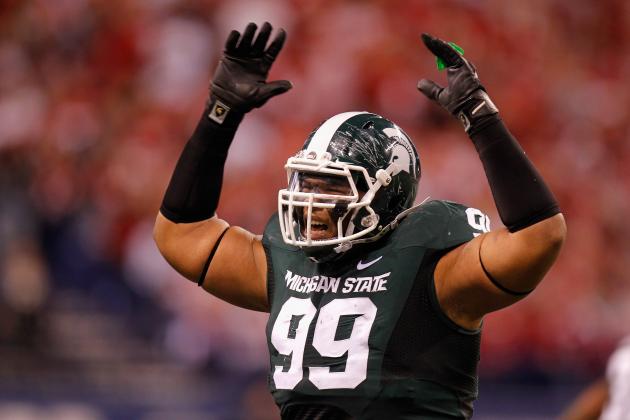 Gregory Shamus/Getty Images

NFL Comparison: Domata Peko
Peko has been a solid, if unspectacular player for the Bengals. At 6'3", 322 pounds, Peko is somewhat bigger and stouter than Worthy, but both are primarily penetrators. Though Worthy isn't a star defensive tackle, he could develop into a decent 3-technique player.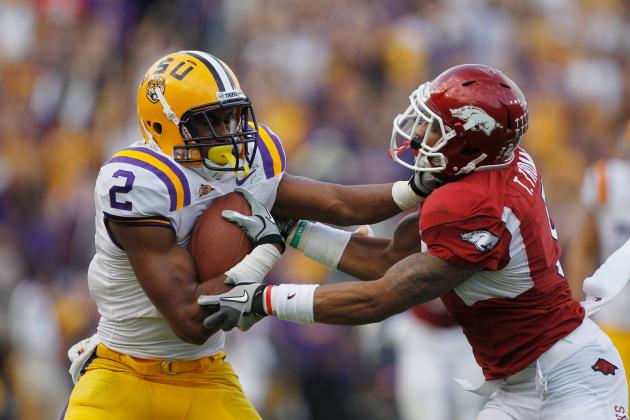 Chris Graythen/Getty Images

NFL Comparison: Robert Meachem
At 6'3", 208 pounds, Rueben Randle has excellent size. Robert Meachem is built similarly and the two are both great athletes. While neither is an overly polished wide receiver, they make up for their flaws with their physical ability.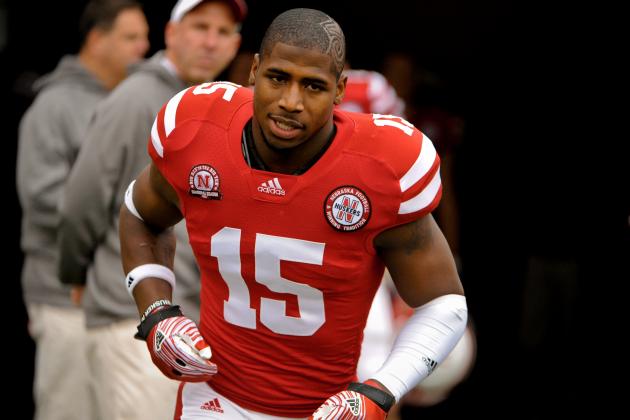 Eric Francis/Getty Images

NFL Comparison: Brandon Flowers
Despite his 5'9" frame, Brandon Flowers of the Chiefs is one of the game's best cornerbacks. Alfonzo Dennard probably won't be quite as good, but he too is short and excels in press coverage. Both are athletically limited and better playing close to the line of scrimmage.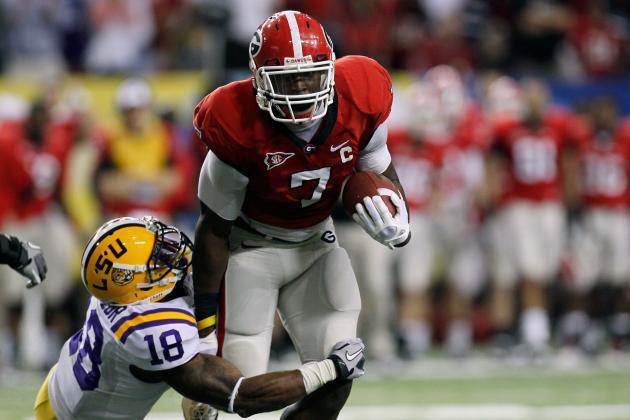 Kevin C. Cox/Getty Images

NFL Comparison: Dustin Keller
Though he is a great athlete, Orson Charles weighs in at just 6'3", 241 pounds, so his NFL team will have to be creative with him. Likewise, Dustin Keller of the New York Jets has long been limited by his size, but he's still contributed as a receiving tight end.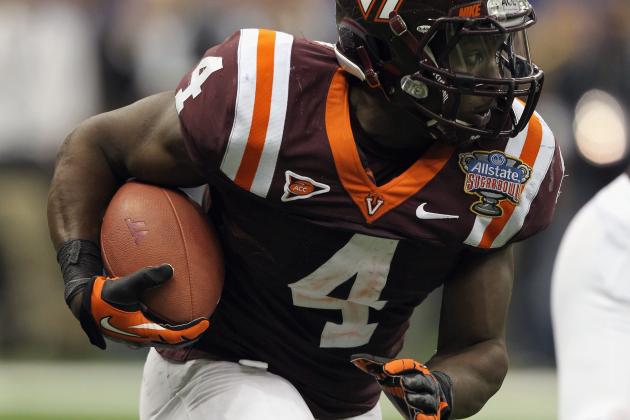 Matthew Stockman/Getty Images

NFL Comparison: Bernard Scott
Though he has never really started for the Bengals, Bernard Scott has contributed out of the backfield as a receiver and runner. David Wilson may not be an every-down running back, but he is a dynamic talent who will find a way onto the field no matter what team he ends up playing for.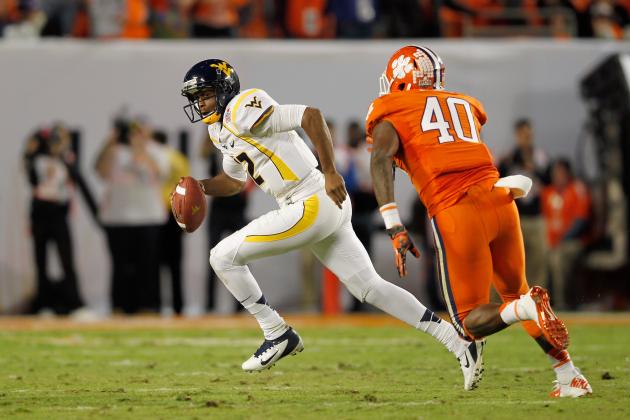 Streeter Lecka/Getty Images

NFL Comparison: Mark Anderson
Before his rebound season in 2011, the career of Pats' Mark Anderson had been on a decline after a stellar rookie campaign. Anderson is a bit of a one-trick pony as he struggles against the run. Andre Branch has a similar build and Branch too is purely a speed rusher.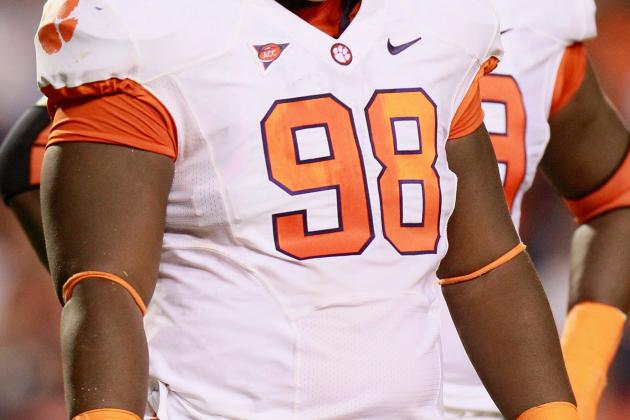 Kevin C. Cox/Getty Images

NFL Comparison: Sedrick Ellis
Neither Sedrick Ellis nor Brandon Thompson is overly big, but the two defensive tackles share unusual power. Ellis was highly-drafted by the Saints in hopes of being a star, but has instead been just solid in the NFL. Expect the same from Thompson.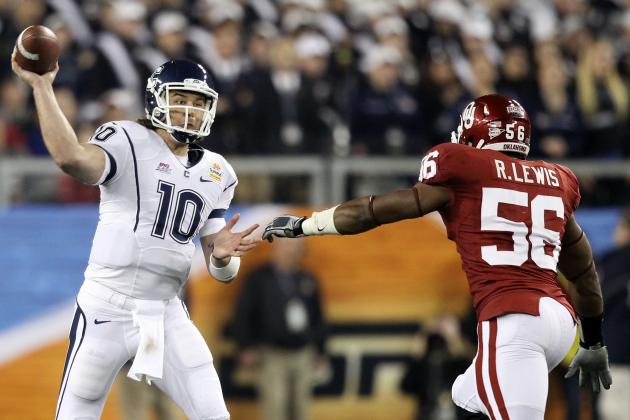 Christian Petersen/Getty Images

NFL Comparison: Desmond Bishop
A college defensive end, Ronnell Lewis will make the switch to linebacker in the NFL. Lewis is a great athlete with some pass-rushing skills, but his best fit may come as 3-4 inside linebacker.
The Green Bay Packers' Desmond Bishop has excelled in this role as he picked up five sacks in 2011, a number Lewis should settle around.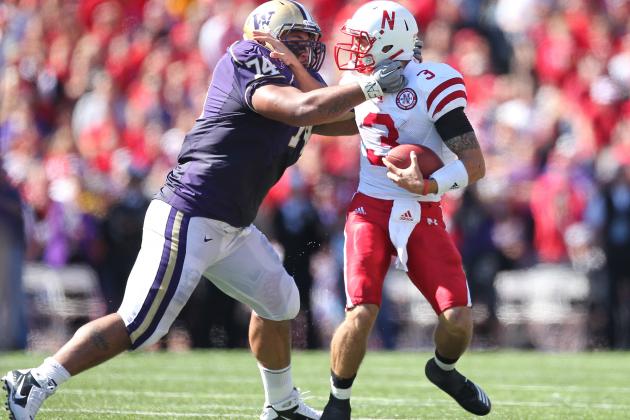 Otto Greule Jr/Getty Images

NFL Comparison: Linval Joseph
Whether it is in a 3-4 or 4-3 defense, Alameda Ta'amu will serve as a run-stuffer. The big man isn't quite as athletic as Linval Joseph of the Giants, but both players are massive with great run-stopping ability. While neither is as stout as you might expect, they both often make plays in the backfield.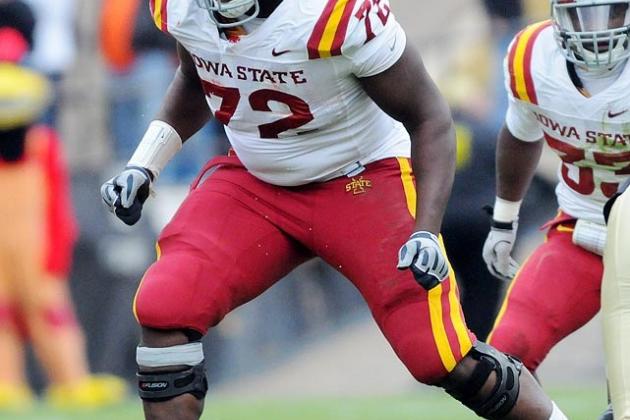 NFL Comparison: Michael Oher
This comparison may seem a little weak due to the gap in size between the Ravens' Michael Oher and Kelechi Osemele, but it is legitimate. Both Oher and Osemele are powerful run-blockers with great strength and enough quickness to play tackle.
However, neither is quick enough to protect the blind side (somewhat ironic for Oher, the protagonist of the book and film) and is best suited as a run-blocking right tackle.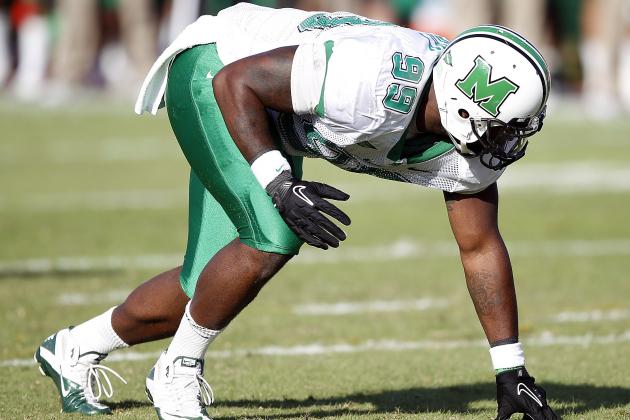 Bob Levey/Getty Images

NFL Comparison: Tamba Hali
Like Kansas City Chief Tamba Hali, Vinny Curry is a somewhat athletically-limited defensive end/outside linebacker and may struggle some in coverage in a 3-4 scheme. Curry is, however, a relentless pass-rusher with the ability to become a great player. Curry is far from perfect, but he has as much potential as all but a couple pass-rushers in this draft.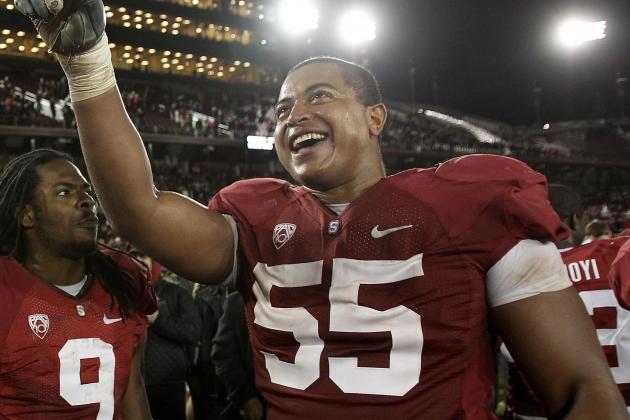 Ezra Shaw/Getty Images

NFL Comparison: William Beatty
Out of Connecticut, William Beatty was praised as a finesse player with the ability to play left tackle. The problem? Beatty wasn't quick enough for the blind side for the Giants.
Jonathan Martin is also a finesse player, but his footwork looks like that of a right tackle's. And unfortunately for Martin, the Stanford tackle lacks the power to dominate on the right side.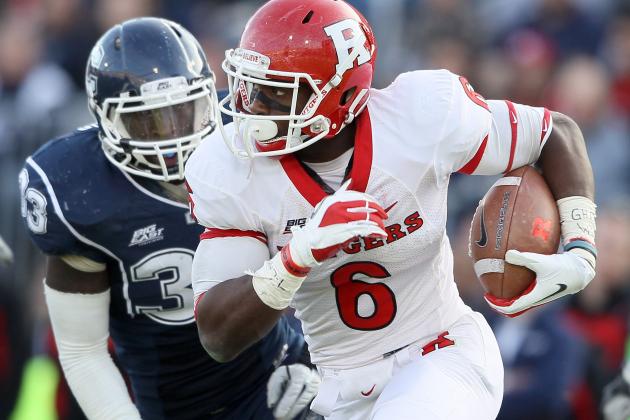 Elsa/Getty Images

NFL Comparison: Steve Johnson
The 6'2" 215-pound Mohamed Sanu possesses size similar to Buffalo Bills Steve Johnson and is virtually identical athletically. Neither of the two will blow anyone away physically, but the two wideouts are shifty with good play-making ability.
Sanu won't be a possession receiver by any means. He will likely earn his paycheck by making plays and acting as an offensive weapon.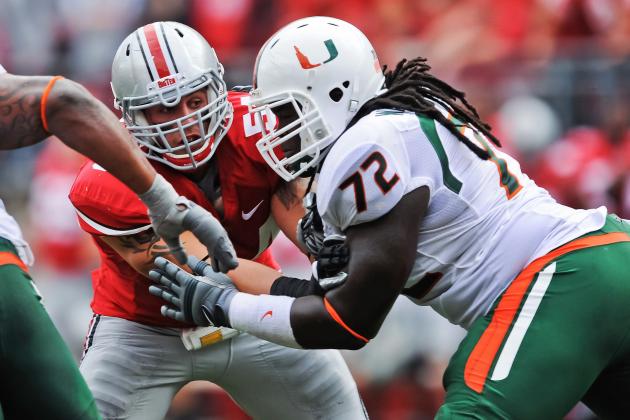 Jamie Sabau/Getty Images

NFL Comparison: Willie Colon
Though he played left tackle at Miami, Brandon Washington will probably shift inside to guard in the NFL. Willie Colon is actually a right tackle for the Steelers, but he should be playing guard. Both players have some versatility and both are massive run-blockers.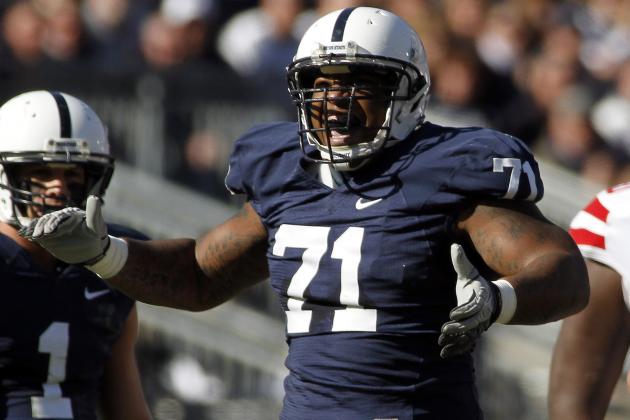 Justin K. Aller/Getty Images

NFL Comparison: Tommy Kelly
At 6'5" 310-pounds, Devon Still possesses size similar to Tommy Kelly's and is a versatile athlete, capable of playing multiple roles. The Penn State defensive lineman may be best suited to the 5-tech position in a 3-4 defense, but he could play defensive tackle in a 4-3 scheme.
Kelly has played all of these roles in the past and continues to be a solid player for the Raiders. Still is still (pun unintended) inconsistent, but he has the ability to star in the NFL.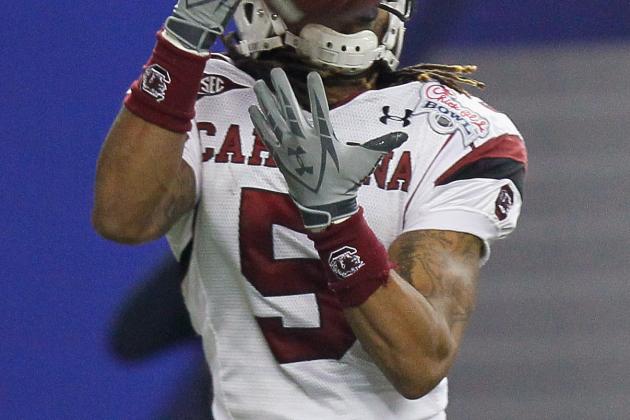 Kevin C. Cox/Getty Images

NFL Comparison: Mike Jenkins
Dallas Cowboy Mike Jenkins is one of the most frustrating players in the NFL. Occasionally, Jenkins will completely shut down his man and look like one of the game's best cornerbacks. Other times, Jenkins will be the offense's punching bag and get absolutely abused.
Gilmore is similar. The South Carolina cornerback is a good athlete with excellent playmaking ability, but depending on the game, Gilmore can look like a star or a bum.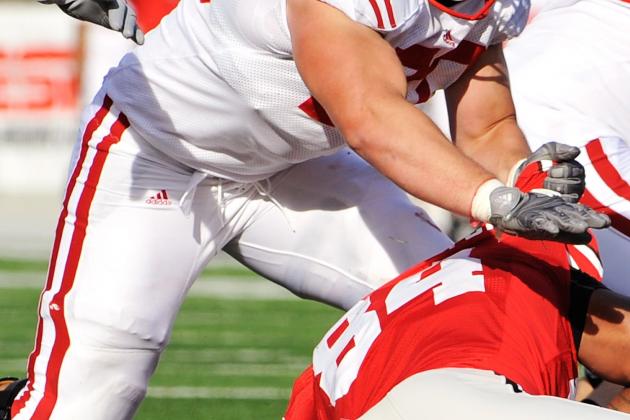 Jamie Sabau/Getty Images

NFL Comparison: Chris Snee
A 6'3", 315-pound guard, Kevin Zeitler has become famous for his nastiness. Zeitler isn't overly quick or dominant in pass-protection, but his ability in the run game makes him a potential first-round pick.
Chris Snee of the Giants is perhaps a bit more athletic than Zeitler is, but the two share similar attitudes and styles. Zeitler is actually a little bigger too. As well all know, though, offensive linemen's weighs tend fluctuate quite a bit.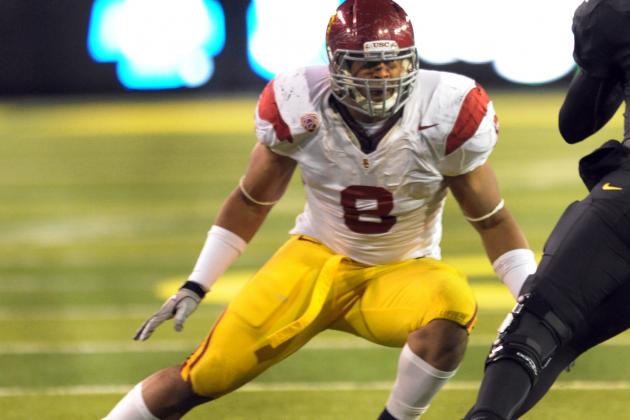 Steve Dykes/Getty Images

NFL Comparison: Chris Clemons
There's a lot to like about Nick Perry. He has a good first step and his pass-rush moves are better than most defensive end prospects'. He is, however, undersized and sometimes appears stiff around the corner.
Chris Clemons of the Seattle Seahawks is listed just four pounds heavier than Perry is and is purely a pass-rusher. Though Clemons has found success getting to the quarterback, he isn't a complete player and he lacks the smoothness to excel in coverage.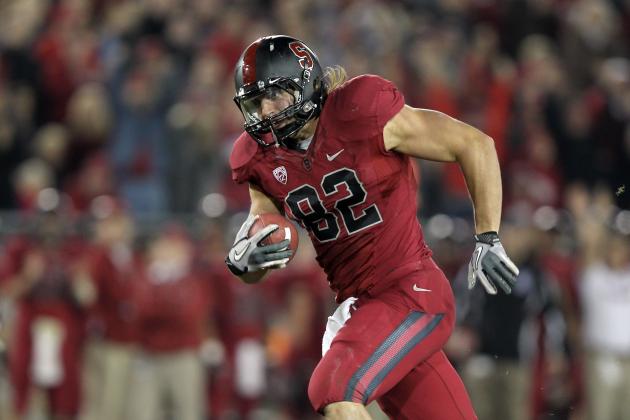 Ezra Shaw/Getty Images

NFL Comparison: Greg Olsen
Okay, the Panthers' Greg Olsen was 6'5", not 6'6" and a bit more athletic than Coby Fleener is, but otherwise, the two are incredibly similar. Both tight ends are great athletes and excellent receivers that lack blocking ability.
Unless he is being featured at multiple positions, neither of these guys is particularly valuable to an NFL offense. Their talents must be used correctly, But if they are, both of these players can be dangerous weapons.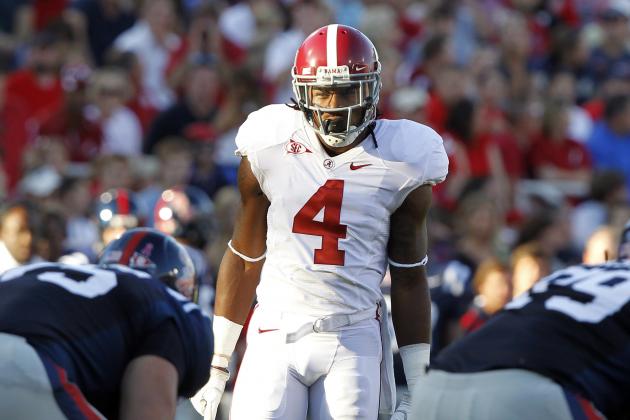 Butch Dill/Getty Images

NFL Comparison: T.J. Ward
This isn't the ideal comparison, but it's hard to find a great fit for Mark Barron. The 6'2", 218-pound Barron is considerably bigger than T.J. Ward of the Cleveland Browns but is similar as a player. In today's NFL, there simply aren't many pure strong safeties like Barron.
Both safeties are fairly one-dimensional run stoppers who struggle in coverage. Neither Barron nor Ward has the speed or coverage ability to play free safety at a high level. However, both are excellent at attacking the line of scrimmage and playing the run.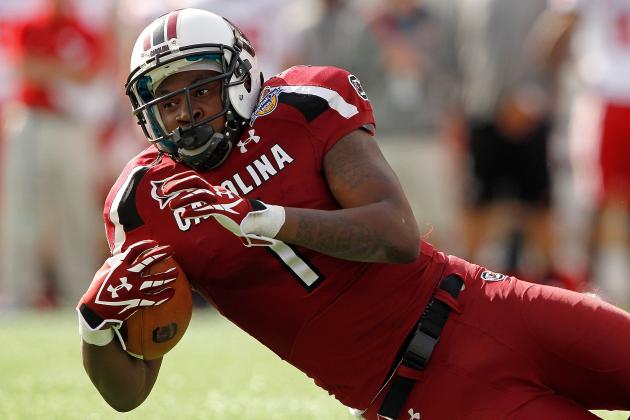 Mike Ehrmann/Getty Images

NFL Comparison: Brandon Marshall
Though Alshon Jeffery sometimes struggles to separate, he is still incredibly talented. At 6'4" 235-pounds, Jeffery is massive with great catching ability. He may never be credited with great speed, but the South Carolina wideout is a deep threat nonetheless.
Out of the same mold, Brandon Marshall is a big, physical wide receiver. The former Bronco is occasionally dynamic and can stretch the field despite lacking elite speed. Marshall hasn't been as dominant since being traded to Miami, but he is undoubtedly a No. 1 wide receiver.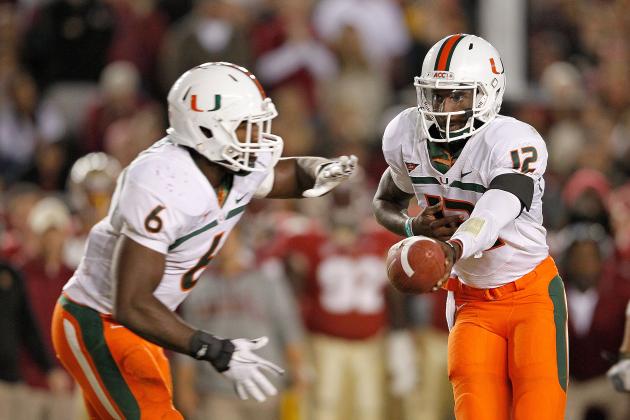 Mike Ehrmann/Getty Images

NFL Comparison: LaDainian Tomlinson
This is not to say Lamar Miller will be as incredible as LaDainian Tomlinson was throughout his career, but rather that he will be a similar type of player.
The Miami running back is great as a receiver out of the backfield and has excellent speed as well. Miller is an explosive runner with good size and decent power to go with great quickness.
Tomlinson is one of the best running backs of the modern era and was incredible as a runner and receiver. The former Charger was fast, shifty, smart and somewhat powerful. If Miller can end up anywhere near as good as Tomlinson was, he will have a great career.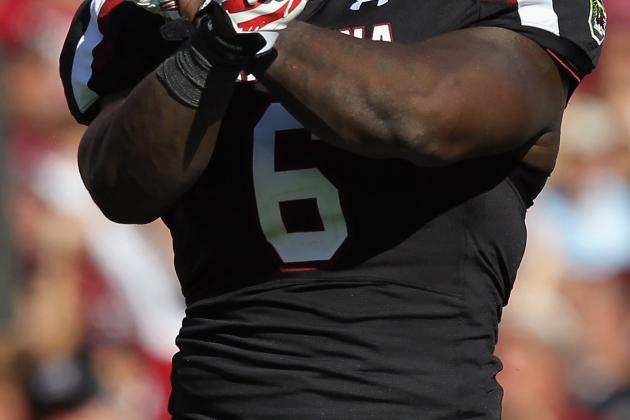 Streeter Lecka/Getty Images

NFL Comparison: Adalius Thomas
With the Ravens, Adalius Thomas became famous for playing defensive tackle, defensive end, linebacker, safety and even cornerback. Few players have ever moved around quite like Thomas did and Melvin Ingram is of a similar mold.
The 6'2" 275-pounder moved around the South Carolina defensive line, playing tackle and end. However, Ingram is also capable of playing outside linebacker in a 3-4 scheme. Though he isn't an elite pass-rusher, Ingram is a good athlete and a well-rounded player.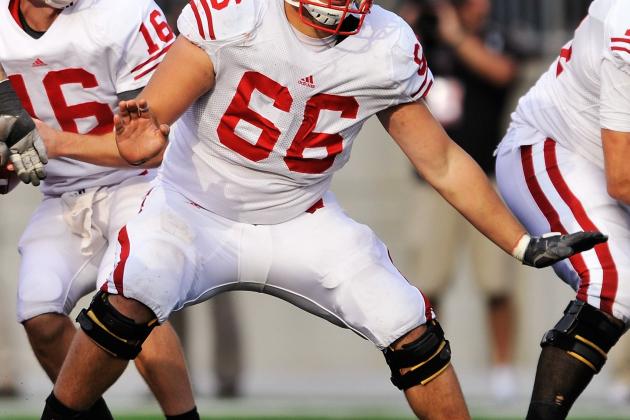 Jamie Sabau/Getty Images

NFL Comparison: Alex Mack
Peter Konz isn't an elite center prospect, but he may be good enough to be selected in the first round. Konz may not be overly quick, but he is powerful and intelligence. That's crucial at the center position.
Out of college, the Browns' Alex Mack was similar to Konz, and he hasn't changed much. Mack is a smart player with good run-blocking ability. But he never developed into a dominant center, partially because of his only-average quickness.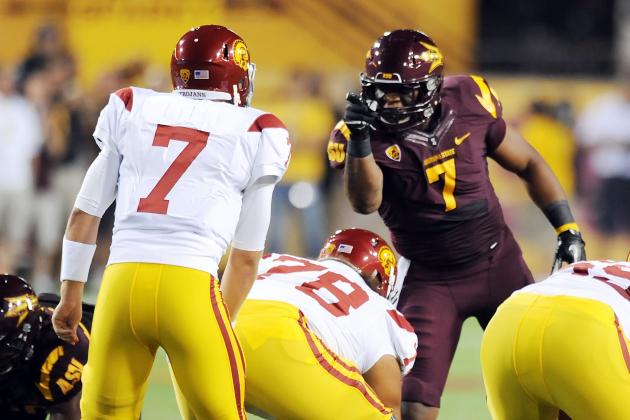 Norm Hall/Getty Images

NFL Comparison: David Harris
Vontaze Burfict is probably the most vicious player to enter the draft in years. The Arizona State linebacker is a great athlete and unleashes some of the most violent hits in all of football. Burfict is decent in coverage and does a great job of attacking the line of scrimmage in run support.
David Harris is smaller than Burfict but is also a violent linebacker. Harris isn't just a thumper, but he is well-known for his hard hits. The Jets star isn't as big as Burfict is, but he plays in a similarly violent manner.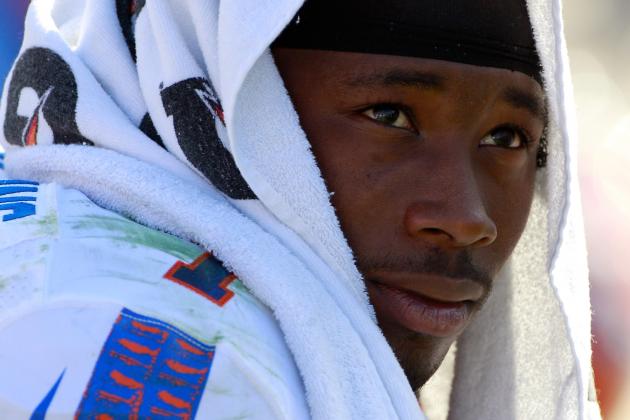 Sam Greenwood/Getty Images

NFL Comparison: Tramon Williams
A former Florida Gator, Janoris Jenkins was one of the game's best cornerbacks prior to being kicked off the team. Jenkins's off-the-field issues are definitely a concern, but his talent cannot be ignored.
Jenkins and the Packers' Williams share nearly identical size and athletic ability. Both cornerbacks are best in zone coverage and are prone to making plays in coverage.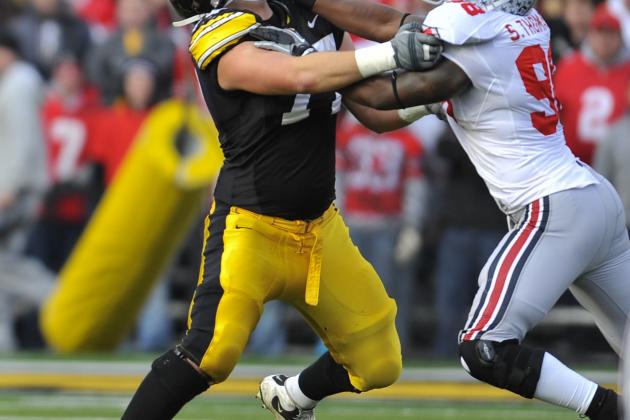 David Purdy/Getty Images

NFL Comparison: Matt Light
For years, Matt Light was a solid, if unspectacular player for the New England Patriots. Light was nothing special, but he held down his end of the fort reasonably well.
Riley Reiff should be a similar player. The 6'6", 305-pounder is a good athlete, but his footwork needs to improve and he is still raw with his technique. Though Reiff has all the ability to be good, he isn't special enough in any one area to be great.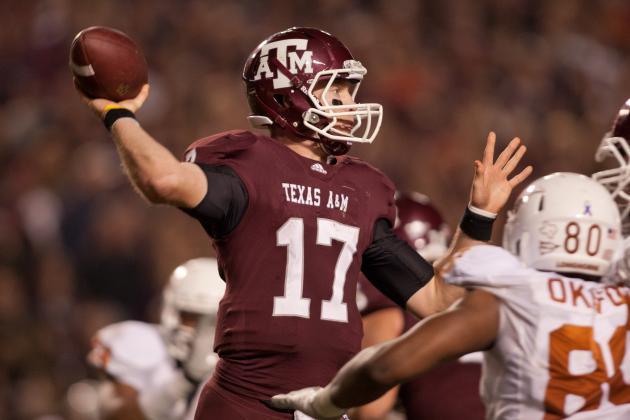 Darren Carroll/Getty Images

NFL Comparison: Jay Cutler
A former wide receiver, Ryan Tannehill is still raw as a quarterback but has elite skills. The 6'3", 225-pounder has a strong arm, great athletic ability and good accuracy. On the other hand, Tannehill sometimes makes disastrous decisions and holds on to the ball for too long.
Sound like someone you know, Bears fans? Jay Cutler is one of the most talented passers in the NFL but throws awful interceptions, and as a result, fans coined the term "Cutlerception." Few players in the NFL have shown more, and less, than Cutler has throughout his career.
In time, Ryan Tannehill might be equally polarizing.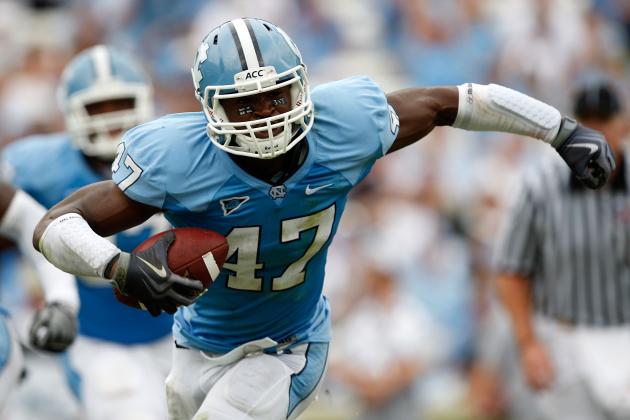 Streeter Lecka/Getty Images

NFL Comparison: Michael Boley
Michael Boley is an athletic, coverage linebacker with the prototypical WILL skill-set. Though the former Falcon has never developed into an elite linebacker, Boley is solid and offers a lot to any defense.
Zach Brown possesses what is almost Boley's exact size and excels in coverage as well. The North Carolina linebacker occasionally struggles to shed blocks, but he can run like the wind and makes plays all over the field.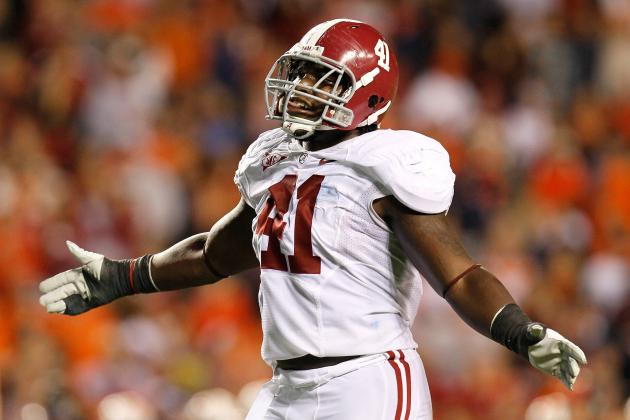 Kevin C. Cox/Getty Images

NFL Comparison: Ahmad Brooks
Unlike most tweener prospects, Courtney Upshaw has already played in a 3-4 defense. The 271-pounder is terrific against the run and is decent at rushing the passer or playing in coverage.
Some believe Upshaw could play inside or outside linebacker in a 3-4 scheme, just like Ahmad Brooks of the San Francisco 49ers has. Brooks is an unspectacular pass-rusher, but he is a thumper against the run and can perform any task on the field.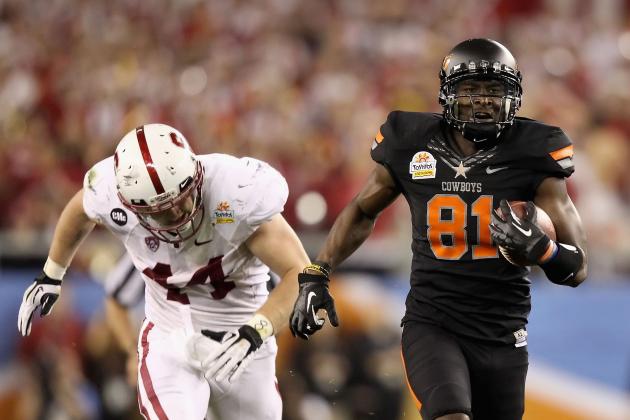 Christian Petersen/Getty Images

NFL Comparison: Hakeem Nicks
Justin Blackmon's biggest knock is perhaps a lack of elite upside. At 6'1", 215 pounds, Blackmon is bulky but not especially tall. Though the Oklahoma State receiver has great hands and route-running ability, he isn't overly explosive or dynamic.
All of these characteristics fit New York Giant Hakeem Nicks perfectly. Nicks can catch almost anything and is dangerous with the ball in his hands. But he is nothing special physically. This lack of elite talent is the only thing keeping Nicks from stardom.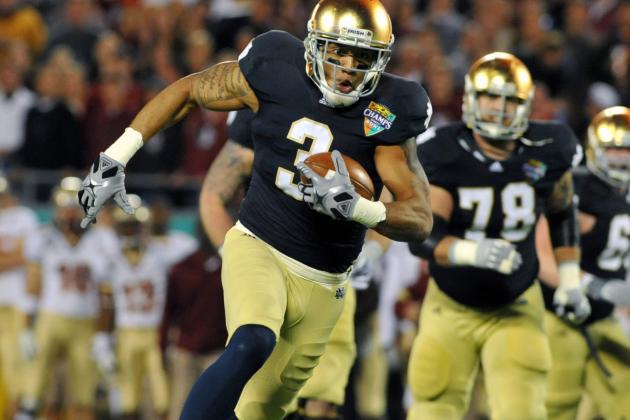 Al Messerschmidt/Getty Images

NFL Comparison: Larry Fitzgerald

Though he has suffered from injuries and off-the-field issues, Michael Floyd is still incredibly talented. The 6'3", 225-pounder is big with great catching and route-running ability.
Larry Fitzgerald might be the NFL's best in two of those three categories. Floyd obviously isn't as awesome as Fitzgerald is, but he is a really similar player. The two wide receivers have the same strengths and negatives to go with their nearly identical size.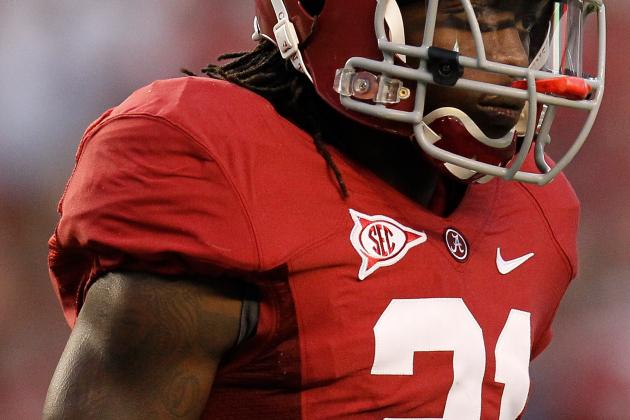 Kevin C. Cox/Getty Images

NFL Comparison: Charles Tillman
At 6'3", 190 pounds, Dre Kirkpatrick is a terrific athlete with great size. The Alabama star is at his best close to the line of scrimmage and can struggle running downfield.
Charles Tillman spent his entire career playing in Chicago's Cover 2 scheme, where he covered the flats. Tillman, big like Kirkpatrick, is a great tackler, which is one of Kirkpatrick's strengths.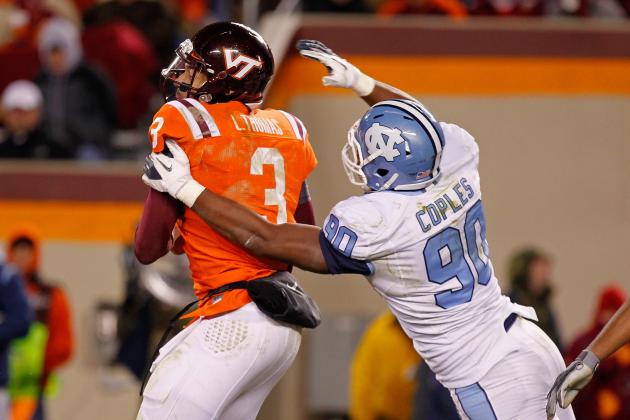 Geoff Burke/Getty Images

NFL Comparison: Trevor Pryce
Throughout his career, Trevor Pryce was a solid, but rarely great pass-rusher. Pryce played in both 4-3 and 3-4 schemes, and he was incredibly versatile, playing mostly as a left end.
Some people think Quinton Coples can develop into an elite pass-rusher, but I don't see it. The 6'6", 281-pounder is strong against the run and solid enough to beat right tackles as a pass-rusher. The North Carolina star is a left end—maybe a great one—but nothing more.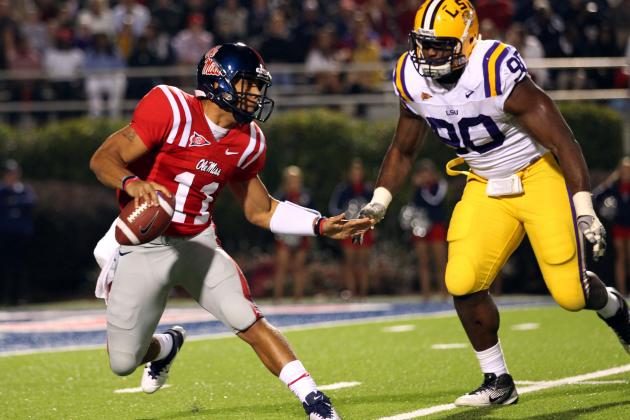 Joe Murphy/Getty Images

NFL Comparison: Marcus Stroud
In his youth, Marcus Stroud was a tremendous athlete. Stroud was always a more power-oriented player, but he weighed in at 6'6", 310 pounds—not exactly huge.
Michael Brockers weighs in at only 6'6", 306 pounds, but otherwise, the two might as well be identical. Though the LSU star is probably better suited in a 3-4 defense, he can easily play in a 4-3 scheme like Stroud did for many years.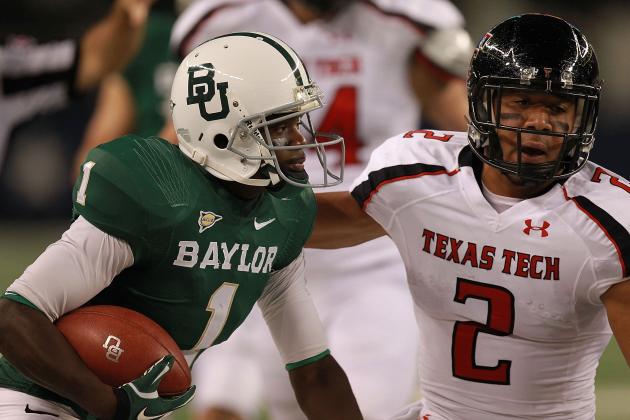 Ronald Martinez/Getty Images

NFL Comparison: Jeremy Maclin
Though he isn't overly big at 6'0", 198 pounds, Jeremy Maclin is a complete player for the Eagles The speedster can catch the ball, run vertically and even get a little physical.
Now, Kendall Wright is smaller—about two inches and 10 pounds—but he plays exactly like Maclin does. Wright's best attribute is definitely his speed, but he is far from a one-dimensional player like Maclin's teammate DeSean Jackson is.
NFL Comparison: Shaun Rogers
A massive, 6'5" 350-pound defensive tackle, Dontari Poe could be Shaun Rogers's clone. For years, Rogers has been one of the most talented defensive linemen in the NFL. The big man is incredibly strong, but insanely quick for his size.
Like Rogers, Poe is incredibly talented. The Memphis lineman has moved along the Tigers' defensive line, playing nose tackle and 5-tech. Poe may not be the most refined player ever, but men with his combination of size and athletic ability are rare.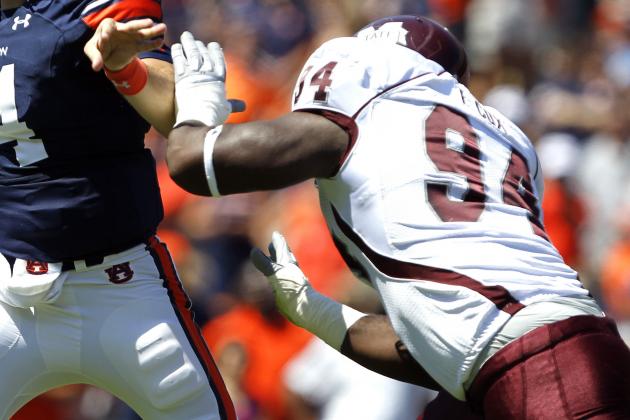 Butch Dill/Getty Images

NFL Comparison: Tommie Harris
In his prime, Tommie Harris was unstoppable. The Bears star penetrated the backfield with ease, racking up eight sacks in one season. Harris lived in the backfield; he was unblockable.
Fletcher Cox could be just as good. At 6'4", 295 pounds, Cox is just a little bigger than Harris is while playing with the same burst and quickness. Also like Harris, Cox is pretty well limited to playing 3-tech in the NFL.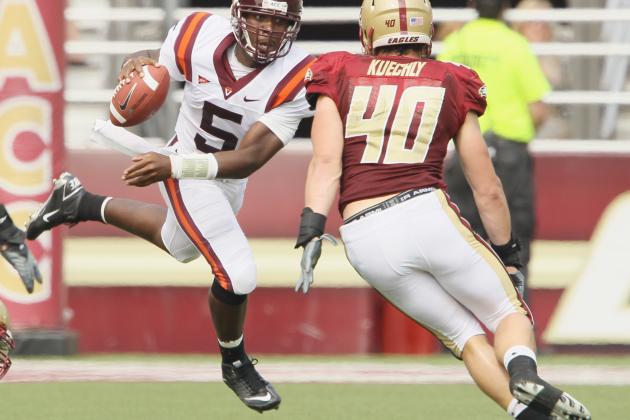 Elsa/Getty Images

NFL Comparison: Chad Greenway
For whatever reason, Chad Greenway doesn't receive as much recognition as he should. The Minnesota linebacker is a tackling machine, but he makes plays too. Greenway isn't elite, but he is easily above-average.
In the NFL, Luke Kuechly will play at middle, not outside, linebacker, but he should play at Greenway's level. Kuechly is fairly athletic, but not enough to dominate. He is, however, smart and instinctive enough to lead an elite defense.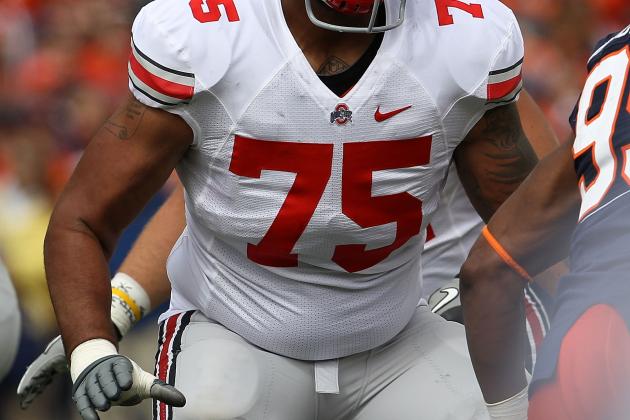 Jonathan Daniel/Getty Images

NFL Comparison: Sebastian Vollmer
Prior to the 2011 season, Mike Adams had always been an underachiever for Ohio State. The 6'8", 320-pound left tackle is a phenomenal athlete, but he always appeared lazy and struggled with technique.
However, Adams dominated following a five-game suspension and finally played up to his talent level. Like New England's Sebastian Vollmer, Adams has great size, length and athletic ability. Adams is a slightly better athlete than Vollmer is, but both can play left tackle.
Christian Petersen/Getty Images

NFL Comparison: Steve Hutchinson
Over the past decade or so, Steve Hutchinson has been the best interior lineman in all of football. Few guards have ever been as complete and dominant as Hutchinson was.
David DeCastro might someday be just as good as Hutchinson was. The 6'5", 315-pound right guard is incredibly powerful, agile and intelligent. As impossible as it sounds, DeCastro has virtually no weaknesses. It is possible that DeCastro could be a top-10 pick.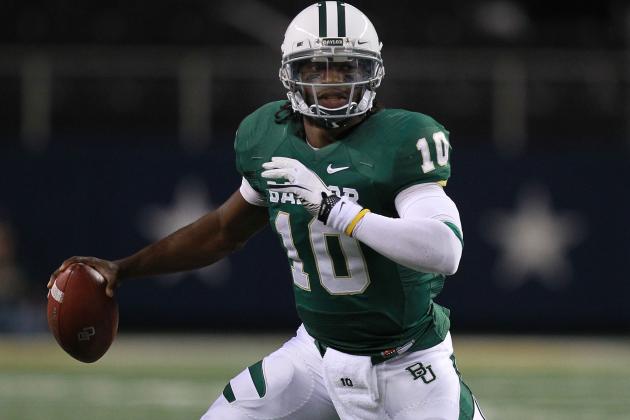 Ronald Martinez/Getty Images

NFL Comparison: Jake Plummer
Yeah, Jake Plummer has been out of the NFL for a while. Sue me.
For years, Plummer excelled at making plays and running with the football. The long-time Cardinal was far from perfect, but he was definitely successful.
Robert Griffin is a better runner than Plummer was, but otherwise, the two are similar. Griffin is a smart player with a strong arm and huge playmaking ability. The Heisman winner can run, but he can also pass from the pocket.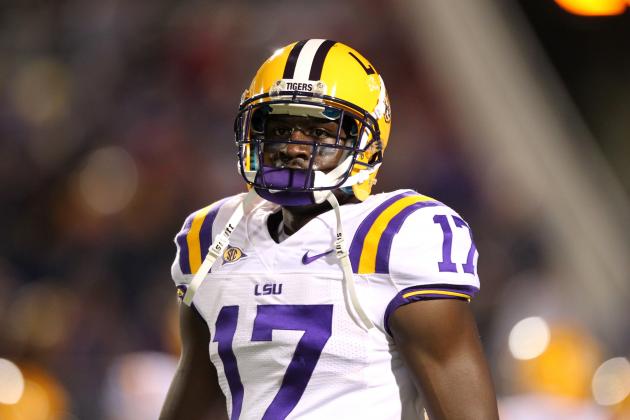 Joe Murphy/Getty Images

NFL Comparison: Joe Haden
Even after losing Patrick Peterson a year ago, LSU had the best cornerback in college football. Morris Claiborne is actually more refined than Peterson was, but he doesn't have as absurdly-high of a ceiling as Peterson did.
Though Joe Haden of Cleveland is slightly bigger than Claiborne, he is similarly well-rounded. Haden may not be quite as athletic as Claiborne is, but both of the cornerbacks are legitimate shut-down defenders with extremely high ceilings.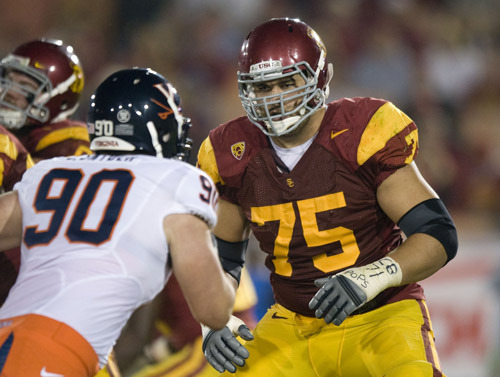 NFL Comparison: Michael Roos
Though Matt Kalil isn't overly bulky, the 6'7", 295-pounder is still a good run blocker. Kalil does, however, dominate in pass protection due to his great footwork and technique. A great prospect, Kalil isn't quite on the same level as Joe Thomas or Jake Long, but he is a legitimate top-five pick.
Michael Roos has been one of the NFL's better—and more underrated—left tackles for a while. Also 6'7", Roos is a good run blocker and excellent pass blocker. The Tennessee lineman isn't the best in the league, but he is really good.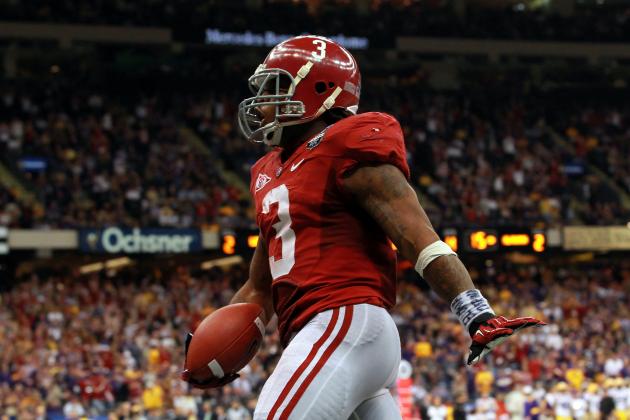 Ronald Martinez/Getty Images

NFL Comparison: Jonathan Stewart
The best running back prospect since Adrian Peterson, Trent Richardson is nearly impossible to tackle. At 5'10", 225-pounds, Richardson has great bulk and is one of the more physically impressive running backs in all of football. Though he isn't overly shifty, Richardson has breakaway speed to go with his above-average receiving ability.
Jonathan Stewart isn't quite as good as Richardson is, but he is a powerful runner with good speed. The Carolina running back is better than his teammate, DeAngelo Williams and is among the NFL's most talented runners.
Richardson is slightly smaller and better at catching the ball than Stewart, but he is a similar power back.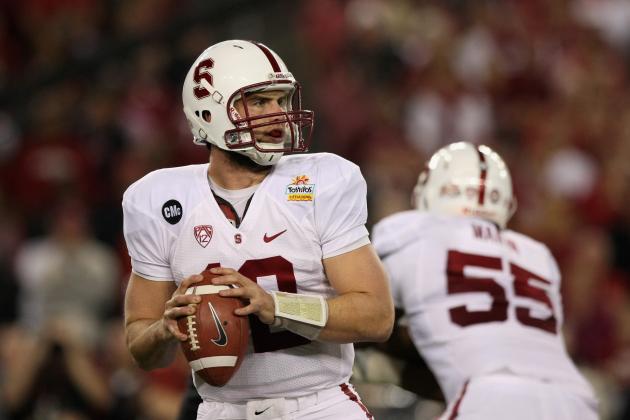 Donald Miralle/Getty Images

NFL Comparison: Aaron Rodgers
In a huge surprise, Andre Luck rounds up my top-50 prospects. Luck is the most universally-loved quarterback to come along in years, and the Stanford quarterback is good at just about everything. The 6'4", 235-pound star has great athletic ability, incredible intellect, excellent accuracy and good arm strength. It is impossible to find a weakness in Luck's game.
Aaron Rodgers is undoubtedly the best quarterback in today's NFL and is the pro version of Luck. The 28-year-old Super Bowl champion has a rocket arm, phenomenal accuracy, great athleticism and unbelievable decision making.
Sounds kinda like Luck, doesn't it?
Rodgers has a stronger arm than Luck does, but that could change in a few years. As a prospect, Rodgers's arm strength was nothing special, but he developed a rocket in the NFL. Luck's arm has already improved and it seems likely that it will continue to do so.