New York Yankees: Vladimir Guerrero Wants the DH Spot, Raul Ibanez Still Favored
February 14, 2012

Jim Rogash/Getty Images
The New York Yankees designated-hitter job seems to be a very popular one.
We know that the Yankees have had contact with Johnny Damon, Hideki Matsui and Raul Ibanez. We can now officially throw another name into the ring.
According to ESPN's Buster Olney on Twitter, former MVP Vladimir Guerrero has contacted the Yankees and made it them aware that he wants to be their DH in 2012.
Vladimir Guerrero has made it known to the Yankees that he wants their DH spot. IMO, Raul Ibanez still the frontrunner to sign w/NYY as DH.

— Buster Olney (@Buster_ESPN) February 13, 2012.
Olney also said that he feels former Phillies outfielder Ibanez is still the front-runner because the Yankees would prefer his left-handed bat in the lineup.
Guerrero just turned 37 years old this past week and had a down season in 2011 with the Baltimore Orioles, hitting .290 with 13 home runs and 65 RBI.
Now, it becomes a question of if the Yankees want the former MVP as their DH.
Despite Guerrero's poor 2011, his 2010 season with the Texas Rangers was a very strong one, in which he hit .300 with 29 home runs and 115 RBI.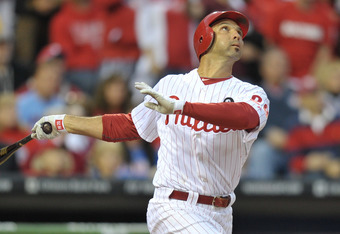 Drew Hallowell/Getty Images
Over the last 48 hours, we've heard the Yankees are working hard to trade A.J. Burnett to the Pittsburgh Pirates, but nothing has become official yet.
Trading Burnett will help free up some money for the Yankees, but whether the Yankees trade Burnett isn't going to ultimately decide if they sign Guerrero or Ibanez, or any other potential DH candidate.
It's really going to come down to who the Yankees feel will give them the best chance to win.
My gut reaction is still that it will be the Yankees eventually signing Ibanez, as he is willing to take less money to sign with New York.
Plus, throw in the facts that the Yankees want a lefty for the spot and Ibanez is a better defensive option than Guerrero, if necessary, and the choice looks clearer.
Brian Cashman has a few important decisions to make before the start of spring training for the Yankees.
Before then, it looks like Burnett will be going to Pittsburgh.
But, who gets the DH job? Only time will tell.
Stay tuned, Yankees Universe.