Yankees Rumors: Bombers Should Ignore Vladimir Guerrero
February 13, 2012

Leon Halip/Getty Images
With Jesus Montero gone to Seattle, the New York Yankees don't have a clear answer at designated hitter. This will change if they sign one off the free agent scrap heap.
According to ESPN's Buster Olney, there's at least one guy out there who really wants the job: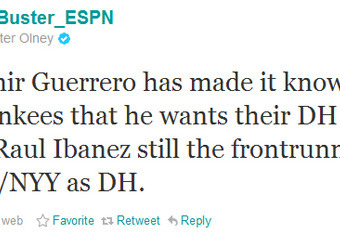 Six or seven years ago, Guerrero would have been a can't-miss signing for the Yankees. Indeed, we're talking about one of the very best hitters of the last couple decades.
In fact, Guerrero was pretty darn good as recently as 2010, when he managed a .300/.345/.496 line with the Texas Rangers. He hit 29 home runs and racked up 115 RBI.
Guerrero wasn't nearly as productive in 2011 as a member of the Baltimore Orioles. He managed just a .290/.317/.416 line, hitting 13 homers and driving in 63 runs. He regressed in a big way, and he just didn't seem to have any of his old bat speed.
It may look like one bad year, but the truth is that Guerrero's 2011 season was a continuation of a trend that started to develop in 2010. He had a great first half with the Rangers that season, but his numbers took a pretty significant dive in the second half of the season. He ceased to be a difference-maker.
The Yankees could take a chance on Guerrero, but they really don't have any reason to believe that he's going to be any better than Andruw Jones. At best, Guerrero would step in and provide some power from the right side of the plate. That's also the best-case scenario for Jones.
Raul Ibanez is a much more intriguing option. He hasn't been great in either of the last two seasons, but his left-handed stroke is an ideal fit for Yankee Stadium's short right field porch. Ibanez could step in and start blasting balls to right field, which is something neither Guerrero or Jones could do with any regularity.
So, if it's a choice between the two, it's no wonder Olney thinks Ibanez is the frontrunner. He should be.