Tommie Harris: Sudden Passing of Harris' Wife a Tragic Story
February 13, 2012

Jonathan Daniel/Getty Images
Tommie and Ashley Harris were just married in January, a couple of months after Ashley had given birth to their second child.
According to a report from Sean Jensen of the Chicago Sun-Times, Ashley Harris passed away on Monday. She was 29-years-old.
Jensen reported on Sunday that Ashley had been admitted to an Oklahoma hospital after suffering either a stroke or a brain aneurysm. She had to be put on life support.
"We are holding on for a miracle," said family friend Bill Horn.
Ashley passed away later in the evening.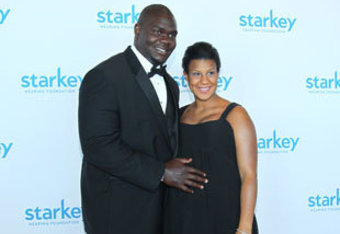 Tommie Harris is coming off his toughest season as a pro. He was released by the Chicago Bears before the start of the season after spending the first seven seasons of his career with the team. He then signed a one-year contract with the Indianapolis Colts, but he only managed to stick with the Colts for a month before they cut him.
Eventually, Harris signed on with the San Diego Chargers in late September. He played 13 games with the Chargers, recording 13 tackles and three sacks.
Harris was one of the best defensive tackles in the NFL during the early portion of his career with the Bears. He made the Pro Bowl three straight years (2005-2007), and was named an All-Pro in 2005.
Football is a distant secondary concern for Harris right now. There is no overstating just how tragic this story is. Nobody should have to die this young, least of all, newlywed mothers of young children. Ashley has been robbed of time on this Earth, and Tommie has been robbed of a loving wife and the mother of his children.
It's stories like these that make it abundantly obvious just how inconsequential things like sports really are in the grand scheme of things.
Our thoughts and prayers go out to Harris and his family.