Clayton Kershaw and 10 Other Preseason NL Cy Young Contenders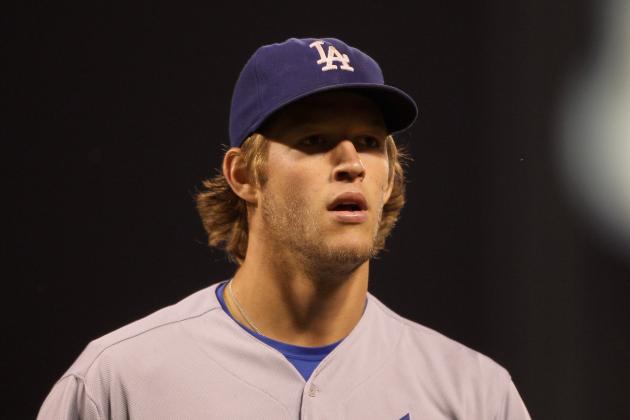 Ezra Shaw/Getty Images

Baseball is so close. As a major snow storm rips across the Midwest, it might be easy to forget that pitchers and catchers begin reporting to camps this week, and spring training baseball games start in only three short weeks.
As for me, I'm itching with anticipation for the 2012 MLB season to get underway.
Let's take a look at 10 National League pitchers who may be vying for a Cy Young award in 2012.
Begin Slideshow

»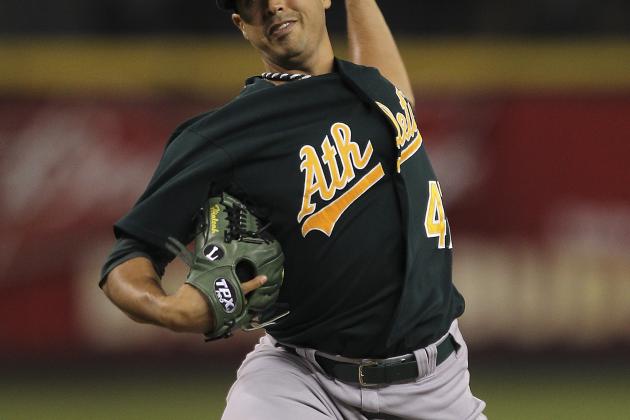 Otto Greule Jr/Getty Images

2011 Statistics: 16-12, 3.12 ERA, 202 IP, 197 K, 1.317 WHIP, 5.0 WAR
I'll start the list with a pitcher that may be sort of a wild card in the Cy Young race. Gio Gonzalez was acquired by the Washington Nationals for a heap of talented prospects that were sent to the rebuilding Oakland A's.
Gonzalez is a fantastic pitcher, and while the Nationals may have given up a substantial amount of prospects, they do have a fairly rich farm system and a major league team full of young .
He probably won't win the award, but in a division with comparatively less offense, his numbers could get even better in 2012. His career 4.4 BB/9 will be what holds him back, but look for Gio to make things interesting in the Cy Young race.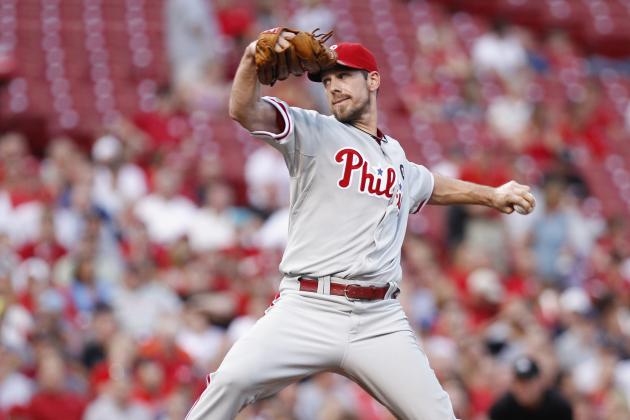 Joe Robbins/Getty Images

2011 Stats: 17-8, 2.40 ERA, 232.2 IP, 238 K, 1.027 WHIP, 6.9 WAR
If Gonzalez is a wild card, Cliff Lee is certainly one of the main preseason front-runners for Cy Young.
Cliff Lee already has one Cy Young to his name (2008 with Cleveland), and has finished in the top five in voting three times, including 2011 when he finished third.
In his return to Philly, and his first full season with the team, Cliff Lee dominated. Many would argue that his 2011 season was even better than his Cy Young campaign despite finishing in third place for the award. He led the league with six shutouts and posted career bests in ERA (2.40), innings pitched (232.2) and strikeouts (238).
An impressive season for Lee has proven that the 33-year-old still has what it takes to be one of the best pitchers in baseball as he managed to stand out in a star-studded Philadelphia pitching staff.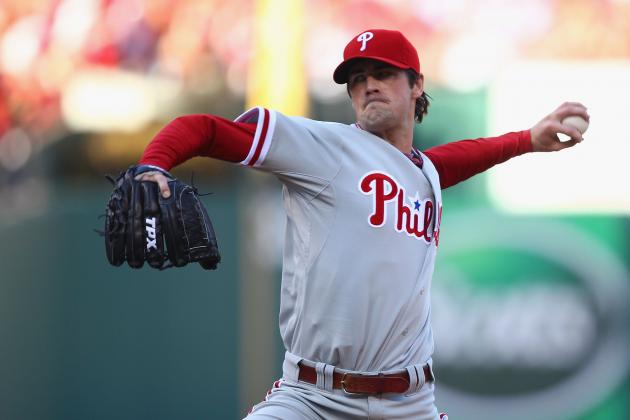 Dilip Vishwanat/Getty Images

2011 Stats: 14-9, 2.79 ERA, 216 IP, 194 K, 0.986 WHIP, 5.4 WAR
Cole Hamels is a third starter for the Philadelphia Phillies. Let that sink in.
On pretty much any other team, Hamels is the ace or at the very least a close No. 2. But when you have Roy Halladay (we'll get to him later) and Cliff Lee pitching ahead of you, being the No. 3 starter doesn't seem quite so crazy.
Unquestionably the best third starter in baseball, Cole Hamels still managed to finish fifth in Cy Young voting in 2011. His body of work is not as impressive as the other two fellow aces, but Hamels has the talent to win a Cy Young. His minuscule WHIP of 0.986, a strong K/9 of 8.1 and a fantastic K/BB of 4.41 shows that Hamels is a true ace.
It's a contract year for Hamels, so expect to see him pitch for the big bucks. He might be overshadowed by Halladay and Lee but he certainly will be in the mix for the prestigious postseason award.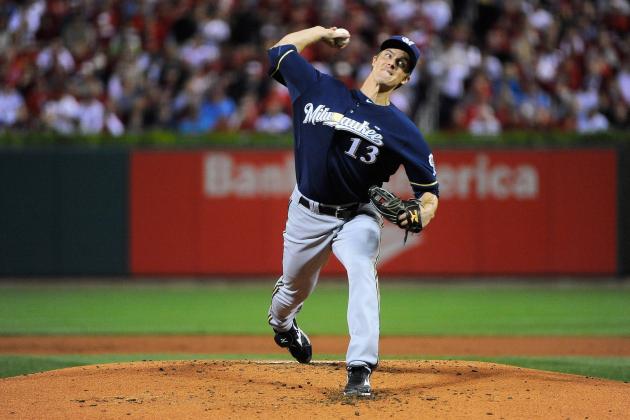 Pool/Getty Images

2011 Stats: 16-6, 3.83 ERA, 171.2 IP, 201 K, 1.200 WHIP, 1.7 WAR
Zack Greinke is becoming a trendy pick to contend for the 2012 NL Cy Young.
Don't be fooled by his somewhat pedestrian numbers. After missing all of spring training and the first month of the season thanks to a broken rib suffered during a pick-up basketball game, Greinke came out of the gates limping.
Once he was finally back at full strength however, Greinke was as good as anyone in the game, and if we're going off of his numbers shortly before the All-Star break to the end of the regular season, Greinke was dominant. His career best 10.5 K/9 led the league, and he posted an elite K/BB of 4.47.
With a full, injury-free preseason and spring training, Zack Greinke could put up fantastic numbers. It was only three years ago that Greinke had one of the finest seasons by a starting pitcher ever and won the 2009 AL Cy Young award.
Like Hamels, Greinke is in a contract year. He has expressed interest to stay with the Milwaukee Brewers, but look for him to be at the top of his game looking for as big of a contract as he can get.
Christian Petersen/Getty Images

2011 Stats: 13-14, 2.74 ERA, 217.0 IP, 220 K, 1.207 WHIP, 4.4 WAR
Not surprisingly, Tim Lincecum will be a factor in the Cy Young race this year.
Lincecum is only 27 and has already put together a career to be extremely proud of. He has won two Cy Young awards (consecutively in 2008 and 2009), led the league in strikeouts for three consecutive years (2008-2010) and has only finished outside of the top 10 in Cy Young voting once, his rookie year in 2007.
Lincecum was a victim of very poor run support in 2011. Despite his excellent numbers, he still only managed a 13-14 record thanks to an injury-riddled San Francisco Giants.
The Giants have locked Lincecum up for at least two more years, but even when he hits free agency in 2014 he will still only be 29. He has plenty to build towards, and as long as he can remain healthy with his unorthodox delivery, he will likely be a factor in the Cy Young race for many years to come.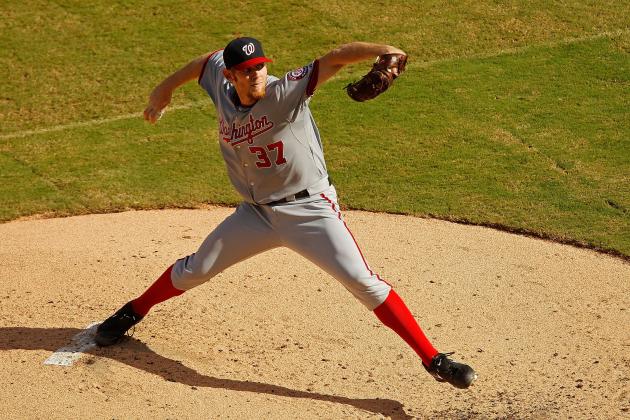 Mike Ehrmann/Getty Images

2011 Stats: 1-1, 1.50 ERA, 24 IP, 24 K, 0.708 WHIP, 0.8 WAR
The Strasburg era in Washington got off to a bang in 2010... unfortunately for the Nationals, and even more unfortunately for Strasburg himself, the pitching prodigy had to undergo Tommy John surgery after only 12 starts and 68 innings in 2010, bringing the insanely-hyped prospect's season to an abrupt end.
The surgery also shelved him for almost all of 2011, but his return was triumphant. As is evidenced by only five starts and 24 innings, the Nationals elected to use Strasburg sparingly and to keep him on a short leash. The Nationals were long out of contention by the time Strasburg returned, and there was no need to push him beyond five or six innings.
Strasburg utilizes some of the most dominant pitches you will ever see in baseball: a fastball touching triple digits, a slider in the 90's and all of his pitches show excellent movement. So far (admittedly in only 92.0 IP), Strasburg has stunning peripherals: 11.3 K/9, 1.9 BB/9 and a ridiculous 6.11 K/BB.
The Nationals will be careful with Strasburg in 2012. With the additions of Gio Gonzalez and Edwin Jackson to an already good rotation and a better-than-average bullpen, there will be no need to push him.
That doesn't mean Strasburg won't get recognition in the postseason. If his numbers remain as brilliant as they have and he can remain healthy, Strasburg might become a front-runner for the Cy Young.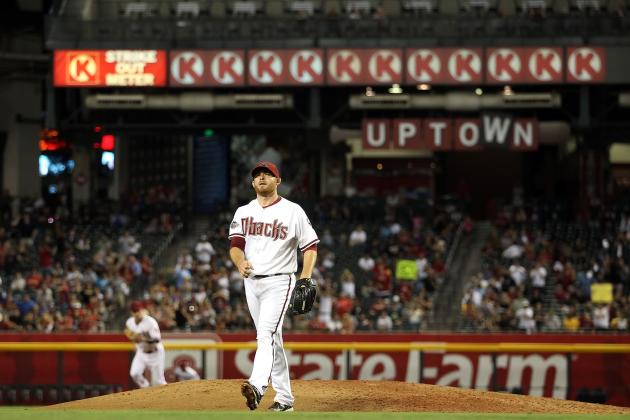 Christian Petersen/Getty Images

2011 Stats: 21-4, 2.88 ERA, 222.0 IP, 198 K, 1.086 WHIP, 5.5 WAR
Ian Kennedy was more than just a surprising piece to the most surprising team in baseball.
He was an undisputed ace.
What started out as an under-the-radar-season quickly elevated to Kennedy becoming one of the front-runners to win the NL Cy Young award. His popularity seemed to grow with the realization that his Arizona Diamondbacks were the best team in the NL West. Better than the world champion San Francisco Giants, and better than anyone had anticipated.
Kennedy came out of nowhere in 2011. After three ho-hum seasons with the New York Yankees, Kennedy put together a solid season with the Diamondbacks in 2010, but nothing indicated that he was capable of pitching like he did in 2011.
Perhaps somewhat unfortunately for Kennedy, everyone knows his name now. He led the NL in wins (21) and win percentage (.840) and finished fourth in Cy Young voting in front of much bigger and more accomplished names like Cole Hamels and Tim Lincecum. The Diamondbacks, after being picked to finish last in the NL West by virtually every publication and website, are now the runaway favorites to win their division.
Kennedy, rightfully so, will be one of the big preseason favorites to compete for the award in 2012.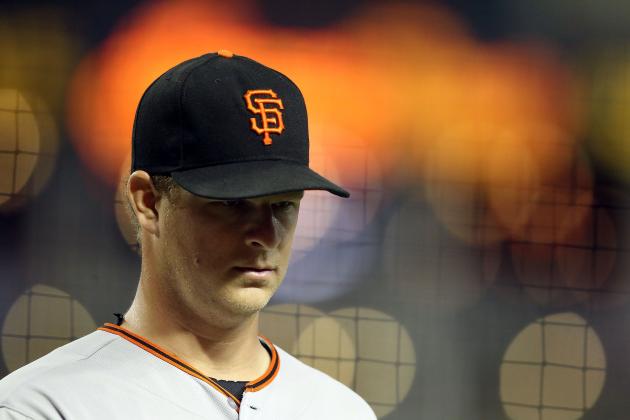 Christian Petersen/Getty Images

2011 Stats: 12-11, 2.88 ERA, 221.2 IP, 179 K, 1.083 WHIP, 3.9 WAR
Matt Cain should be viewed as Tim Lincecum's partner in crime.
Unfortunately, many might look at Cain as something of a second fiddle to Lincecum's virtuosic pitching tendencies.
This isn't particularly fair to Matt Cain, who has become one of the best young pitchers in baseball and helps spearhead one of the best rotations in all of baseball.
The Giants helped perpetuate the thought that Lincecum is viewed as more of an asset than Cain by extending Lincecum with big money, while being seemingly willing to let Cain walk at the end of this season.
Looking at Lincecum and Cain's W-L records, it's easy to see why they were thinking about doing that.
Any pitcher with the types of seasons that Cain and Lincecum had would probably be approaching 20 wins on the season if they had even passable run support. The lack of offense kept the Giants out of the playoffs, and it has kept Cain from receiving the attention he deserves.
Cain, as mentioned earlier on, will be a free agent in 2013. He will be pitching with that thought in the back of his head, and very likely with a chip on his shoulder.
Expect another fantastic season from him — one that could end with some much deserved award recognition.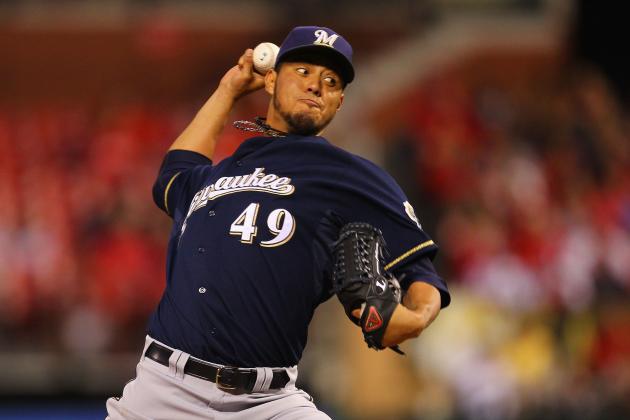 Dilip Vishwanat/Getty Images

2011 Stats: 17-10, 3.52 ERA, 207.1 IP, 206 K, 1.215, 2.7 WAR.
Full disclosure, I'm a Brewers fan, and I'm a fan of Yovani Gallardo. For those reasons, this may be viewed as something of a homer pick by many.
That being said, Gallardo would probably have made my list regardless.
Last season was his most complete season as a major leaguer. He is only turning 26 in February and he already has five seasons of major league pitching under his belt. During that time, Gallardo has emerged as the ace of the rotation even with the additions of Zack Greinke and Shaun Marcum.
He posted career highs in wins, innings pitched, strikeouts, K/BB and WAR while posting career lows in ERA, WHIP and BB/9. All of this points to the likelihood that Gallardo is rapidly improving in all aspects of his pitching game.
The most notable improvement has been in his control and the efficiency with which he works on the mound. His K/9 decreased from nearly 10.0 in 2009 and 2010 to 9.0 in 2011, but this just shows that Gallardo doesn't have to rely on striking everyone out anymore.
My money is on Gallardo having a monster year with the Brewers. He is entering his prime as a pitcher and his stock is soaring. The voting committee acknowledged his great 2011 season, and he finished in seventh place for the Cy Young award. He may very well move up higher in 2012.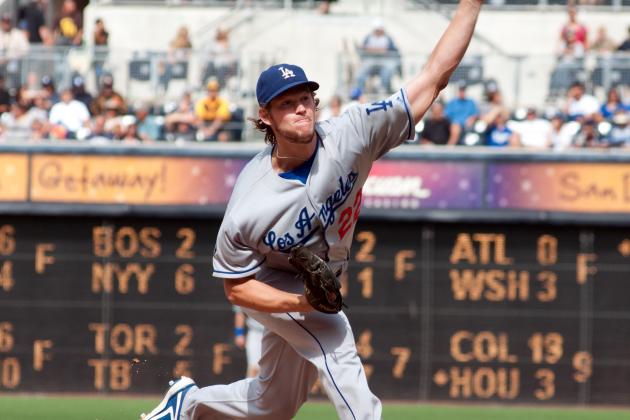 Kent Horner/Getty Images

2011 Stats: 21-5, 2.28 ERA, 233.1 IP, 248 K, 0.977 WHIP, 7.0 WAR
No amount of complimentary gushing on this slide can begin to describe the type of year Clayton Kershaw had with the Dodgers in 2011, so I'll just try to keep this as short as I can. Besides, his numbers do most of the talking.
Kershaw won the pitching triple crown in 2011. He led the National League in wins with 21, ERA with 2.28 and strikeouts with 248.
Any pitcher who posts the types of numbers that Kershaw did in 2011 deserves a Cy Young. These are major league hitters we're talking about here, and it takes a remarkable amount of talent to post an ERA in the mid-threes in any division. It takes an especially talented pitcher to have an ERA under 3.00, and it takes an elite pitcher to have an ERA nearing 2.00, like Kershaw did this past season.
Kershaw is an incredible pitcher pitching in an underrated offensive division. No one is going to compare the Giants offense to the offensive juggernaut that is the Los Angeles Angels, but when you get right down to it, the blame for poor offense in the NL West probably doesn't rest on the shoulders of those players, but rather on the outstanding pitching present in the division.
Clayton Kershaw is the class of pitching in the NL West. In a division that features Tim Lincecum, Matt Cain, Ian Kennedy and many other great pitchers, that is saying something.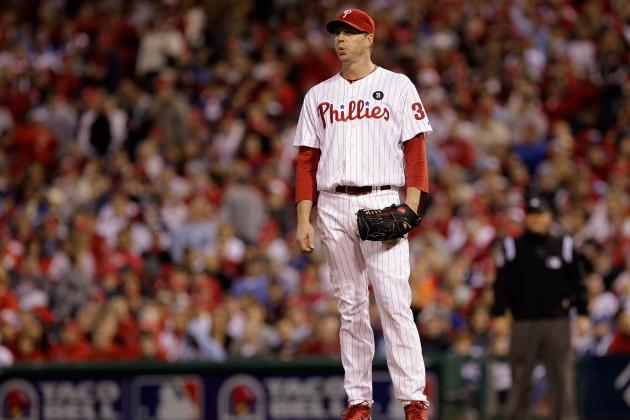 Rob Carr/Getty Images

2011 Stats: 19-6, 2.35 ERA, 233.2 IP, 220 K, 1.040 WHIP, 7.4 WAR
Roy Halladay is the best pitcher in baseball, bar none.
Convincing cases could be made for his Cy Young counterpart Justin Verlander, his teammate Cliff Lee and other aces across the league like Felix Hernandez, Clayton Kershaw, Tim Lincecum, C.C. Sabathia, etc... But none of them really come close to what Roy Halladay has achieved over his 14 seasons in the majors.
He hasn't finished outside of the top five in Cy Young voting since 2005, he has seven top-five finishes altogether, five top-three finishes and two Cy Young awards to his name (2003 and 2010).
No other active pitcher even comes close to that level of dominance over 14 years.
Justin Verlander will probably be there one day, as will young guys like Clayton Kershaw and Felix Hernandez.
But the fact is, they aren't there yet.
Roy Halladay should be considered the favorite to win the 2012 Cy Young over defending champion Clayton Kershaw. Until Halladay starts showing signs of age, he will continue to be the standard of pitching not just in the National League, but in all of baseball.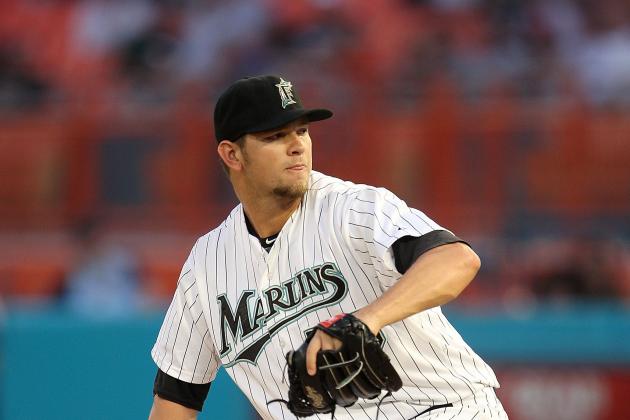 Mike Ehrmann/Getty Images

The fact is, I couldn't include everyone. If this story gets popular, I'm sure there will be gripes about some of the omissions, so just let me justify a few of the reasons I didn't include some of the other contenders.
Mat Latos: Cincinnati's new ace has the potential to be great, but there's no telling how well Latos will transition into the NL Central. He pitched in some of the best pitcher parks in baseball in the NL West, including his home field in San Diego which is the best pitcher's park in baseball. Also, even with the losses of Prince Fielder and Albert Pujols, the NL Central is still a stronger offensive division than the West on the whole.
Chris Carpenter: I know the type of season Carp put together with the St. Louis Cardinals was special, but he's definitely showing signs of wear and tear. He was able to pull himself out of a major slump at the beginning of the season to lead his team to a world championship, but with his age, I simply don't see Carp putting elite numbers up.
Adam Wainwright: Will be a leading contender if he pitches like he did prior to Tommy John surgery. It could be an average season for him though, and he could have to readjust to the majors.
Tommy Hanson: Injuries. He can be an elite pitcher and an ace if he just stays healthy.
Johnny Cueto: See Tommy Hanson.
Matt Garza: Too inconsistent, and he might not even stay in the National League for the entire season. Great pitcher, but I don't see him contending.
Josh Johnson: This was definitely the hardest omission for me. Johnson has so much upside that it's almost mind boggling, but he is constantly injured. Much like Hanson and Cueto, Johnson will not only be a contender, but a leading contender if he can remain healthy. Unfortunately, staying healthy has been the hardest part of his promising career so far.