Kim Kardashian and Reggie Bush's Alleged Reuniting Will Doom Both Stars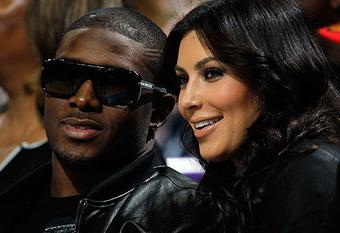 The head hurts from even thinking about it, but Kim Kardashian and Reggie Bush have reunited, and it will only get worse.
You can take your thoughts about two people coming back together as a positive and shove it. This is no ordinary love affair, and these are certainly not two regular people.
TMZ reports Kim Kardashian and Reggie Bush have been seen together this past weekend. Reports of the world ceasing to spin on its axis have not come through despite constant searching.
According to the report, the two were spotted at the Beverly Hills Hotel. It goes on to state the following:
Multiple sources tell us...the two were smiling and laughing during the lunch date...and played it cool when fans approached them for pictures and autographs.

Sources say the two have been spending A LOT of time together in the past few days...but it's unclear if it's a full-on reconciliation.
The two were seen laughing and carrying on like it was day one of a budding romance. The vile taste in your mouth is a natural occurrence of this story and should be no cause for alarm.
The two have enjoyed a public on-again, off-again relationship that ended for what we all thought was for good in March of 2010.
Since that time, Kim Kardashian has dated Miles Austin and then, far more famously, Kris Humphries. One failed marriage later, Humphries is getting booed every time he touches the ball in away games and Kardashain continues to get called out for an alleged sham of a marriage.
Now Bush wants to barge on through into the land of the insane one more time, as if he doesn't know any better.
This is bound to have lasting repercussions on both of them.
Kardashian will only get more vitriol and venom thrown her way, as many question whether she ever loved Humphries, and that she was perhaps using him for the ratings.
Reggie Bush and Kim Kardashian is...
Bush can only hope to endure the same fate that befell the New Jersey Nets star. Kardashian is far more visible than she was in 2010.
Here is the main point for anyone willing to have their own say in how the world views them, the Kardashian's own reality TV.
If you want to date their queen bee, you better prepare yourself to have your image formed in the way that best suits the Kardashian brand.
Bush my want his old girlfriend back, but you don't just date this woman, you engage in an empire based on creating buzz and innuendo. That's no way to enjoy a relationship.
The spotlight is all on Kim Kardashian, and that leaves room for nobody else.
This article is
What is the duplicate article?
Why is this article offensive?
Where is this article plagiarized from?
Why is this article poorly edited?