2012 NFL Draft Big Board: Updated Quarterback Rankings
February 14, 2012

Sarah Glenn/Getty Images
As we at Bleacher Report begin our preparation for the NFL scouting combine, it's time to update the list of the top quarterbacks in the 2012 NFL Draft class and also take a fresh look at each player and where he currently fits.
The position rankings now reflect changes after the Senior Bowl and the hours of post-Senior Bowl film study.
1. Andrew Luck, Stanford (No. 1 overall)
The clear-cut No. 1 player in the 2012 class, Andrew Luck has a path paved to being the first overall pick of the Indianapolis Colts.
Luck's abilities as a passer are even underrated at this point, as pundits look for reasons to stir up controversy. Take it from someone who has spent hundreds of hours studying quarterbacks over the last 10 years—Luck is the best to come out of college in a very long time.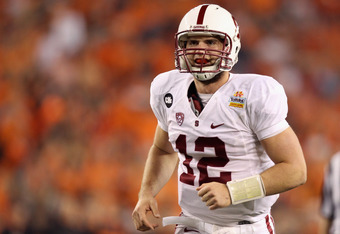 Christian Petersen/Getty Images

2. Robert Griffin III, Baylor (No. 2 overall)
The best athlete of the group, Robert Griffin used his ability as a passer and runner to take home the Heisman Trophy after making a surprising run through Big 12 defenses.
Griffin may have the biggest impact in year one of all the 2012 quarterbacks due to his combined ability as a passer—especially down the field—and his sprinter speed as a scrambler.
3. Brock Osweiler, Arizona State (No. 44 overall)
Osweiler is a bit of a boom-or-bust pick, especially when compared to Griffin and Luck, but there is considerable potential here. He has great size at 6'7" and impressive athletic ability, turning in a high 4.7 in the 40-yard dash.
He needs to work on his feet to improve his consistency in ball placement, but Osweiler has the type of talent that can be coached into a starter.
4. Brandon Weeden, Oklahoma State (No. 50 overall)
If Brandon Weeden were 22 years old instead of 28, he would be a first-round pick. Easily.
Instead, he'll find his stock balanced on the individual thoughts of NFL teams. If they feel he can come in and start right away, Weeden may go in the later portions of the first round. If teams feel he's a player who requires development, he will be on the board much later than pick No. 50.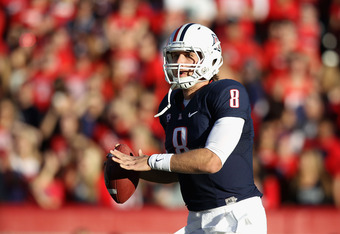 Christian Petersen/Getty Images
5. Nick Foles, Arizona (No. 57 overall)
Nick Foles has the look of a starting quarterback, but he's also wild and inconsistent at times. Foles played in a system that emphasized quick strikes and high-accuracy passes, which has inflated his numbers.
Where he struggles is moving the ball consistently outside the hashes. If his mechanics can be cleaned up, Foles will be a starter in the NFL.
6. Ryan Tannehill, Texas A&M (No. 73 overall)
A player few seem to agree on—I'm not seeing it with Ryan Tannehill. He flashed potential at times, but never put his talent together for more than a few quarters at a time. Tannehill is a great athlete and has a live arm, but his inconsistencies and failure to produce when pressured are major concerns.
7. Kirk Cousins, Michigan State (No. 75 overall)
Cousins does a lot well, but the major red flag on my report is that he fails to follow up one good play with another. Cousins will make questionable reads, too often throws off his back foot (especially when on the move) and under-throws too many passes.
He has the talent to eventually be a starter, but he's not ready yet.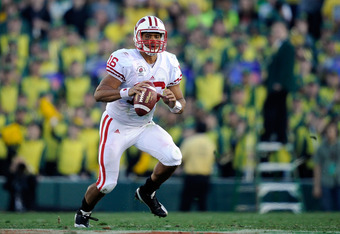 Kevork Djansezian/Getty Images
8. Russell Wilson, Wisconsin (No. 102 overall)
Russell Wilson will either be a starter in three years or completely out of the NFL. He's undersized at 5'10-1/2", but plays bigger in the pocket.
He's a player coaches will have to build an offense around to let him get outside the pocket and also teach him to step up into passing lanes instead of throwing over defenders and his own blockers. If someone is patient with Wilson, he could be a hidden gem.
9. Ryan Lindley, San Diego State (No. 113 overall)
Lindley has a big arm and the big, sturdy frame to match. He looks like a quarterback—but not always when throwing the football. Lindley's accuracy is less than desirable. With accuracy being the most weighted criteria on my scouting reports for quarterbacks, this affects his stock considerably.
10. Chandler Harnish, Northern Illinois (No. 163 overall)
Harnish is the one player in this class who may surprise people. He has the ability, but his tools just need refining.
Harnish is a good athlete, has enough size (6'2" and 220 lbs.) and the arm to make plays in and out of the pocket. He's a sleeper who, with some development, could be a starter.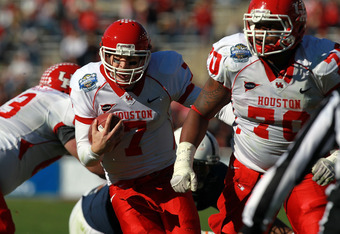 Ronald Martinez/Getty Images
11. Case Keenum, Houston (No. 181 overall)
A highly productive college passer, Keenum has been forgotten in the pre-draft run. He wasn't invited to the Shrine or Senior Bowls, which didn't allow him to show he can play outside the system at Houston.
That's a big hurdle for Keenum this offseason—proving he's a quarterback who can compete in the NFL and not solely a product of the spread passing attack. He needs an exceptional showing at the scouting combine.
12. Aaron Corp, Richmond (No. 187 overall)
A former USC recruit, Corp is an intriguing developmental prospect. He played against lesser competition at Richmond and didn't always blow away the defense, but there's enough talent in his arm to spend a late-round pick on him. Corp has the measurables, but it may take several years before he's ready to run an NFL offense.
13. Austin Davis, Southern Miss (No. 196 overall)
At 6'1", Davis' draft options will be limited to teams willing to take a late flier on a smaller quarterback.
He doesn't have the elite athletic ability to compensate for his lack of height, but he could catch on in a spread passing attack as a solid backup quarterback—much like Chase Daniel has done in New Orleans.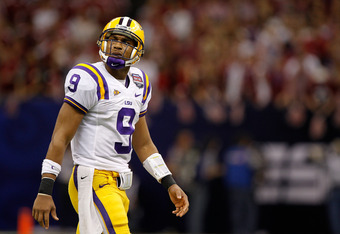 Chris Graythen/Getty Images
14. Jordan Jefferson, LSU (No. 240 overall)
A freakish athlete, Jefferson is incredibly raw after seeing very little playing time at LSU. He will most likely be an undrafted free agent, but there is enough pure talent in his body of work to take a chance on him as a priority free agent. In a worst-case scenario, Jefferson could try to transition to quarterback and move to wide receiver if that plan fails.
15. Dominique Davis, East Carolina (No. 256 overall)
Dominique Davis has the potential to move up the board in the pre-draft run. He's a very good athlete, has the size NFL teams want from a mobile quarterback and has enough of an arm to impress in the pocket.
Davis is raw—very raw in fact—but there is enough potential to spend a seventh-round pick on securing his rights.
16. Patrick Witt, Yale (No. 278 overall)
The obvious observations are that Witt is a very smart player, on and off the field. He was a potential Rhodes Scholar candidate who will take his shot in the NFL instead. Witt has the ability to make great throws, but is inconsistent and rattled under pressure.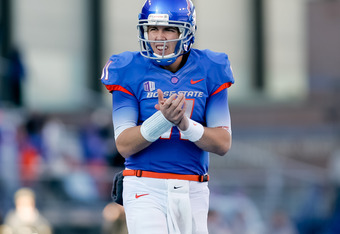 Otto Kitsinger III/Getty Images
17. Kellen Moore, Boise State (No. 298 overall)
A two-time Heisman Trophy candidate, Moore simply doesn't possess the size or arm strength to be an NFL quarterback. At 5'11" and 191 lbs., Moore lacks the ability to see over offensive linemen, isn't athletic enough to work outside the pocket and lacks the bulk to absorb hits from NFL defenders.
Moore was a great college quarterback, but his NFL future is limited at best.
18. Darron Thomas, Oregon (No. 300 overall)
A surprise entry into the 2012 draft class, Darron Thomas is a raw and exciting athlete, but not much of a quarterback.
He's unlikely to be drafted and should be asked to change positions once in the NFL. A move to wide receiver gives him the best chance to find himself on a roster three years from now.