St. Louis Rams 2012 Season: Ranking the Six Best Breakout Candidates on Roster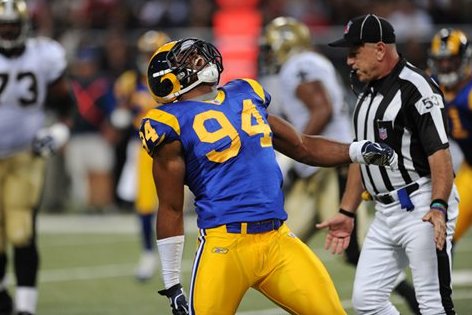 Robert Quinn
The St. Louis Rams officially ended the Steve Spagnuolo era on January 2 and officially began Jeff Fisher's on January 13. Although their is a different head coach, a new general manager (Les Snead), a fresh coaching staff and a revamped top-down philosophy in place, many of the players, however, will of course be the same.
With a new head coach in place, the previous breakout list needed to be reevaluated and ultimately revamped.
Although bringing in cornerstone pieces, building blocks and solid depth via the 2012 NFL Draft and free agency period is crucial to the optimization of the Rams of 2012 and beyond, the solid play of roster returnees is no less vital going forward.
Considering how critically important the Rams' returning players will be in relation to their rate of future success, I have analyzed and selected the six players currently under contract with St. Louis that I believe are most likely to make significant improvements in 2012 (as compared to the 2011 season).
That said, let us take a look at my top six candidates for breakout years in the 2012 NFL season.
Begin Slideshow

»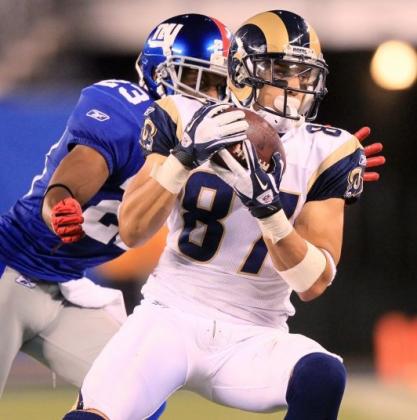 Greg Salas
In six games last season, Salas caught 27 passes (including 12 in the final two games of his rookie season) before landing on injured reserve.
The fourth-round pick of the 2011 NFL Draft showed the ability to produce both in the slot and split outside, making impressive plays lined up in either spot.
His versatility could be important going forward as he could, at the very least, provide solid, capable depth lining up wherever needed at wideout.
Last season, Salas displayed terrific hands plus adept run after catch skills and seems to have a knack for getting open. He is not a blazer (4.5 in the 40 yard dash) but possesses a decent burst with the football in his possession.
It is difficult to accurately assess Salas' potential impact to the potential of dramatic changes at the position.
Although Fisher is predominately known as a defensive-minded coach, he is also known as a smart one, and recognizes that 12 points per game will not get it done in the NFL, regardless of how dominant one would hope a defensive could become.
Considering the top defense in terms of points per game (Pittsburgh) gave up 14.2 points per game in 2011, it is painfully obvious that 12 points a game will not enable St. Louis (or any team) to win very many games.
Thus, look for Fisher and the Rams to aggressively attempt to upgrade the wide receiver corps in one manner or another (NFL Draft, free agency or trade).
So it is hard to say what role Salas will play in the upcoming season, but it is likely that he will have a chance to at least get some time as a backup outside and in some three and four receiver sets.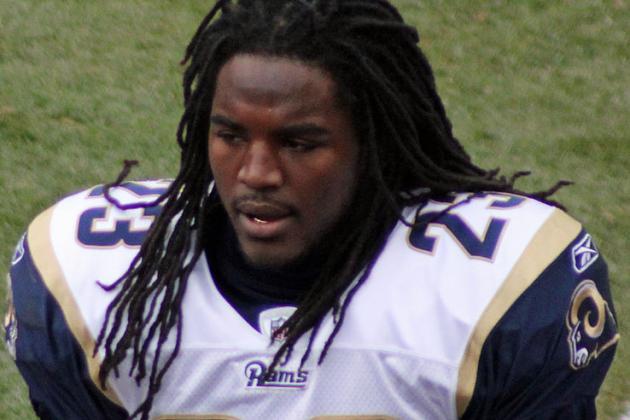 Jerome Murphy
Jerome Murphy mirrors Jeff Fisher in a trio of important ways: he is tough, feisty and aggressive.
Last week, Fisher told me via Twitter that:
@Aagent23Murphy@ShaneGmoSTLRams I'm good u can believe that.
That said, the physical Murphy, who excels in run support and hard-hitting defense, should be well-liked by Fisher, as Rich Rachel (his defensive backs coach at the University of South Florida) told me last week:
I think Coach Fisher will like him. He loves studying tape and he is eager to get going.
Murphy possesses outstanding athleticism with ideal height (6'0'') and size (200 pounds) for the position.
Murphy has a toughness and competitiveness about him like Cortland Finnegan, who played and excelled for Fisher with the Tennessee Titans. In fact, Finnegan earned first team All-Pro honors playing for Fisher in 2008.
Words like tough, physical, aggressive and strong are commonly used to describe Murphy.
With the health of would-be starting corner Bradley Fletcher in doubt, it is not incomprehensible that Murphy could battle for a starting spot in training camp, depending in part to what the Rams does in the draft and free agency.
Speaking of free agency, the aforementioned Finnegan has stated that reuniting with Fisher in St. Louis is a consideration.
For much more on Murphy, please take a look at my feature piece from last week as found here.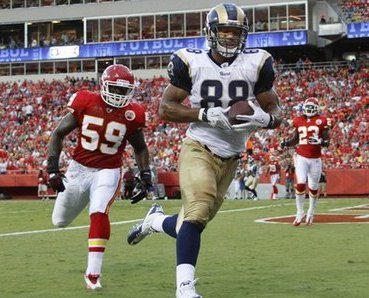 Lance Kendricks
Lance Kendricks flashed brightly onto the scene as a rookie in 2011 looking like a possible star in the making during preseason play. Of course, St. Louis finished the preseason 4-0, proving that the games that do not count can equate to fool's gold in relation to attaining a barometer of the outlook of both teams and individual players.
Such was largely the case with second-round rookie tight end Lance Kendricks, who finished the season with just 28 receptions on the year and far too many drops.
Considering that Kendricks is the Rams' top returning tight end and that St. Louis has several holes to fill, look for Kendricks to have every opportunity to lock down the starting tight end slot, at least on passing downs, which is his forte.
Fellow Rams tight end Mike Hoomanawanui is built like former Tennessee Titans and Fisher tight end Frank Wycheck, who excelled under Fisher for several seasons. Wycheck, like Hoomanawaui, owned the size and skills to make strong contributions as a receiver and blocker.
Unfortunately for Hoomanawanui and St. Louis, though, "Illinois Mike" appears to be the type of player who is on borrowed time with each play he contributes without suffering an injury, and the other options on the roster at the position lack the talent that Kendricks possesses.
Kendricks is more of a receiving tight end at this stage and is in the general mold of an Aaron Hernandez of the New England Patriots, who has a similar stature and skill set as Kendricks.
The Rams hope Kendricks can have a Hernandez-like year in 2012, as he pulled in 79 receptions and seven touchdowns in 2011.
Fisher always liked throwing to the tight end, even in the pre-tight end era that the NFL is currently in. The previously discussed Wycheck averaged 61 catches and 3.5 touchdowns as a starter for the Titans over a seven-year stretch.
Unless St. Louis surprises with an unexpected acquisition through some avenue in the offseason, Kendricks will more than likely be the primary passing target of Sam Bradford in the upcoming season.
With that, expect Kendricks to have every opportunity to have a breakout season. Assuming he can shake off the rookie jitters (or whatever it was that caused him to drop far too many passes last year), Kendricks should nearly double his catch total in the approaching campaign.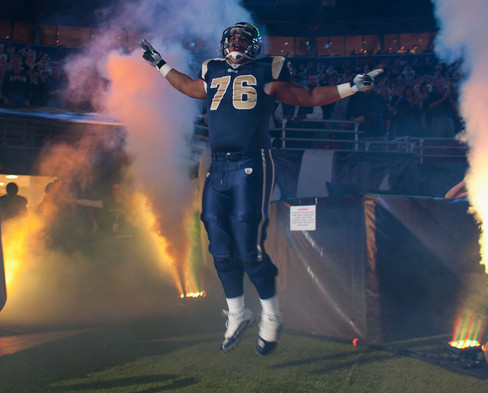 Rodger Saffold
Rodger Saffold, a 2010 second round selection, had a terrific rookie season at left tackle. So good, in fact, that the Indianapolis Colts publicly admitted regret in passing on Saffold in the 2010 NFL Draft.
Saffold played well enough to rank as the thirteenth most efficient pass blocker in 2010, according to this. However, the 2011 season was a different story as Saffold struggled with both injuries and diminished play, which was perhaps interrelated.
Not only should Saffold break out with a much better year in 2012 at either left or right tackle (depending on what the Rams do in the draft and free agency), he will have a new offensive line coach, Paul Boudreau, formerly of the Atlanta Falcons.
Boudreau comes with an impressive reputation and replaced the departed Steve Loney.
The Rams brought in several expensive, highly accomplished and regarded offensive linemen under Loney's watch (Jacob Bell, Jason Brown, Harvey Dahl) most have failed to play as well as they did at previous stops (Bell and Brown) and none improved under his tutelage (including Dahl).
Furthermore, the 2009 number 2 overall draft pick has largely disappointed, although part of his issues have admittedly been recurring concussion problems. However, even when healthy, Smith has not performed at the level that would be anticipated for a player selected of his draft slot.
Many, including yours truly, expect that the play of the offensive line as a whole will improve under Boudreau, including that of Saffold's.
The combination of good health and good coaching should place Saffold in prime position to breakout in 2012.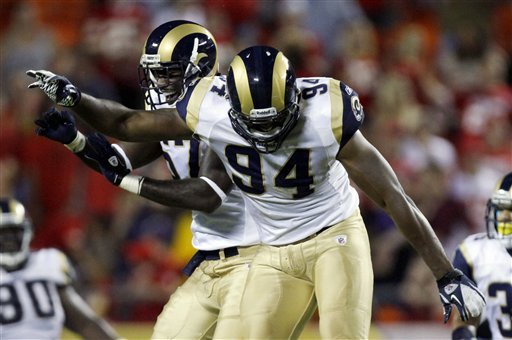 Robert Quinn
2011 NFL Draft first-round pick Robert Quinn had a strong rookie showing, despite a sometimes bewildering lack of playing time, include an inactive status on Opening Day.
Even under those circumstances, the defensive end managed to produce five sacks, tally 23 tackles and officially block two punts (although he got his hands on three of them).
New defensive coordinator Gregg Williams once helped produce a bonafide stud in Jevon Kearse.
Kearse, known as "The Freak," excelled under the guidance and coaching of Fisher and Williams. Kearse racked up 14.5 sacks during his rookie year and averaged 12 sacks over a three year period under the previously mentioned coaches.
Quinn and Kearse were similar athletically and in terms of build (both listed at 6'4", 265 lbs.). Quinn came and strong of late and looks to be the real deal as a pass rusher and should move into the starting lineup in the upcoming season.
With more time and in the aggressive scheme of Williams, Quinn should flourish, especially on passing downs. He still has room to improve as a run defender but held up better than many had expected during his rookie year.
It looks that the Rams have their bookends in place defensively with Chris Long and Quinn. Williams system excels when he is equipped with good pass rushing ends. In 2000, for example, his Tennessee defense led the NFL in total defense.
With more playing time, Quinn could double his sack total (five in 2011) in the coming campaign and have a legitimate breakout season in 2012.
Sam Bradford
After winning the NFL's Offensive Rookie of the Year in 2010 after being selected first overall in the NFL Draft, Bradford regressed in his sophomore season.
Bradford excelled as a rookie in 2010 with the aid of quarterback coach Dick Curl (who retired after that season) in the offensive system of then offensive coordinator Pat Shurmur, now the head coach of the Cleveland Browns.
Bradford will now play in a third offensive system in as many years following the departure of last season's offensive coordinator Josh McDaniels.
Brian Schottenheimer, formerly of the New York Jets, will orchestrate the offense in 2012. Luckily for Bradford, he is a disciple of the Don Coryell system, which has many similarities to the offense he thrived in at the University of Oklahoma.
That, and a full offseason to work with his new offensive coordinator (along with the return of a quarterback coach, Frank Cignetti of Rutgers) should make for a relatively smooth transition.
For Bradford to grow and develop into the franchise quarterback that his raw skills and many talent evaluators suggest, he must show greater pocket presence and improve his recognition skills. Bradford struggled to progress through his reads, locking onto receivers consistently last year.
On the other hand, he needs more help.
Bradford must get better pass protection and look for the Rams to address those issues in the upcoming free agency and/or the 2012 NFL Draft. Again, with new offensive line coach Paul Boudreau in place, the coaching should be upgraded, too.
Secondly, Bradford needs enhanced weapons through the air. Look for the Rams to provide better options at wide receiver by vigorously pursuing options at wide receiver in the draft and free agency period.
With a more familiar system, a full offseason, the return of a QB coach, better pass protection and a strong likelihood of better pass targets (including the return of Danny Amendola, who hauled in 85 catches in 2010), Bradford is primed more than any other St. Louis player to have a breakout year in 2012.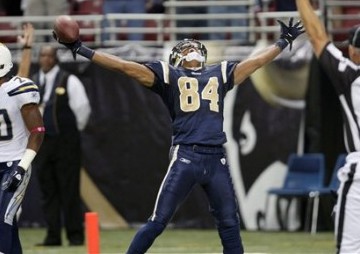 Danario Alexander
Although the following players are not as likely to have breakout seasons as those on the previous slides, they certainly possess the attributes to be amongst that group.
Danario Alexander
Alexander has the size, speed and skills to be a stud NFL receiver. However, injury issues are always a concern and have impeded his progress somewhat during his first two seasons.
He has averaged an impressive 16 yards per reception thus far and has consistently shown an ability to get separation deep and use his 6'5" frame and leaping ability to go up high and pull down catches in traffic.
Alexander is not expected to endure any type of major surgery this offseason (which is rare for him) and he will have several months to get stronger and ready for the approaching campaign.
If healthy, most agree that Alexander could make very solid contributions in St. Louis.
Jason Smith
Most may be scratching their head on this one but a healthy Smith, with new coach, couldhave a much improved year, assuming he takes a reportedly mandatory pay cut, as covered here.
Smith has struggled in space at times in pass protection but is a very good run blocker. Perhaps a healthy Smith could excel inside? He has the talent to have a breakout season and I think he could make the switch to guard successfully.
Darian Stewart
Stewart had a pretty darn good under-the-radar year in 2011, with 84 tackles, three sacks and an interception. At just 23, Stewart looks to have a solid career in front of him.
However, it would be tough for him to "break out" next year, since he really had one already in 2011. Increasing his numbers in 2012 will not be easy, thus making him unlikely to have a breakout season.
Jason Brown
Brown signed a five-year, $37.5 million dollar contract as a highly prized free agent acquisition in 2009. Brown has played inconsistently for the Rams for the most part, but at just 28, should have all the skills and ability intact to up his level of play in 2012 and have a breakout season of sorts himself.
Brown has two years remaining on his contract so he is very likely to return.
Shane Gray covers the St. Louis Rams year-round. You are encouraged to check out the rest of his work here and to follow him on Twitter.