2012 NFL Draft Projections: 3 Players With Biggest Bust Potential
February 12, 2012

Kevin C. Cox/Getty Images
A first-round pick in the NFL draft can mean so much to the future of a franchise. If you make the right pick, that position is set for the next decade. Make the wrong pick, and it can set the team back for an entire year…and potentially even longer.
So how do you spot a bust before making the grave mistake?
By looking at their consistency in college, certain position-specific skills and injury history. When evaluating these three players that are all projected to be drafted in the top 15, the red flags are glaring.
Michael Brockers, DT, LSU
Michael Brockers has sky-rocketed up draft projections recently because of his size (6'6'', 305 pounds) and the fact he played for the incredible Tigers defense.
But let's be honest, when you had the sort of talent in the secondary that LSU did, it's easy to look good up front.
So Brockers would have collect at least three sacks right?
Wrong.
Brockers registered two sacks in addition to 54 tackles and that was much better than the 25 tackles and zero sacks collected in 2010.
He is not a pass rusher and looks poised to be a specialist against the run. Certainly a valuable commodity to have, but not worth a top 15 pick.
A team like the Jacksonville Jaguars at No. 7 or the Carolina Panthers at No. 8/9 are potential victims to fall for Brockers.
Luke Kuechly, LB, Boston College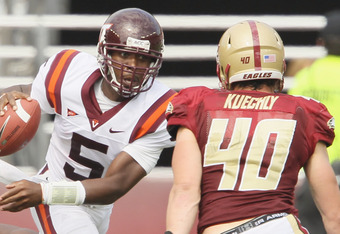 Elsa/Getty Images
The leading tackler in the entire nation last season, there is no doubt Kuechly is a strong tackler with incredible instincts.
But speed kills in the NFL, and Kuechly is lacking in the department. Of all of the other potential first-rounders who play linebacker, nobody is slower.
He dominated with his superior intelligence and strength. But it's hard to make a big impact when you have to chase down Ray Rice from behind.
The linebacker needy Philadelphia Eagles are primed to draft him much too early at No. 15.
Quinton Coples, DE, North Carolina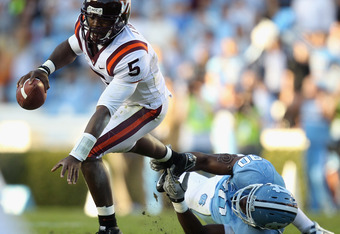 Streeter Lecka/Getty Images
Because of his terrific athleticism and 6'6'', 285-pound frame, he is going to end up with a team like the Buffalo Bills at No. 10. Yet he never recorded more than 9.5 sacks in a season and has a reputation of taking plays off.
His technique is sloppy and he doesn't get low enough. While his versatility to be a defensive tackle adds to his value, Coples is not going to be the ferocious pass rusher a team expects when they use such a high pick.