2012 NFL Draft: Scouting Report for Wide Receiver Justin Blackmon
February 10, 2012

Christian Petersen/Getty Images
Oklahoma State's Justin Blackmon enters the 2012 NFL Draft as the top-rated wide receiver. This year's receiving class doesn't have too many standouts like a Julio Jones or an A.J. Green, but the position is relatively deep with talent. 
Blackmon had a very productive career with Oklahoma State, finishing with 252 receptions for 3,564 yards and 40 touchdowns in his three years. In Blackmon's last two seasons at the collegiate level, he recorded over 110 receptions and 18 touchdowns in each season.
The production is certainly there for the 6'1" Blackmon, but how does the rest his scouting report stack up? 
Hands: B+
The thing about Blackmon is that there are a few times a season where he goes into a "slump," as if he has a few mental lapses and drops catchable balls for no apparent reason. However, it could be simply a lack of focus rather than just a flaw in his game.
While watching film on Blackmon, it doesn't appear that his costly drops come at a time where he is afraid of taking a hit, but more losing focus thinking about his next step rather than ensuring a safe reception. 
Other than that, Blackmon does have great hands and has the ability to catch just about every pass his way, including the tough ones. 
Route Running: B+
Blackmon can run just about every pattern on the route tree to perfection, while also getting good production in the slot as well as on the outside. 
He is not afraid of running over the middle, and flourishes on slants or crosses. Blackmon runs these routes time and time again, allowing him to catch the defense sleeping with a slant and go for a big gain.
As for his release off of the line, Blackmon has a nice burst and possess quality footwork that will allow him to gain an extra step on his defender. 
Speed: B
This is the only downfall to Blackmon's game—he is not equipped with elite speed, limiting his ability to burn opposing cornerbacks.
The problem with his lack of elite speed is that you can't simply throw the ball up to him and hope that he races under it, as the defender will likely be just as fast as him, if not faster.
Size: B+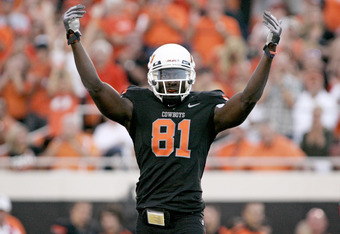 Brett Deering/Getty Images
Standing in at 6'1" and weighing 205 lbs., he isn't the biggest receiver, but he is physical enough to beat just about any press, man-to-man coverage. 
So as he lacks the height advantage, he is certainly strong enough to fight off any defender. 
Final Grade: B+
Comparing to past drafts, Blackmon would likely not have been the top wide receiver in those classes—but he certainly is talented enough to be selected in the top 15 of this year's draft. 
Blackmon does have the skill set to be a top-tier wide receiver, but I don't necessarily see him ending up being at the same elite level that Calvin Johnson or Larry Fitzgerald are today. 
Heading into the NFL combine, some teams may consider his DUI back in 2010, and could possibly question his character. It is important for Blackmon to use the pre-Draft interviews to shed some light on this issue.
Aside from questioning his character, some teams may take notice to that he played at Oklahoma State in their spread offense—which isn't necessarily as complex as the offenses in the NFL today. It will be crucial for him to display a high football IQ and the ability to understand complicated football philosophies. 
Despite those two possible red flags, Blackmon is a solid prospect at wide receiver that does have the upside to succeed at the NFL level as a solid No. 1 wide receiver.
NFL Comparison: Terrell Owens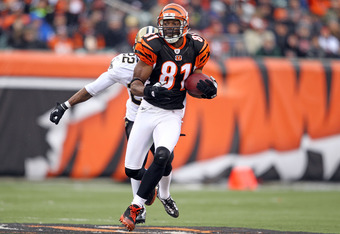 Andy Lyons/Getty Images
As for comparing Blackmon to Terrell Owens—they're both physical wide receivers that do drop some balls but are versatile enough to run several different routes and line up in different positions. 
The only thing that I don't see these two having in common is that I don't believe that Blackmon is a "me-first" guy and wont produce the same numbers as TO, despite their similair skill sets.
2011 Highlights 
Be sure to check out Tony Santorsa's blog: PatriotsPlus