2012 NFL Mock Draft: Quinton Coples Leads a 1st Round D-Line Surge
February 10, 2012

Geoff Burke/Getty Images
1 - IND: Andrew Luck- QB - Stanford
He is too good to pass up. Even on the outside chance that they decide to trade the pick, he will be No. 1.
2 - STL: Justin Blackmon - WR - Oklahoma State
Matt Kalil will be tempting here, but Sam Bradford needs a real target. It's also likely someone will trade up to this spot for Robert Griffin III, but I'm not predicting trades yet.
3 - MIN: Matt Kalil - OT - USC
He is too good to pass up and he fills a need. Christian Ponder needs a backside protector if he is going to be the franchise quarterback.
4 - CLE: Robert Griffin III - QB - Baylor
Colt McCoy is average at best. I like him. He was amazing in college. Sorry, but he's not a pro. RG3 has the makings to have an impact like Michael Vick, but is a much better passer than he was coming out of college.
5 - TB: Morris Claiborne - CB - LSU
As the Bucs continue to rebuild their once-great defense, they add the best corner in the draft. Ronde Barber has to retire someday, right?
6 - WAS: Quinton Coples - DE - North Carolina
He is just too good a talent to pass up at this point. They would love to have RG3 and will probably try to trade up.
7 - JAX: Michael Brockers - DT - LSU
Jacksonville would love to give Blaine Gabbert a real starting caliber wide receiver here ,but there isn't one worth this pick.They have a first-round and a second-round pick invested in offensive tackles, so I think they will go defense here. I'm actually going to mock someone I haven't had a chance to scout yet, but he seems to be rising up boards fast.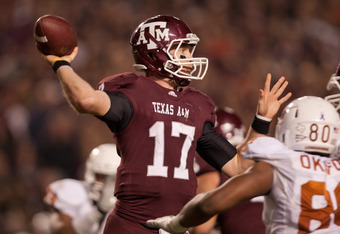 Darren Carroll/Getty Images
8 - MIA: Ryan Tannehill - QB - Texas A&M
As the draft approaches, teams will panic when they don't have a quarterback yet via free agency. Ryan Tannehill will reap the benefits of this. If Miami still doesn't have a quarterback, then they could reach on him.
9 - CAR: Jonathan Martin - OT - Stanford
Jeff Otah can't be relied on to stay in the lineup. Jonathan Martin can protect Cam Newton on the right side and move over to the left when Jordan Gross retires.
10 - BUF: Riley Reiff - OT - Iowa
With a huge contract now, Ryan Fitzpatrick is as important to protect as ever.
11 - KC: Trent Richardson - RB - Alabama
Whoever plays quarterback for Kansas City will need a running game to support them. Thomas Jones is old and Jamaal Charles, despite what he had two years ago, is more of a third-down back. Trent Richardson can take their running game over the top. Romeo Crennel will like that, because a good running game makes it easier to play defense.
12 - SEA: Whitney Mercilus - DE - Illinois
Seattle is a team that should do whatever it takes to trade up for RG3. Having said that, if they don't they will have to take best player available. David DeCastro would be nice, but their offensive line is arguably the best in the NFL already. Whitney Mercilus had an incredible year and the Giants just proved you can't have too many good pass rushers.
13 - ARI: Courtney Upshaw - ILB - Alabama
Arizona is another team that just needs an impact player. Upshaw can possibly be that guy giving them a pass rusher that can stand up or put his hand on the ground.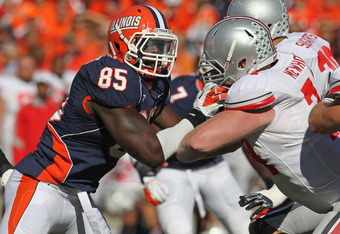 Jonathan Daniel/Getty Images
14 - DAL: David DeCastro - OG - Stanford
DeCastro is too good to pass up at this point. Potentially, he and Tyron Smith might make a guard/tackle pair that could dominate for the next 10 years.
15 - PHI: Luke Kuechly - LB - Boston College
I might be giving Philly too much credit here, but they have needed help at linebacker for years. Maybe now they finally fix that problem with the run-stopping force from Boston College.
16 - NYJ: Nick Perry - DE - USC
This is a slight reach, but the Jets need a pass rusher. While he may be good at it, Rex Ryan shouldn't have to call all out blitzes just to get pressure.
17 - CIN: Janoris Jenkins - CB - North Alabama
The Bengals' defense looked really good last year. However, they still could use a replacement for Johnathan Joseph.
18 - SD: Peter Konz - C - Wisconsin
Konz is a great center. Nick Hardwick is considering retirement. As a Raider fan, I hope San Diego passes on Konz because he is that good.
19 - CHI: Michael Floyd - WR - Notre Dame
Will somebody please put a decent wide receiver in a Bears uniform? Enough said.
20 - TEN: Cordy Glenn - OG - Georgia
Whether he plays right tackle or guard, Tennessee needs Cordy Glenn. They need to open up holes for Chris Johnson so he can earn his nickname again.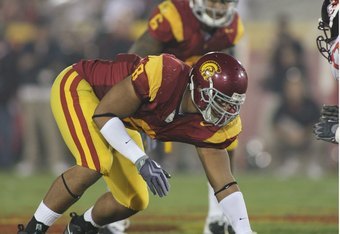 Jeff Golden/Getty Images
21 - CIN: Jerel Worthy - DT - Michigan State
Ahead of Devon Still? Are you crazy? Well, maybe a little, but when he wants to be, Worthy is better than Still could ever be. Defensive coordinator Mike Zimmer can get the best out of him.
22 - CLE: Alshon Jeffery - WR - South Carolina
RG3 needs a weapon. While Jeffery had a terrible year, but it's hard to ignore his 2010 season. He flashed that same caliber play against Nebraska in the Capital One Bowl, so it keeps him in the first round.
23 - DET: Dre Kirkpatrick - CB - Alabama
Detroit needs to build on their success by improving their secondary. Despite his arrest with a bag of weed, Kirkpatrick is a talented corner who can help them a lot.
24 - PIT: Andre Branch - DE - Clemson
This is arguably a reach but since quarterbacks are in high demand, so are pass rushers. I don't think James Harrison will be around much longer. Andre Branch can rush from a stand-up or three-point stance.
25 - DEN: Devon Still - DT - Penn State
Here is where Still lands. Head coach John Fox will continue to build his defensive line by putting a talented big body in the middle.
26 - HOU: Kendall Wright - WR - Baylor
It's finally time to put another talented wide receiver on the field with Andre Johnson.
27 - NE: Zach Brown - OLB - North Carolina
Could this finally be the year New England cashes in on their picks? Too bad the top-tier wide receivers and pass rusher are gone. However, Zach Brown has shown the ability to blitz and could compete for the fastest 40-yard dash time at the combine.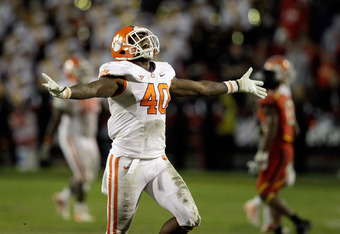 Rob Carr/Getty Images
28 - GB: Melvin Ingram - DE - South Carolina
Defensive coordinator Dom Capers has done a wonderful job of hiding the lack of talent on Green Bay's defense and it's time to add talent to their front seven. Clay Matthews can't make all of their plays.
29 - BAL: Vontaze Burfict - LB - Arizona State
I really can't think of a better heir to Ray Lewis's throne than Vontaze Burfict. He will be groomed and mentored to play with the firey, violent passion he has displayed before.
30 - SF: Alfonzo Dennard - CB - Nebraska
As much as they improved this year, San Francisco still needs help in their secondary. Next to wide receiver and quarterback, it is the Niners' biggest need. No one else at those positions is worth this pick, so Alfonzo Dennard is the guy.
31 - NE: Chase Minnifield - CB - Virginia
They need a talented wide receiver, but none are worth taking here. They could use help in the secondary though. Chase Minnifield will pair up with Zach Brown to bring some much needed talent to their defense. They have two second-round picks to find a wide receiver, but even if they don't, Tom Brady has gotten the job done with bad targets before.
32 - NYG: Dwayne Allen - TE - Clemson
The Super Bowl champs have the luxury of not having any glaring needs. They could use help at linebacker or another tailback. They can also use an upgrade at tight end. I'm using this pick on Dwayne Allen, partly because he makes sense here and partly because he is just awesome and deserves to be a first rounder. Blocking, catching, running after the catch, he can do it all.