2012 NFL Draft: 5 Defensive Studs the Baltimore Ravens Can't Pass Up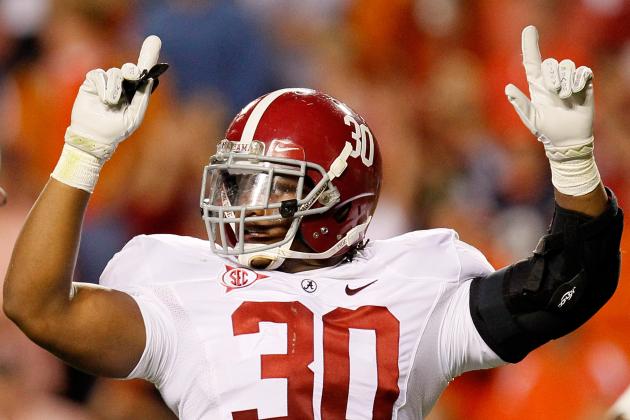 Kevin C. Cox/Getty Images

The Baltimore Ravens have become synonymous with elite defense. Every year their unit is ranked near the top of the league and is arguably the most feared defense out there.
Even with older players like Ray Lewis and Ed Reed close to the end of their careers, there's younger players like Terrell Suggs and Haloti Ngata that are up to the task of keeping this defense elite.
A major reason the Ravens defense is so consistently elite is because of their excellent draft choices.
General Manager Ozzie Newsome has a track record of making great picks in the draft, especially on the defensive side of the ball. With Lewis and Reed needing eventual successors soon, this draft could be a very important one.
In this slideshow, I'm listing five defensive players that the Ravens simply cannot pass up the opportunity to draft.
There's no way the Ravens get all of them and it's even kind of doubtful they'll get three or four of them. But if the Ravens decide to go defense in the first or second round, don't be surprised if these player's names are called.
Begin Slideshow

»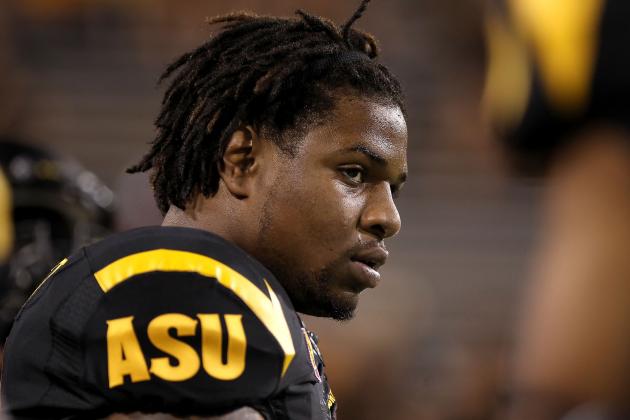 Christian Petersen/Getty Images

In my opinion, Vontaze Burfict is one of those players that could say he was born to be a Raven.
One NFL scout has called him what you get after you kick Ray Lewis' dog. His reputation is for being the toughest and dirtiest player in all of college football.
Actually the similarities between Burfict and Lewis are kind of eery. Both have good sideline to sideline speed, tackling ability and overall aggression. However Burfict clearly has discipline issues, something Lewis displayed in the early years of his career.
If Burfict could have one or two seasons learning under Lewis and cut down on his discipline problems, it's frightening considering what he could become. It could be argued this is almost necessary for Burfict considering how well disciplined the Ravens locker room is.
Burfict needs to go to a place where he can be held accountable and learn from some of the best defenders in the game.
If he's available on the board, expect Burfict to come to Baltimore. He might even be the rare talent that Ozzie Newsome trades up for.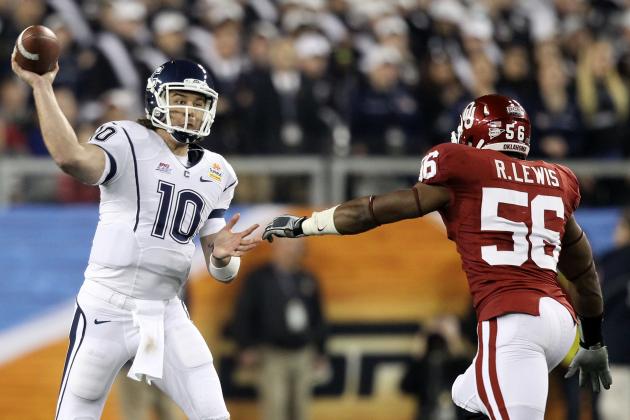 Christian Petersen/Getty Images

The linebacker position is probably the area on defense where the Ravens most need help.
Starters Jameel McClain and Jarrett Johnson are both going to be coveted free agents so conventional thinking is that at least one of them will leave. Also, Ray Lewis is very much in the twilight of his career, even though he did say he would be back this season.
This opens up the possibility for University of Oklahoma outside linebacker Ronnell Lewis to become a Raven.
Like Terrell Suggs, Lewis is a hybrid defensive end/linebacker and he could really work out well on the other side of the field. Lewis is also known as "The Hammer," the kind of nickname that is very fitting for an intimidating Ravens linebacker.
Lewis occasionally suffers from hot and cold production, but when he's hot he can be frightening. He has a reputation for making bone-crushing hits and for an ability to act instinctively in open space.
Although projected for the second round, the Ravens could conceivably take him in the first if some other players are off the board.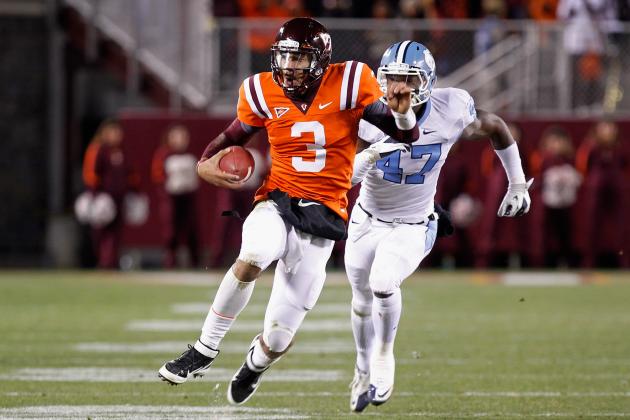 Geoff Burke/Getty Images

What separates Zach Brown from the other elite linebacker options in the draft is his speed.
Because of his speed, Brown is an incredible asset when it comes to coverage. Although this is before the NFL Combine can confirm it, Brown is believed to be the fastest linebacker in the NFL.
One of his weaknesses though is an inability to pass rush. His sack numbers were not good at all during his four years at North Carolina. This past season he only had 4.5 sacks total.
Like Ronnell Lewis, Brown would likely be lining up in the outside linebacker position. His physical giftedness presents a ton of upside for this senior from North Carolina.
However, as arguably the most talented linebacker in the draft, the Ravens might not have the opportunity to get him as some experts have him going as early as 10 overall.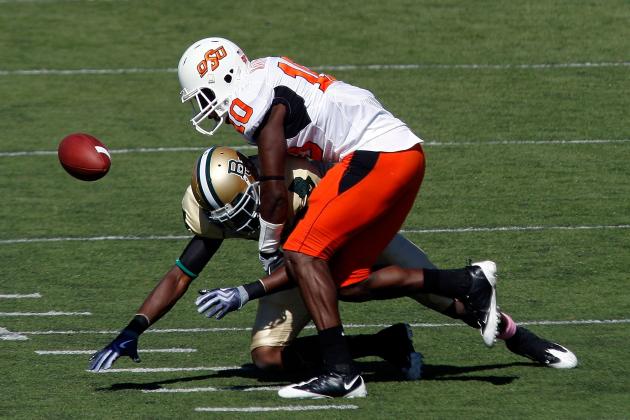 Ronald Martinez/Getty Images

The position of safety is one that the Ravens will likely need to work on.
Ed Reed has been quiet about retirement this offseason. Both Haruki Nakamura and Tom Zbikowski are free agents that could be out the door.
One replacement option from the draft is Markelle Martin. The senior from Oklahoma State had 81 tackles and five interceptions this past season.
Known for being a physical ball-hawk, Martin has a style of play somewhat similar to Reed himself and could definitely be an adequate replacement for when Reed retires.
Martin is also one of the more versatile safeties in his draft class thanks to his combination of ball skills, closing speed and willingness to make the big hit. He is different in that he probably won't be off the board until the second round at the earliest.
This makes it very feasible that the Ravens could grab him later and hopefully get him as a steal.
A YouTube search for Dont'a Hightower shows tons of hard hits whether it's practice or the National Championship.
Hightower's ferocious tackling was a reason behind the Crimson Tide defense that dominated in this year's BCS title game. He finished the season with an impressive 85 tackles and four sacks.
The knock on Hightower is that he is too slow. It's also argued that he's too soft and struggles with run defense. Part of this could be because injuries have bothered him for most of his career.
As an inside linebacker, Hightower could be Ray Lewis' successor or he may even be good enough to start should Jameel McClain leave.
General consensus is that Hightower is the best or second best linebacker in the draft class. So again the Ravens may have to consider moving up if they believe Hightower truly is their man.